Southeast faces severe flooding risk as more tornadoes threaten Mississippi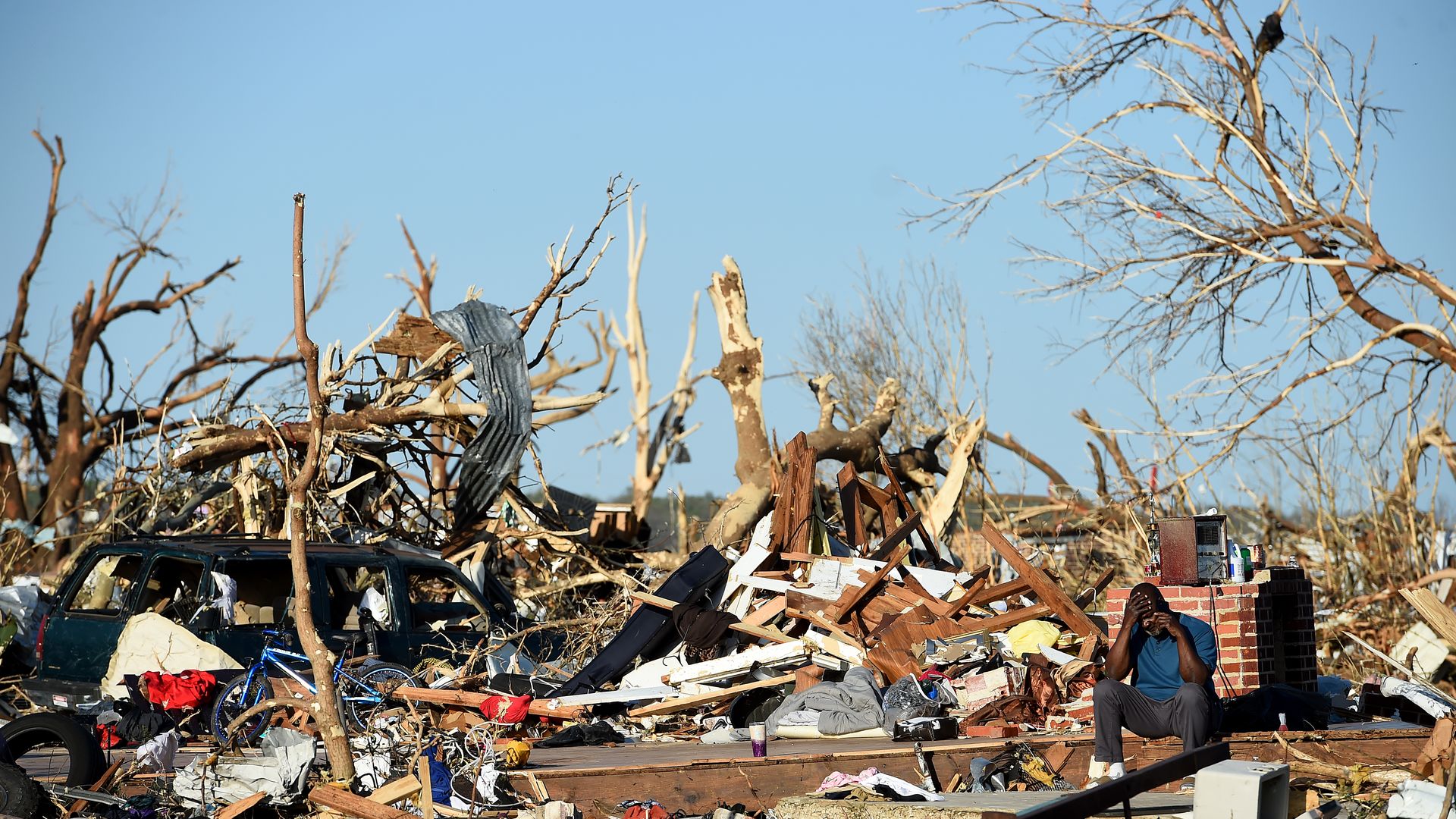 With residents of Mississippi and portions of Alabama reeling from the damage sustained during Friday night's deadly tornado outbreak, more severe weather is occurring across the Southeast.
The big picture: The National Weather Service issued a rare high-risk outlook for excessive rainfall in Alabama and Georgia through Monday morning, including parts of Atlanta, and warned of potentially catastrophic flooding in these areas. Parts of Mississippi, Alabama and Louisiana also faced the threat of tornadoes overnight.
There's a moderate risk of severe weather from central Louisiana east through south-central Mississippi and central Alabama, "where supercell thunderstorms may produce a few strong tornadoes and very large hail," the NWS said in a weather discussion on Monday morning.
This is a level 4 out of 5 on the storm threat scale.
By the numbers: More than 2.7 million people live in the excessive rainfall high-risk area, including parts of metro Atlanta.
Threat level: The SPC said on Monday morning that the severe threat of tornadoes in the region had "diminished somewhat."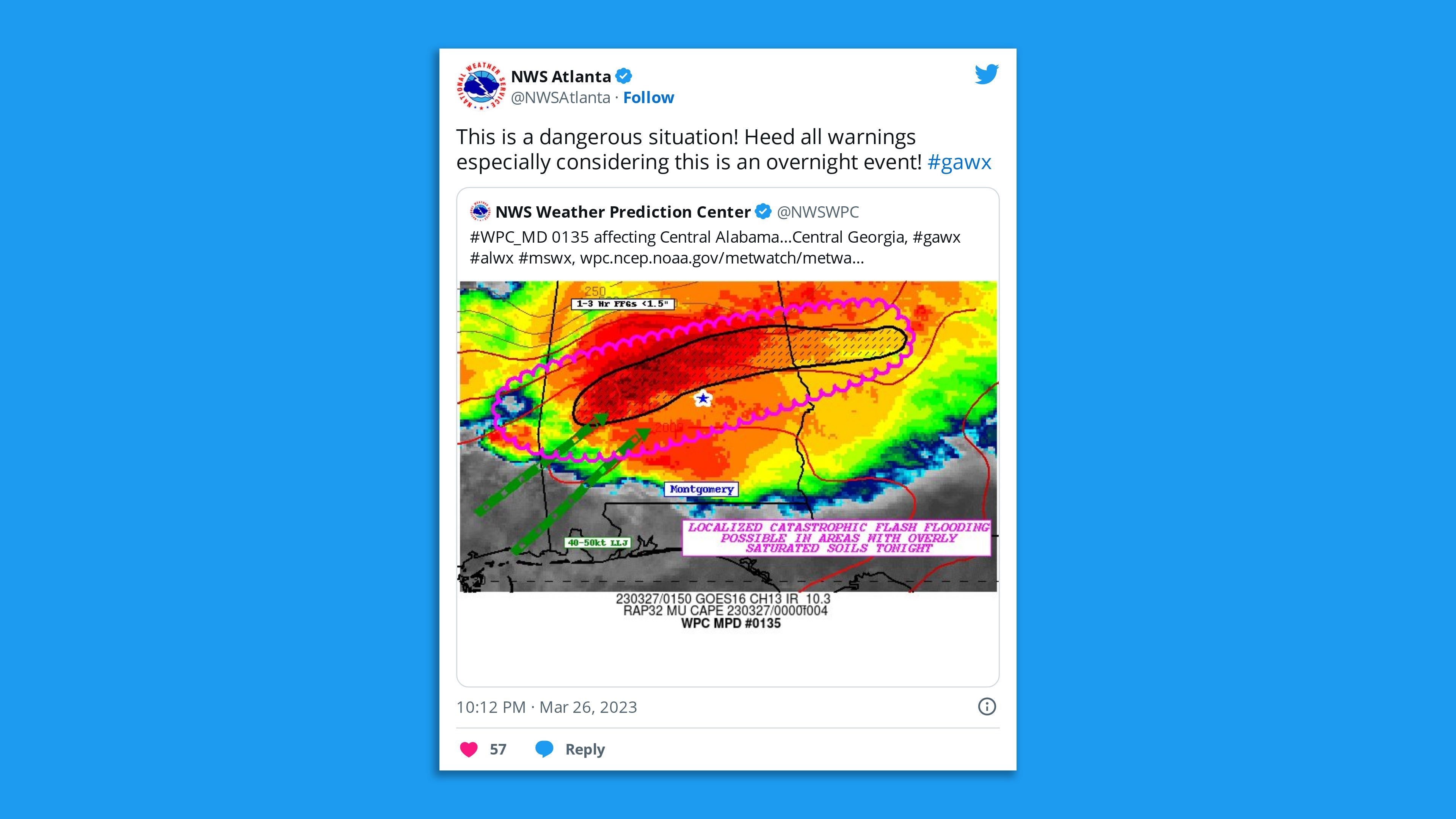 State of play: At least one tornado caused damage in Georgia on Sunday morning, per a storm report to the SPC. Georgia Gov. Brian Kemp (R) declared a state of emergency.
Hail larger than two inches was reported in the Jackson-area of Mississippi Sunday evening.
Forecasters warned wind shear, which refers to winds blowing in different directions and/or speed with height, would be maximized as storms moved into Mississippi and Alabama later on Sunday. This is a key ingredient for tornado formation that was in abundance on Friday night.
Yes, but: The key difference from this storm threat is the affected region is farther south than some of the hardest-hit communities from Friday's deadly event.
Communities in the region with the highest risk for tornadoes Sunday included Jackson and Hattiesburg, Mississippi, Auburn, Alabama, and Alexandria, Louisiana.
Of note: The long-lived, devastating tornado that caused extreme damage in communities such as Rolling Fork and Silver City, Mississippi, on Friday night has received a preliminary intensity rating of EF-4, with winds of between 166 mph to 200 mph.
That tornado had a path length of at least 59 miles, lasting for 1 hour and 10 minutes, according to the NWS. It was three-quarters of a mile wide, based on the preliminary storm damage survey conducted Saturday.
More surveys were under way Sunday, but the full path length of the supercell thunderstorm that spawned the single or multiple tornadoes appears to have traveled at least 100 miles.
Zoom out: President Biden approved a federal disaster declaration on Saturday for Mississippi, which speeds the release of government aid to the state.
"There's still a lot of damage out there. There's a lot of work to be done at this point," Mississippi Gov. Tate Reeves (R) said of recovery efforts at a press briefing Sunday, noting that federal, state, and local officials were presenting a "united front" to address the situation.
Reeves said while the state was prepared for more severe weather Sunday, several areas faced "significant risks."
Rolling Fork Mayor Eldridge Walker at the briefing thanked volunteers for their work, observing that some came from as far away as Arkansas, Tennessee and Louisiana, as he vowed the city would come back "bigger and better than ever before."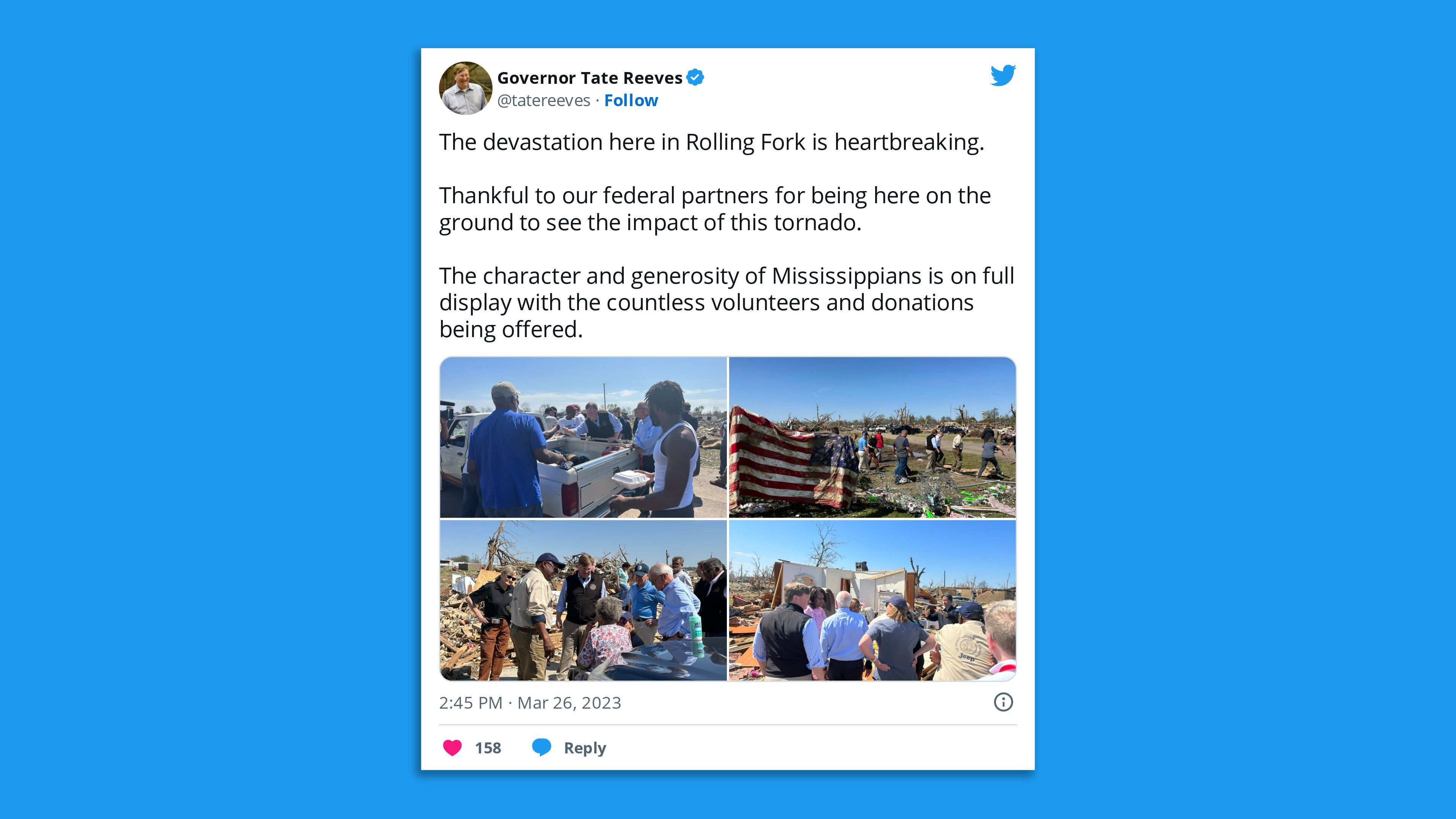 Context: Tornadoes are more common in the South and Southeast during March than in the Plains states, known informally as "Dixie Alley."
Warmer than average ocean temperatures in the Gulf of Mexico and any lingering atmospheric effects from a recently diminished La Niña event could be aggravating factors in increasing storm risks.
La Niña is known to bring more weather disturbances to the region during spring. The landmark tornado outbreaks in April 2011 occurred during a La Niña spring.
Milder than average ocean temperatures add to the atmospheric moisture, and therefore energy, available for severe thunderstorms in the South and Southeast.
Editor's note: This is a breaking news story. Please check back for updates.
Go deeper