The unseen Asian American mental health crisis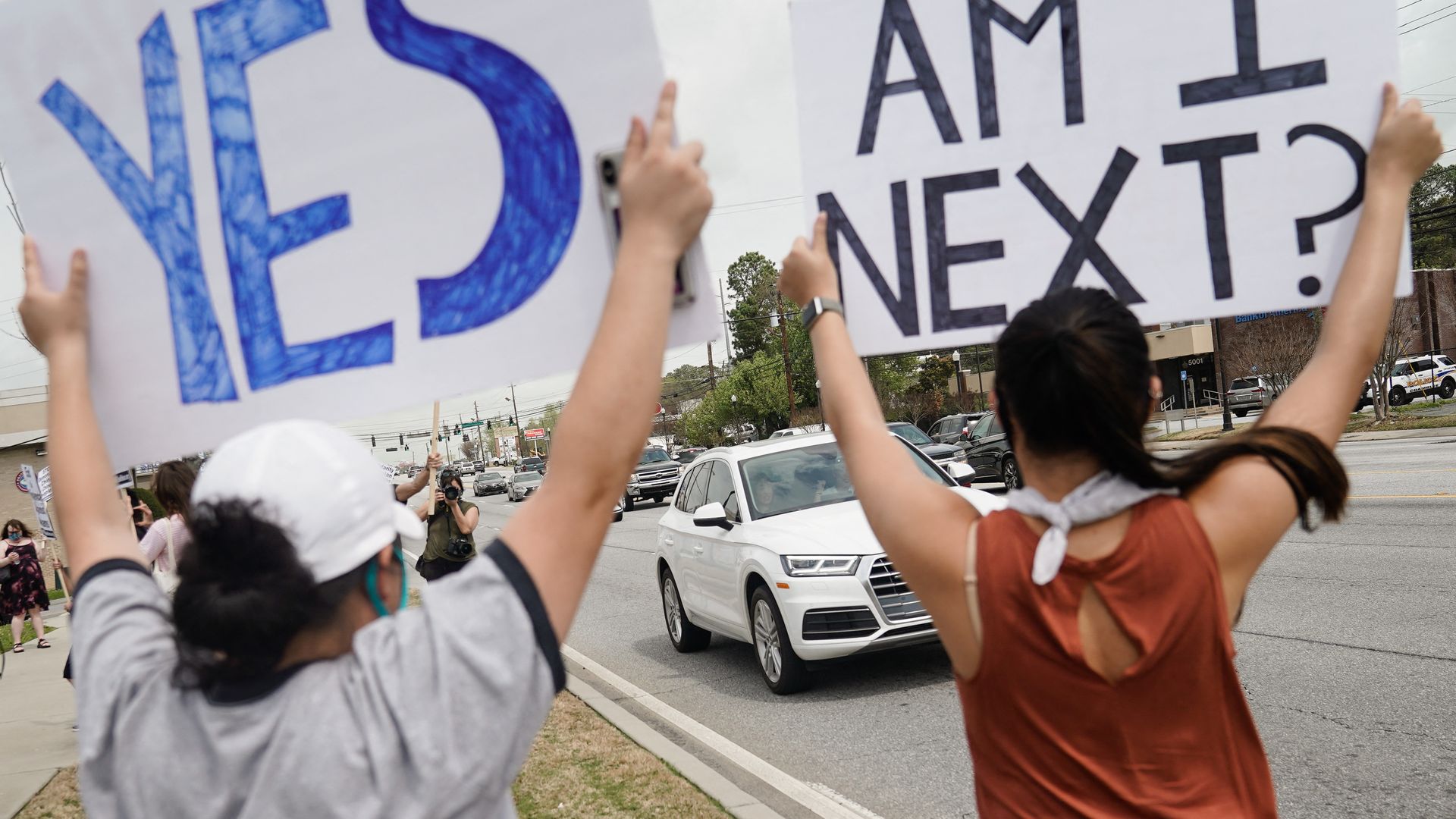 Asian Americans' psychological state over the last few years has been one of hypervigilance and pretending — constantly having to act as if everything is "business as usual" even amid high-profile anti-Asian attacks and the aftereffects of collective trauma, health advocates and experts tell Axios.
Driving the news: Though Asian Americans have always faced racism in the U.S., the spike in anti-Asian hate of the last few years has brought on a crisis of its own.
Now, with the two-year anniversary of the Atlanta spa shootings casting a long shadow, data shows that the longer-term impacts of living in a state of heightened fear are emerging.
The big picture: People often assume that Asian Americans don't need support systems due to "remnants of the model minority myth that are still so prevalent in today's society," said Sy Stokes, the vice president of research at the nonprofit research thinktank Coqual.
But as Asian Americans across the country continue to grapple with acts of violence, many say cracks are appearing in ways that are interfering with their ability to live their everyday lives.
"I don't think we've yet to contend with what that meant ... like feeling like I can't leave my house or go to the grocery store without being afraid that someone is going to say something or assault me," Theresa Nguyen, the nonprofit Mental Health America's chief research officer, told Axios.
Older Asian Americans, who are less likely to be fluent in English, have been especially vulnerable, noted Joon Bang, CEO of the nonprofit Iona Senior Services. They "live with that grief, of not being able to communicate or not even being heard," Bang said.
By the numbers: More than one in three Asian professionals feel that their relationships with managers or coworkers are "negatively impacted by the ongoing violence," according to a January report released by Coqual.
The study, which surveyed over 820 people of Asian descent, found that 62% of Asian professionals say their sense of safety traveling to and from work has decreased.
Moreover, 36% say they have experienced racial prejudice at their current or former companies.
Zoom in: Another survey of 1,697 AAPI university students found that over a quarter reported experiencing COVID-related racial or ethnic discrimination — of these respondents, over two-thirds met the criteria for at least one clinically significant mental health condition.
COVID-related discrimination was also associated with higher odds of having depression, anxiety, self-harm and suicidal ideation.
People often forget that encountering racism is a traumatic experience, said Nguyen, who is a licensed clinical social worker. People of color then integrate those experiences into their narratives and identity formation.
Yes, but: Only 26% of Asian professionals from the Coqual report feel that their company or institution is "very vocal" about the issue of hate.
The data affirms a broad swath of Asian Americans' experiences, according to Stokes. "It is dreadful," he told Axios. "When no one acknowledges that you're not able to bring your full self into the workplace for that day, it feels dismissive."
Students have also raised concerns about the lack of support offered at schools, where many say racial traumas go unacknowledged. Several told Axios that their school hadn't offered counseling to Asian students or even released statements on anti-Asian violence.
"Regardless of where you live it does affect you, especially emotionally," said James Lam, a sophomore at Ayala High School in California.
If schools made clear there were support systems readily available — such as mental health care or community violence services —"it would help a lot of students feel more safe whether or not they actually need to use the resources," Lam added.
Worth noting: Many immigrants and their children are conditioned to believe that in order to survive, "suppressing your needs is the right thing to do for your family unit," Nguyen added. "That makes open communication about these factors harder."
Because Asians are often left out of the discourse around institutional policies involving diversity, equity and inclusion, even when resources are offered they're usually not targeted to the people impacted by the violence, Stokes pointed out.
"You have to meet people where they're at, and people spend more time at schools and in the workplace than we do even at home," Nguyen noted.
The bottom line: The Asian American mental health crisis isn't going away anytime soon — and "the worst thing that can happen is just that it doesn't get talked about at all," Nguyen said.
Go deeper