Schools unprepared to help Asian American students navigate racial trauma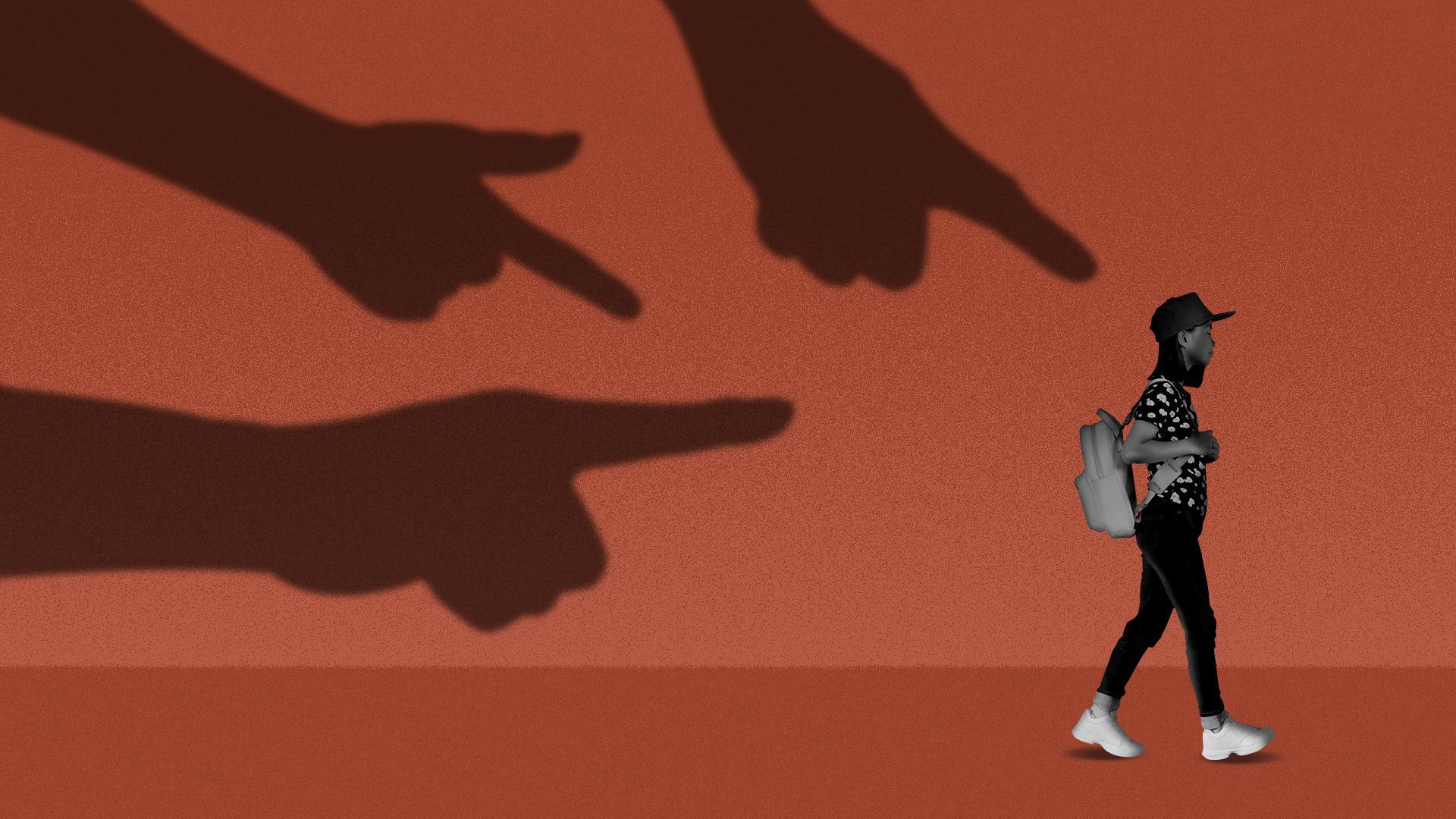 The first two months of the year have left Asian Americans reeling as they attempt to reconcile their reality with a seemingly unending string of violence — and many are homing in on the lack of mental health care available to some of their most vulnerable.
The big picture: Amid recent high-profile attacks and the larger surge in anti-Asian hate, young Asian Americans — for whom the leading cause of death was suicide even prior to the pandemic — are calling on schools to invest in the sustained mental health resources they need to cope.
Why it matters: Asian Americans have had to live in fear for the past three years as anti-Asian violence skyrocketed. The community was left on edge again last month after a white woman repeatedly stabbed an Asian college student in Indiana. She told police she targeted the student because she was Chinese, according to an affidavit obtained by Axios.
Mass shootings in Monterey Park and Half Moon Bay, though perpetrated by Asian men according to police, also dealt a heavy blow to people's sense of security.
"That's not one incident I have to heal from, like a car accident," psychologist Helen Hsu told Axios. "This is a constant source of stress and trauma. And there's a lot less skill about how to cope and survive and stay resilient in the face of that."
By the numbers: A 2021 report published by the anti-bullying nonprofit Act to Change found that 70% of Asian Americans surveyed reported experiencing or witnessing an increase in cyberbullying in 2020.
"There's a lot of stuff that just goes under the table," said James Lam, a sophomore at Ayala High School in California. Students might make a racist comment or "joke," but it'll go ignored while "people just move on with their lives."
Yes, but: That hasn't always spurred schools to proactively coordinate mental health support for students — or even acknowledge anti-Asian hate, several students tell Axios.
Driving the news: Lam said his school has not released any statements condemning the recent stabbing or shootings even though Monterey Park is just a dozen miles from where they live. He also couldn't recall a time when school administrators offered counseling to Asian students.
"The recent attacks, if anything, are more of a reminder that these things are still going on and that they need to be addressed," Lam told Axios. "This is not a thing of the pandemic. It's not a thing of the past. It's still happening today."
While teachers might mention anti-Asian hate in a current events discussion, school administrators rarely acknowledge how racial violence impacts students' daily lives, said Rohan Lokanadham, a senior at Biotechnology High School in New Jersey.
State of play: Symptoms of distress can look different among Asian Americans, according to Hsu. Instead of acting out, Asian students are more likely to "act in," or internalize their behaviors.
"We self-harm. We quietly continue to do our homework, even though we're super depressed or anxious. We act out inside the house, but it never shows outside the house," she noted.
"So this system of schools has ... always been like, 'Oh, you're good, you're fine.'"
What they're saying: Incorporating culturally sensitive models of care — such as partnerships with Asian-serving community organizations — is a first step many districts can take, according to Betina Hsieh, an education professor at California State University, Long Beach.
The responsibility is on teachers and administrators to educative themselves, noted Act to Change co-founder Maulik Pancholy.
"Knowing how to support [a] child, knowing how to support [their] family, understanding the language, understanding the family dynamics and working from that angle" is key in supporting students, said Mary Her, a senior clinical supervisor at the Amherst Wilder Foundation.
The bottom line: "A lot of this bullying, harassment starts when you're younger, and it's often in schools," said Mina Fedor, a College Preparatory School student who founded a youth-led AAPI advocacy group after feeling frustrated about the lack of visibility around the issue.
"That can definitely be prevented with the proper resources and education and training ... That's really why schools need to step up."
Go deeper