Lawmakers blast TikTok in hearing with CEO, citing "life and death" issues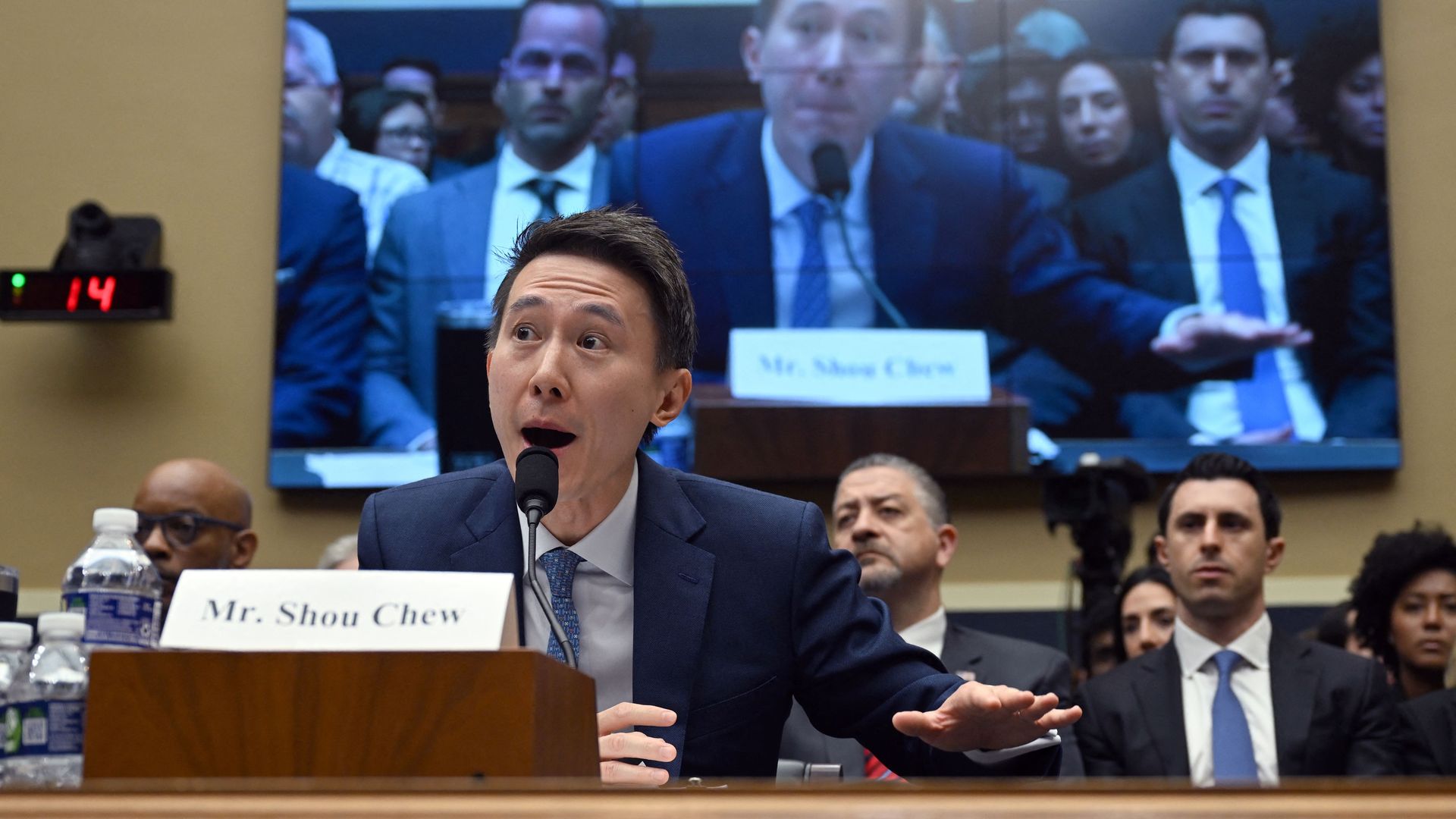 TikTok's CEO Shou Zi Chew defended the company Thursday from charges that it poses a national security threat in a hearing before lawmakers who fiercely advocated for banning the popular short-video app.
Why it matters: The White House and TikTok's critics in Congress say the app, which has 150 million U.S. users, puts their data at risk because TikTok is owned by ByteDance, a Chinese company.
The big picture: The House Committee on Energy and Commerce members made it unequivocally clear they view TikTok as a dangerous social media app and a national security threat. Rep. Tony Cárdenas (D-Ca.) at one point cited "life and death" issues connected to the app.
Chew repeatedly downplayed its connections to China and referenced TikTok's "unprecedented" data security practices compared to unnamed social media competitors. The committee didn't care.
Without much goodwill in Washington, TikTok will have to navigate a tenuous path forward to avoid serious consequences from Congress.
In a statement after the hearing, TikTok spokesperson Brooke Oberwetter said: "Shou came prepared to answer questions from Congress, but, unfortunately, the day was dominated by political grandstanding that failed to acknowledge the real solutions already underway."
She criticized lawmakers who support a ban for not mentioning the businesses using the app or the First Amendment implications.
Resounding support for a ban
Throughout the hearing, members came out in support of a full ban of the app in the U.S.
Rep. Cathy McMorris Rodgers (R-Wash.), chair of the committee, said at the hearing's outset: "ByteDance is beholden to the CCP, and ByteDance and TikTok are one and the same."
She accused the platform of lying about ties to the Chinese government.
Chew argued in his opening remarks that Bytedance is a private company, beholden to shareholders and its board, not the Chinese government. He repeatedly categorized TikTok as a global enterprise when asked about whether it's a Chinese company.
Chew said he had not spoken to any representatives of the Chinese Communist Party since taking his leadership role at TikTok.
Rep. Anna Eshoo (D-Calif.) brought up China's National Security Law, which compels companies to share information with the government. "How do you convince the Congress of the United States that there can be a clean break?" she asked.
"Our plan is to move American data to be moved to American soil," Chew said. "I have seen no evidence that the Chinese government has access to [U.S. user] data."
Lawmakers challenged Chew on the same issues that plague all social media platforms, including privacy, impact on children's mental health and addiction.
Chew repeatedly said the app is no threat to Americans, declining to answer questions about his compensation and the company's revenue.
He often told lawmakers he'd get back soon with specifics and that he "didn't believe" TikTok sells user data. He also said the app doesn't collect any more information on users than any other industry competitor.
Oberwetter emailed reporters to clarify two points brought up in the hearing, saying that TikTok does not sell data and the CEO of ByteDance, Liang Rubo, is not a member of the CCP.
Lawmakers noted dangerous viral trends on TikTok that have been associated with the deaths of younger users, such as the "blackout" choking challenge and content they said could encourage people to commit suicide.
Congress has been wanting to address such issues for years with a national privacy law and another that would boost protections for children and teens online; it has failed to do so.
One high-stakes moment occurred when TikTok took down a video inciting violence down a video in real-time after being flagged by the panel.
Tension over app sale spans years
On the eve of Chew's first-ever testimony before Congress, the Biden administration indicated it would prefer to see a sale or spin-out of TikTok over a threatened ban of the app.
Catch up quick: TikTok's fate in the U.S. has been clouded since former president Donald Trump tried to force its sale in 2020.
Negotiations at the Committee on Foreign Investments in the U.S. (CFIUS) have dragged on for years without offering a resolution.
TikTok says its plan to host all U.S. data with Oracle, firewalled from overseas access, will keep the app safe.
But critics, including U.S. intelligence officials, say Chinese law means any company would be required to share data with the government.
This story has been updated with additional developments and background.
Go deeper