Republicans' COVID vaccine tightrope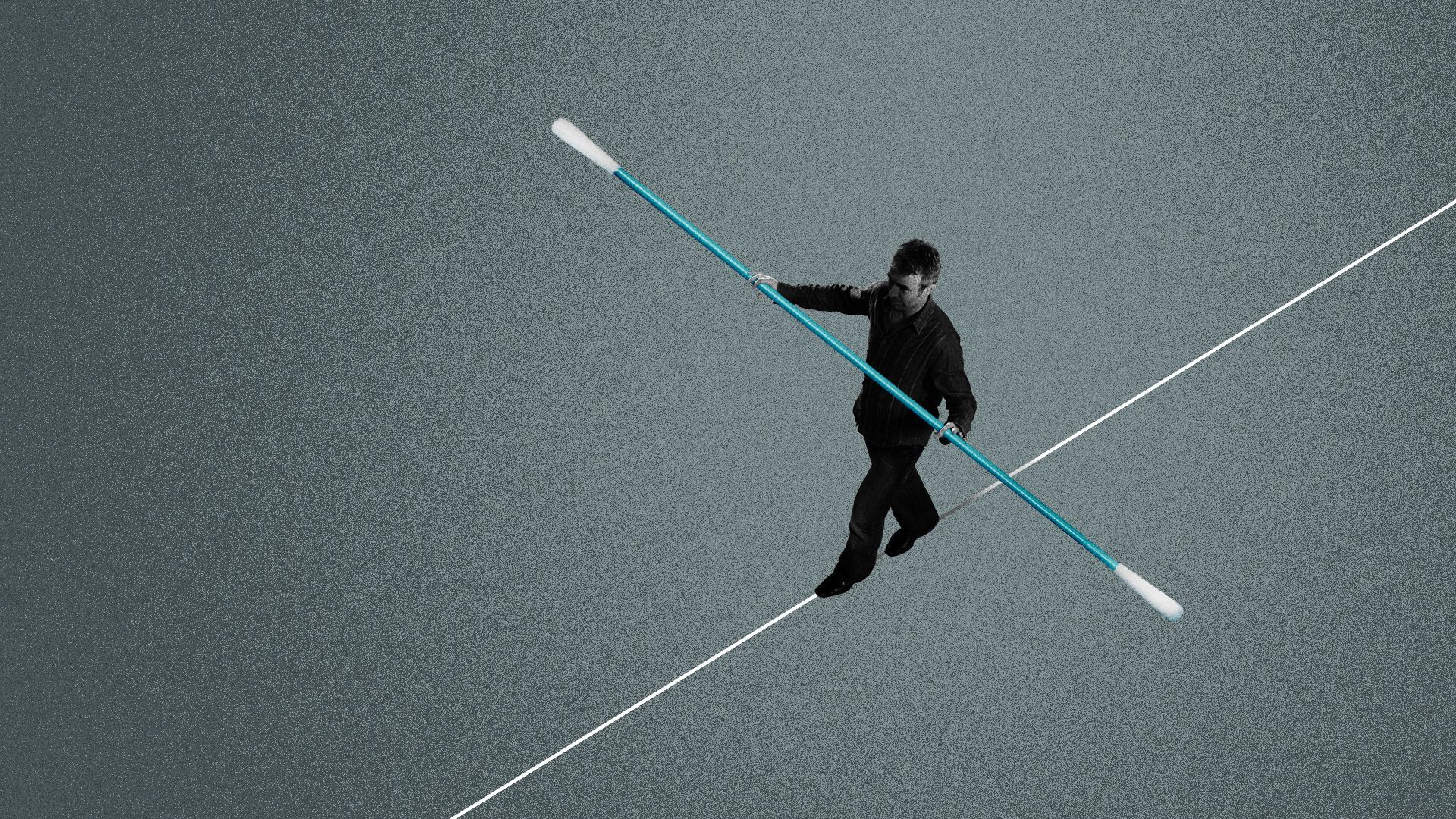 Republicans itching to probe the pandemic response are already struggling to separate vaccine-related questions that could yield lessons learned from ones that echo theories experts say are debunked by reams of data.
Why it matters: Americans' trust in public health institutions has been shattered over the last few years. Scientists warn that although there's a lot that can be learned from good-faith inquiries, there's nothing positive that can come from using public health to score political points.
Driving the news: House Republicans have launched several lines of inquiry as part of their pandemic oversight, including into the vaccine approval process.
Experts say elected officials may not be the best equipped people to look back on vaccine policy decisions — particularly if they cross the line into misinformation or conspiracies.
"No major government initiative should ever be out of reach of oversight," said Jennifer Nuzzo, director of the Pandemic Center at Brown University School of Public Health. "However, there's ways to do it that are productive and result in positive change ... and then there are ways to do it that undermine not only health and safety in respect to COVID, but sow doubt in respect to all vaccines."
Lockdown policies, vaccine mandates and the role of infection-acquired immunity may be fair game, yet "without facts to stand on, to make groundless insinuations about the safety and efficacy of these vaccines is just irresponsible," she said.
Details: A recent letter to the FDA by Republicans on the House's Select Committee on the Coronavirus Pandemic questioned the Biden administration's approval process for COVID vaccines, alleging that "this effort may not have been to save lives but concernedly to provide cover for implementing and enforcing vaccine mandates around the country."
The letter also raised concerns with the administration's booster shot approval process and references the departure of two top FDA vaccine officials who, according to Endpoints, said they were leaving their positions at least in part because they felt like the FDA was being sidelined.
Scientists have raised wonky questions about booster policies and what the data best supports and say there's room for debate on the subject.
Yes, but: Some Republicans are veering well beyond questions of whether vaccine decisions were driven by politics or adequately backed by data. They're instead raising concerns about vaccine safety and whether the entire process was tainted by cover-ups.
Possibly the highest profile among this group is Florida Gov. Ron DeSantis, whose administration has issued a health alert on mRNA vaccine safety that was strongly rebuked by FDA commissioner Robert Califf and CDC cirector Rochelle Walensky.
But DeSantis has gone even further. In a successful petition for a statewide grand jury, DeSantis questioned whether the vaccine makers — perhaps criminally — misrepresented information about the shots' safety and efficacy.
"An investigation is warranted to determine whether the pharmaceutical industry has engaged in fraudulent practices. The people of Florida deserve to know the truth," DeSantis wrote in the petition.
Pfizer in response reiterated the scientific rigor of its process.
The big picture: Republicans have been emboldened by recent studies and reports that they say prove they were right all along about matters like the value of infection-derived immunity and the legitimacy of the theory that COVID originated with a lab leak. Scientists say the reality is more complicated, in large part because knowledge changed as more data became available.
Some Republicans say they're angry with what they view as public health officials' reluctance to update policy as new information came in, including vaccine policy.
One commonly-cited sore spot is early-on messaging that the vaccines prevented transmission, which was used as a justification for mandates. At the time, clinical trial data suggested that Pfizer and Moderna's vaccines were extremely effective at preventing people from becoming sick with the virus, let alone being hospitalized and dying.
But several months after the vaccines became available, it became clear that breakthrough infections were more common than previously expected and that the vaccines' effectiveness faded over time. Paired with the rise of the omicron variant, it meant the vaccines have had a much lower real-world effectiveness than they did in the original clinical trials.
This was a pivotal change that led to growing vaccine skepticism on the right. A recent survey by Surgo Health obtained by Vanity Fair found that Republicans are now 2.4 times more likely than Democrats or independents to believe that COVID-19 vaccines are unsafe.
The intrigue: Even supporters of vaccine oversight are wary of members who they think will take it too far.
"There's a lot to dig in to that is worthy of investigation: Did FDA listen to its outside experts after the original vaccines or rush the updates through because of Biden political demands? But you can also go too far and question the underlying value of vaccines, which is leading to record lows in routine vaccinations for curable diseases like polio, MMR, and more," said a former GOP staff director who worked on COVID-related issues and recently left the Hill.
The person added that he thinks Republicans are running the risk of having legitimate oversight get subsumed by misinformation and conspiracies.
What they're saying: "Differences of opinion about who needs a booster when — that's a straw man," said Cornell virologist John Moore. "That is not pandering to the anti-vaxxers. That is a legitimate discussion among public health officials."
"There's no decisions taken by humans that couldn't be revisited if your agenda is genuinely to find improvements for the future and if you have the appropriately qualified people doing it," he added. "But that's not what we're seeing here. We're seeing exercises in political point-scoring."
If the conversations lead to further mistrust of the COVID vaccines, "there is a risk that it has spillover effects to other vaccines that were not previously in question," Brown's Nuzzo said.
The other side: Some Republicans argued that it's the Biden administration and public health officials who brought problems on themselves, including through bad policy.
"The way the CDC, the way Dr. Fauci handled this, it just exacerbated the anti-vaxxers. The last thing the anti-vaxxers want to be told is to shut up and take this shot, when all along this had not been studied long-term, we didn't know the long-term complications," said Kansas Sen. Roger Marshall said in an interview.
"If there's people who are skeptics that have a thorough hearing out, maybe that'll do something about the anti-vaccine sentiment," said Sen. Bill Cassidy of Louisiana. "But anti-vaccine sentiment is thoroughly embedded in our society."
The bottom line: Many experts feel that the conversations emerging are not the helpful kind.
"It just feels like the intention of these hearings is just to set fire to things as opposed to trying to improve the functioning of government for future crises," Nuzzo said.
Go deeper