The bureaucracy pushes back on Biden's booster plan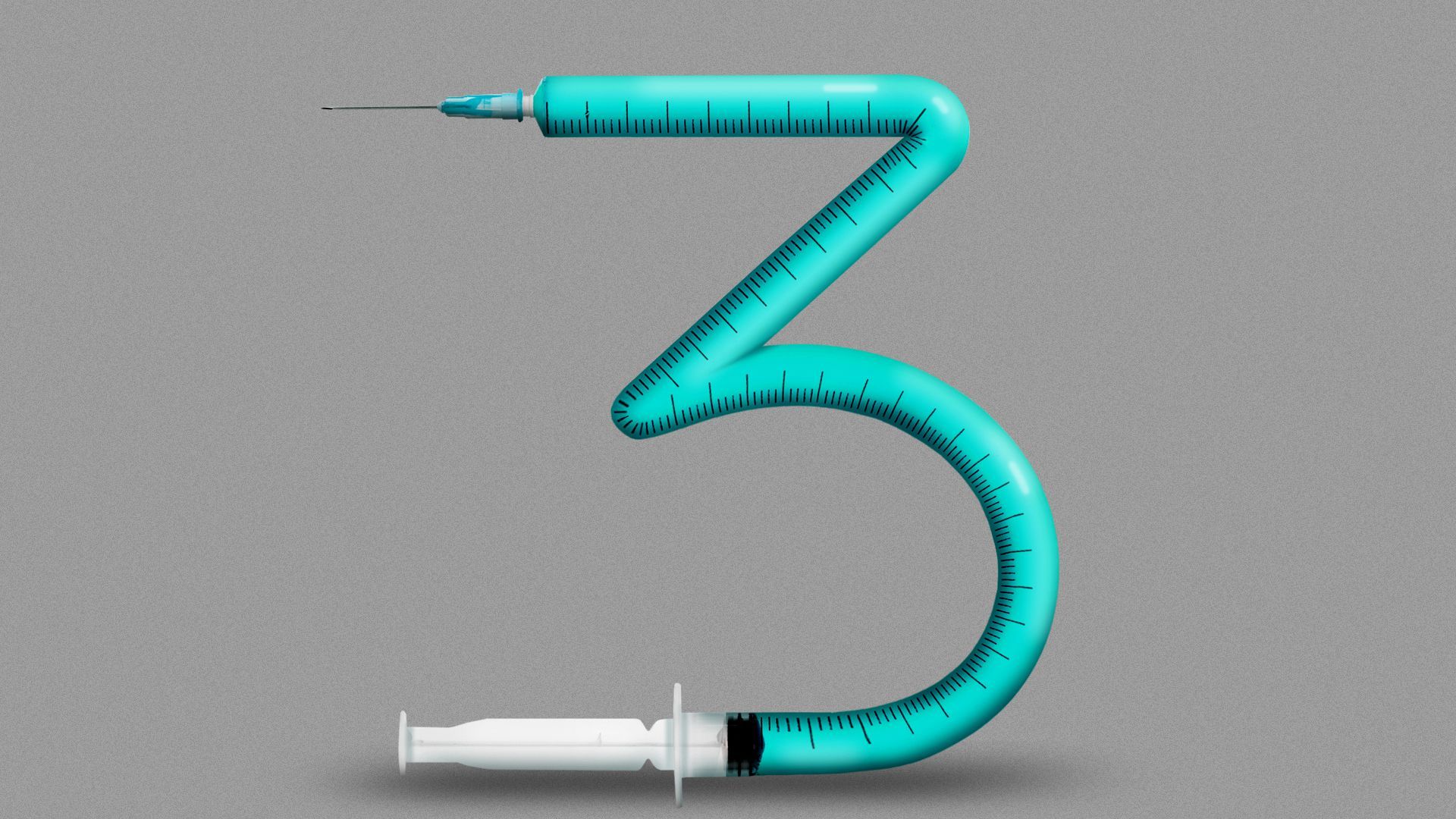 Signs are beginning to publicly emerge that the scientists responsible for bureaucratic decision-making about drug policy are frustrated with how the White House has handled coronavirus vaccine boosters.
Why it matters: The Biden administration has made clear that its priority, when it comes to boosters, is to stay ahead of the virus. But in doing so, it's also getting ahead of the process by which such decisions are usually made.
Driving the news: Two top FDA vaccine officials are leaving their positions this fall, the agency announced yesterday.
The officials are leaving, at least in part, because they feel like the FDA is being sidelined, Endpoints reported, and "what finally did it for them was the White House getting ahead of FDA on booster shots."
On Monday, an independent CDC advisory committee hinted that it will only initially recommend booster shots for older Americans and health care workers — a subtle departure from the administration's plan to offer a booster shot to most Americans eight months after their first round.
And at least one member of the committee raised concerns about the White House getting ahead of the FDA and the CDC on booster policy, STAT's Helen Branswell tweeted.
What they're saying: "It's really awkward because we have to plan as if we're going to do this before we even have the data. And sure, the scientists are thinking that isn't the right way to do it, but there is no other way to do it," a senior administration official told Axios.
"That doesn't mean we act if the data don't support it, but we do have to plan," the official added. "It's awkward for the scientists. They don't like that. But they don't have to plan how to vaccinate 200 million people."
What we're watching: The administration has said over and over again that its plan to begin offering boosters on Sept. 20 is dependent on approval from the FDA and the CDC.
Its commitment to that promise may end up being tested in the coming weeks if government scientists don't agree with the plan.
The big picture: The CDC recently released data that, like other research, found the coronavirus vaccines' effectiveness against infection has decreased over time. On the other hand, the CDC data also found that the vaccines' effectiveness against severe disease has held.
Data on the effectiveness of boosters is still trickling out from other countries or from the drug companies themselves, and Pfizer said this week that additional data on the need for boosters may not be available until late September or early October.
Whether booster shots are necessary or justifiable, given the apparent longevity of protection against severe disease and the global shortage of vaccines, is a hot topic of debate among experts.
"It is our own data as well as international data that has led us to be concerned that the waning we're seeing for infection will soon lead to waning that we would see for hospitalization, severe disease, and death — which is why it's so critical now to plan ahead to remain ahead of the virus," CDC director Rochelle Walensky told reporters yesterday.
Editor's note: This story has been corrected to show that Pfizer said additional data on the need for boosters may not be available until September or October (not initial data).
Go deeper