Congress braces for flare-up over Biden's solar panel move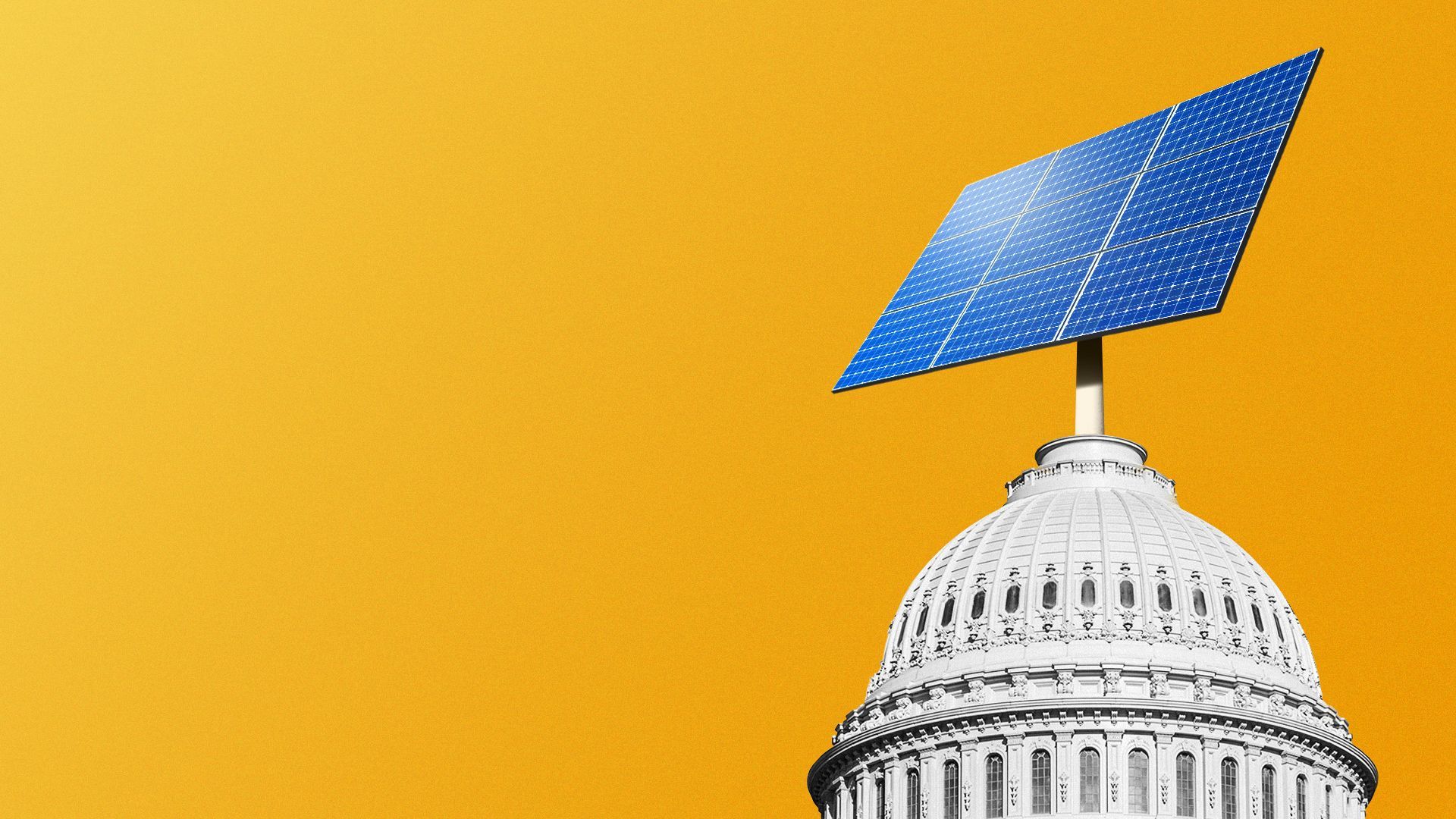 Senate Democrats are preparing to rehash a fight over solar panel tariffs they thought they had won last summer, when President Biden used his executive power to suspend tariffs on solar parts from Southeast Asia.
Why it matters: Last summer's showdown between solar panel importers and domestic producers pitted Democrats against each other and nearly froze solar panel projects across the country.
A bipartisan push in the House to use the Congressional Review Act to undo Biden's solar decision is threatening to reopen the wound.
A veto-proof CRA vote in both chambers would overrule Biden's decision and potentially prevent the president from achieving some of the climate goals he envisioned in his Inflation Reduction Act.
The big picture: Republicans have successfully used the Congressional Review Act to drive a wedge among Democrats and notch symbolic wins on so-called ESG investing and crime.
Driving the news: During last Tuesday's closed-door caucus meeting, Sen. Jacky Rosen (D-Nev.) implored her colleagues to oppose a Senate CRA resolution, which has eight Republican co-sponsors.
She followed up with a memo to Senate Democratic offices, warning that the "misguided resolution could have a devastating impact on American solar jobs and hamper efforts to transition to renewable energy under the Inflation Reduction Act."
"Biden's two-year pause was a prudent compromise to allow a transition period to ramp up U.S. manufacturing," the memo argued.
"We believe most lawmakers want to protect American jobs, reduce air pollution and fuel the U.S. economy," said Abby Hopper, president and CEO of Solar Energy Industries Association. "Passing the CRA will severely limit opportunities for those positive outcomes."
Companies are facing the possibility of some $1 billion in retroactive fines if Biden's order is nullified, SEIA has estimated.
Flashback: Last June, Biden used his emergency authorities to allow solar parts from Southeast Asia to be imported duty-free for two years, citing a possible electricity shortage.
His declaration effectively countermanded a decision by the Commerce Department to investigate whether Chinese companies were circumventing tariffs by shipping their products through Cambodia, Malaysia, Thailand and Vietnam.
In December, the department issued a preliminary ruling that found manufacturers based in China were using those four countries to circumvent U.S. tariffs.
"The Biden administration's own investigation found that Chinese companies were evading U.S. tariffs on solar imports, but [it] still suspended tariffs, which is unacceptable," said Rep. Dan Kildee (D-Mich.).
The big picture: The Commerce Department investigation, which brought solar installation to a halt, angered some Senate Democrats and prompted a private phone call between frustrated lawmakers and senior White House officials, Axios reported in May.
22 Democrats signed a letter to Biden demanding the investigation be brought to a swift conclusion.
But a smaller group of Democrats, led by Sens. Sherrod Brown (D-Ohio) and Bob Casey (D-Pa.), lobbied Biden to allow the Commerce Department investigation to run its course.
They have re-upped their effort this year, with a new letter to Biden.
The other side: House Republicans are moving forward with their own CRA resolution — convinced they can run up the score and win a veto-proof majority.
"There is broad support from members on both sides for standing up for American manufacturers and workers, and for protecting our domestic supply chain capability," said Rep. Bill Posey (R-Fla.), one of the resolution's co-sponsors.
"We are working hard to get this historic bipartisan resolution through the House by the end of the month so the Senate can act," he said.
The bottom line: Democrats who support the president don't think the other side has the votes for a veto-proof majority.
And Senate Republicans say it's too early to know: "No one's talking about it enough to really get a feel for where everybody is," Sen. Rick Scott (R-Fla.) told Axios.
Go deeper