The Oscars fight for relevance in the streaming era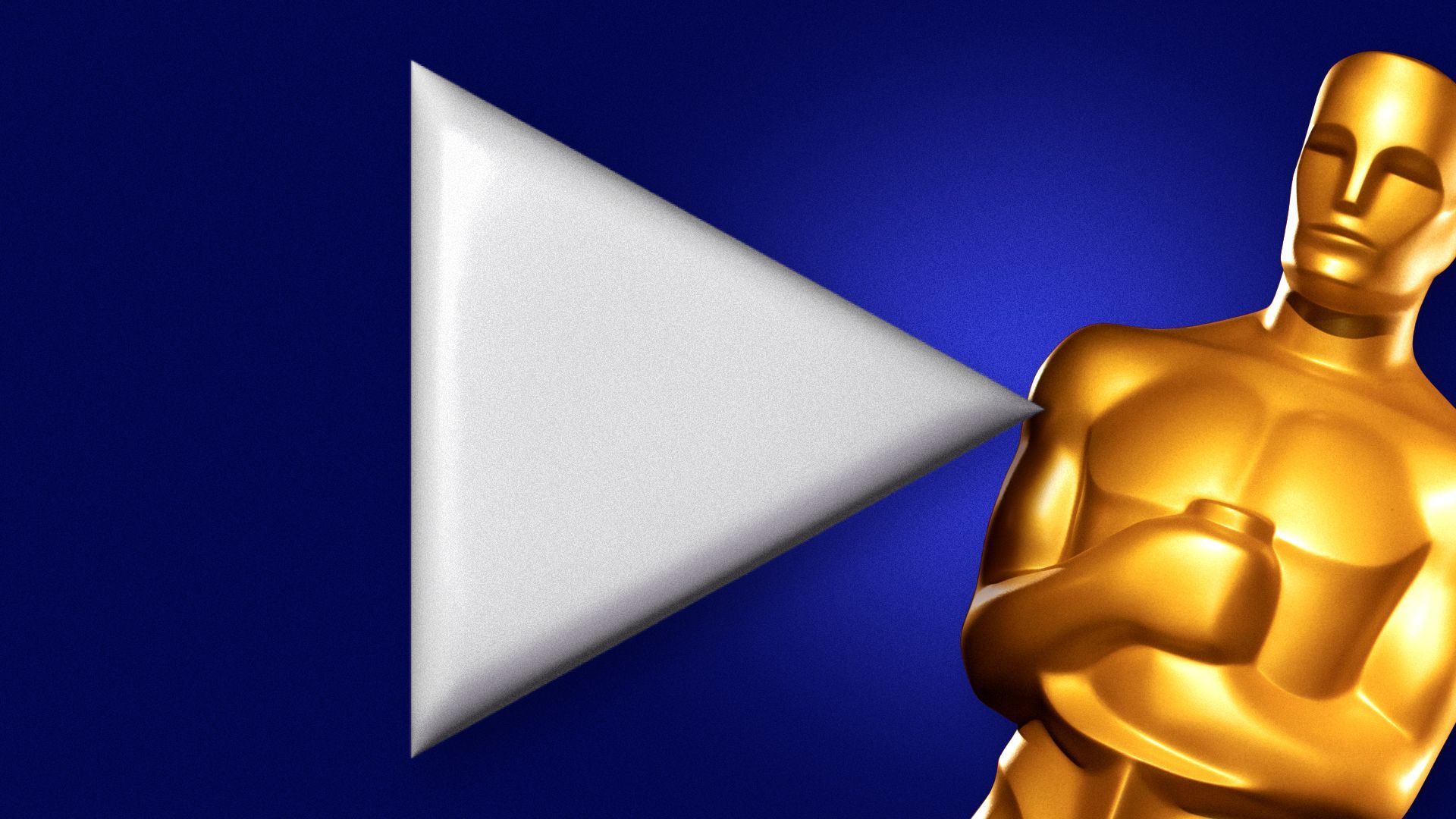 All the pieces are in place for the Oscars to make a comeback on Sunday. But if a slate of popular movies and the spark from last year's controversial show can't rescue its ratings, then this may be its last gasp of relevance instead.
Why it matters: Major awards shows like the Oscars and Emmys have long been big business for broadcast TV networks — but their importance has been dwindling alongside their viewership.
"If you can't draw an audience this year, I don't know what else you got to do," comScore senior media analyst Paul Dergarabedian tells Axios.
Zoom in: The buzz around this year's nominees should be a boon for ratings.
The total box office gross for this year's Best Picture nominees is the highest in 13 years, led by last year's two highest-grossing films: "Avatar: The Way of Water" and "Top Gun: Maverick."
A24's indie success story "Everything Everywhere All at Once" is the runaway favorite to win in multiple major categories, including Best Picture.
"Black Panther: Wakanda Forever" star Angela Bassett could also net the Marvel Cinematic Universe's first major Oscar victory.
The intrigue: Last year's Slapgate and the social media uproar over Andrea Riseborough's surprise Best Actress nomination have also raised the show's profile, even if for controversial reasons.
Dergarabedian believes last year's stunning moment between Will Smith and Chris Rock will get more people to tune in live. "When the slap happened last year, I think a lot of people were caught looking. ... The FOMO factor may kick in."
Yes, but: HBO will air the season finale of "The Last of Us" directly against the Oscars on Sunday night.
By the numbers: Viewership for awards shows has plummeted in the social media era as fans now have multiple ways to find out who won the major categories without sitting through an hours-long telecast.
Once known as Hollywood's Super Bowl, the Oscars used to draw north of 40 million viewers. But the last two years have drawn the smallest audience in the show's history, falling below 20 million viewers.
Even with that shrinking audience, it's still and important revenue driver for ABC, which has aired the show since 1976.
It's the most expensive non-sports ad buy, costing advertisers more than $2 million for a 30-second commercial and bringing in around $125 million in ad revenue.
"It's not just the telecast ratings that are going to be the judge of this. It's gonna be the social chatter. What are people saying about this year's Oscars?" Dergarabedian adds.
The big picture: Award shows are moving away from linear TV toward streaming.
After airing for 25 years on cable, the SAG Awards moved to Netflix's YouTube channel this year, and will stream on Netflix proper starting next year.
In 2021, the Academy of Country Music Awards left its longtime home of CBS, where it aired for 23 years, for Amazon, after CBS balked at the price to keep the show on its airwaves.
The Golden Globes are in the middle of finding a new TV home and are all but certain to leave NBC after 27 years.
The TV contracts for the Emmys, Grammys and Tonys all run through 2026, while the Oscars' current deal expires in 2028.
Go deeper