Study: Jails and police rarely track Latinos' racial and ethnic data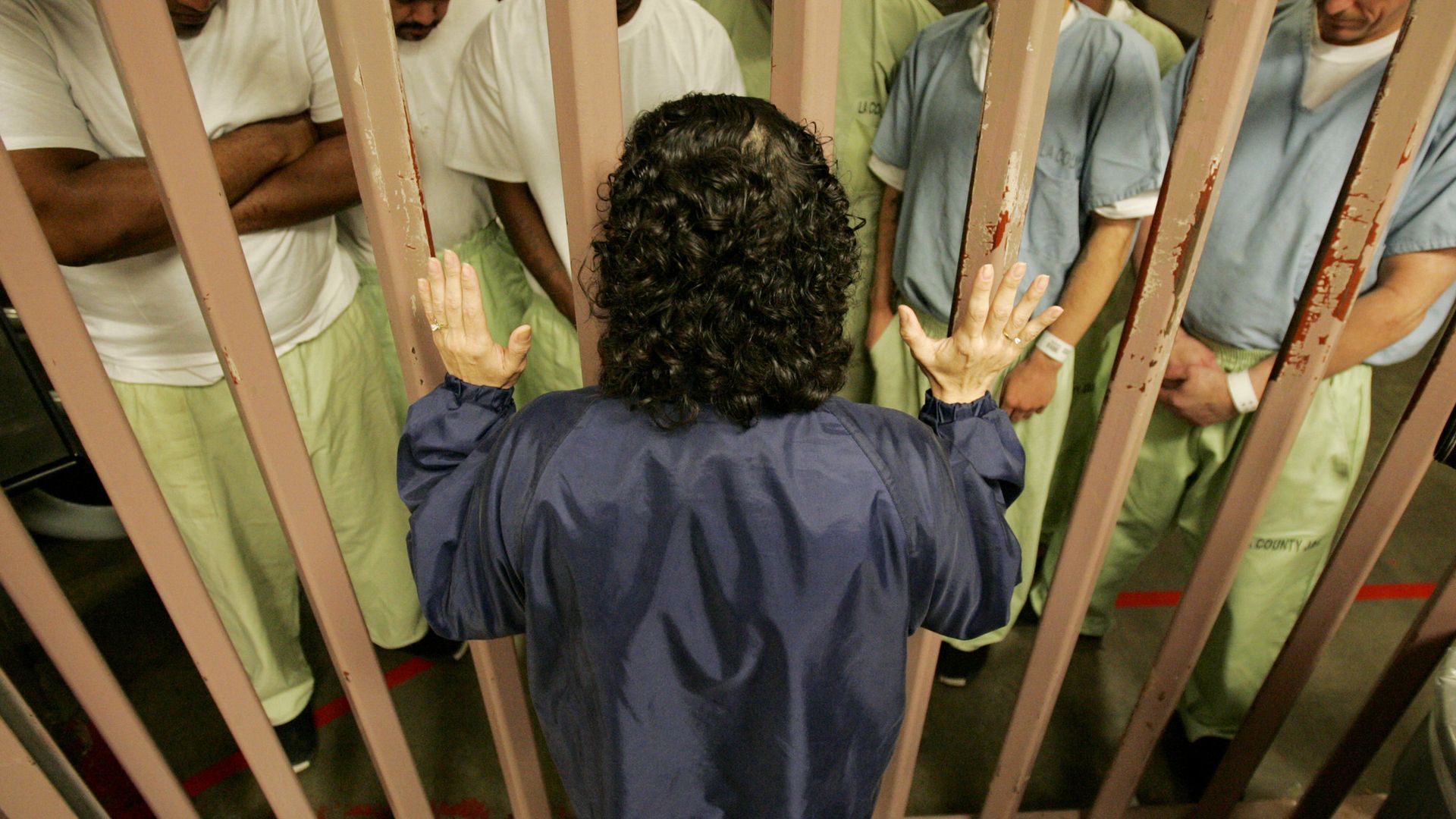 A new report examining how Latinos interact with the criminal justice system found police and jails rarely track their racial and ethnic data, complicating how researchers track potential disparities.
The big picture: An estimated 1.2 million people are incarcerated in the nation's state and federal prisons today, and close to 550,000 are in jail, but there's little research into how Latinos fit into this picture, according to the report, published Wednesday by the University of California, Irvine, School of Social Ecology.
Author Nancy Rodriguez says she hopes the study will be the first of many to look at how Latinos interact with the criminal justice system because having accurate data will lead to reforms and more racial equity.
Details: Rodriguez and co-author Rebecca Tublitz collected arrest and detention data by race and ethnicity from 14 cities and zeroed in on four counties: Charleston County, South Carolina; Harris County, Texas; Multnomah County, Oregon; and Palm Beach County, Florida.
They found just 30% of record management systems capture Latino or Hispanic ethnicity data separately from racial characteristics, while the rest capture Latino ethnicity as a single race.
They also found that someone's race or ethnicity is most often simply determined by a police officer.
Police and jail departments that have the ability to track race and ethnicity didn't do it well and had a lot of missing data, which hurt attempts to measure outcomes for Latinos, the authors wrote.
What they're saying: Rodriguez, a criminology professor at the University of California Irvine, says institutions should be cautious in creating ethnic and racial categories and should acknowledge the "tremendous diversity" among Latinos.
The authors recommend that all criminal justice agencies standardize how they collect race and ethnicity data.
Between the lines: Every state is different in how their police departments define who is Hispanic, and many don't consider that Latinos can be of any race, says Alex del Carmen, a Tarleton State University criminologist.
"Instead, (police) default to white. It's almost like the racial category supersedes the ethnic category," del Carmen tells Axios.
State of play: The number of Latinos, which includes people of any race, was 62.1 million in 2020 — a growth of 23% in a decade, according to the U.S. Census.
Yes, but: The rise of Latinos in these new U.S. regions came as law enforcement agencies struggled to hire enough Spanish speakers or build trust.
What to watch: Justice Counts, a federal initiative, is seeking to standardize metrics in the country's criminal justice system.
Go deeper