Here's a look at DeSantis' Disney special district board appointees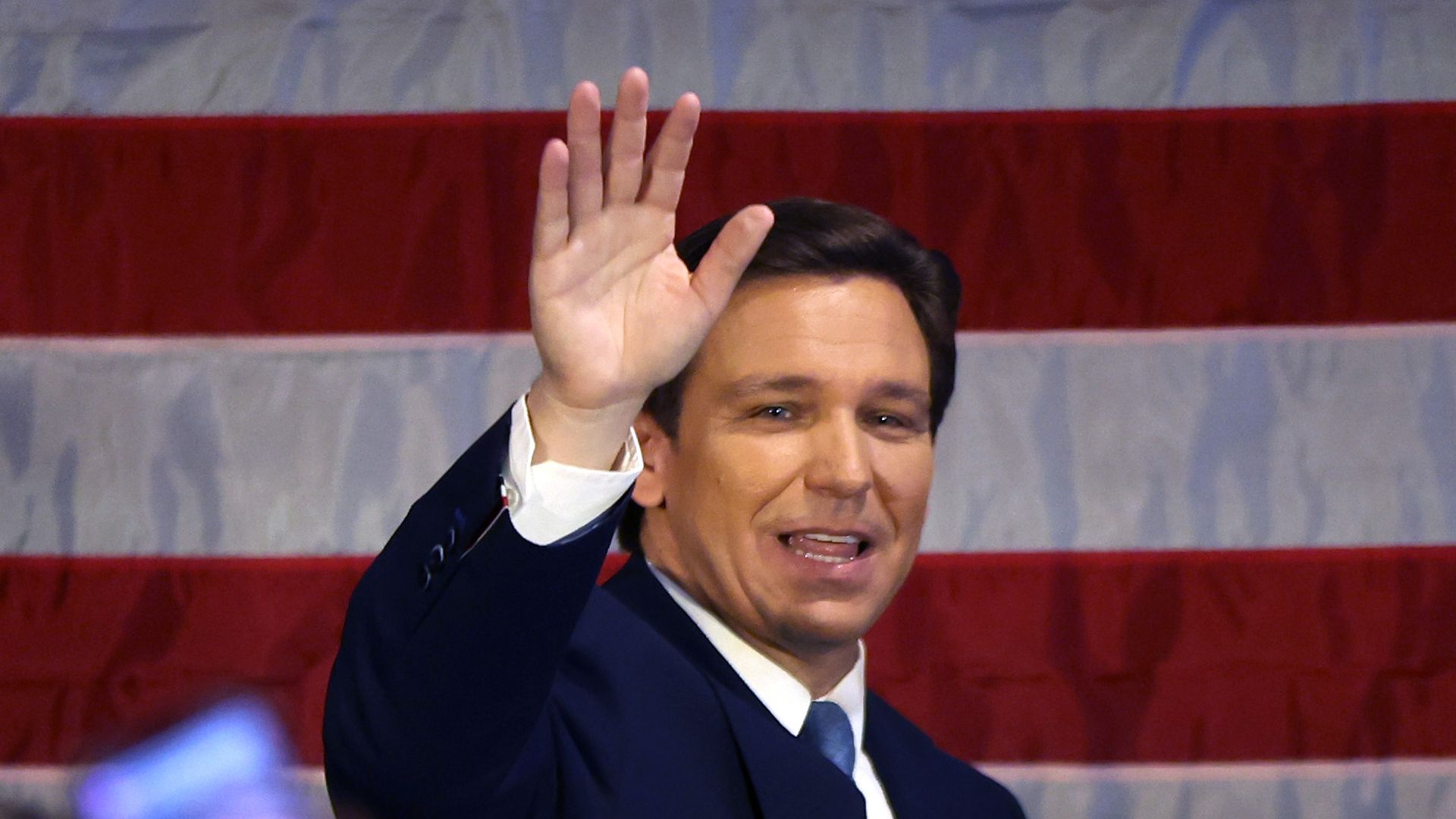 Florida Gov. Ron DeSantis (R) has selected the board members who will run the state-controlled tax district overseeing 25,000 acres surrounding Walt Disney World.
The big picture: All of the appointees are the governor's political allies. Many have vocally supported DeSantis' policies or financially contributed to his campaigns.
Details: The newly renamed Central Florida Tourism Oversight District will be run by a five-member board appointed by DeSantis.
It's an uncompensated volunteer position and the appointees are awaiting confirmation by the Florida Senate.
The board, which will have its first meeting Wednesday, will oversee operations such as tax collection, sewage treatment and road maintenance at Disney's properties.
"They can decide to borrow money or not to fund projects, or they could decide not to expand infrastructure to allow projects to go forward," Aubrey Jewett, an associate professor of political science at the University of Central Florida, told the Washington Post.
What he's saying: "These are folks who have a variety of experience that I think all are pertinent," the governor said last week.
They are people with experience in business and in local government, DeSantis said, adding: "This is ultimately a state agency that's running this but a lot of the principles are the same in terms of how you manage that."
"We also have people that very much want to see Disney be what Walt envisioned, which is what we all want to do," DeSantis said.
Disney Parks chairman Josh D'Amaro said in a statement: "The Reedy Creek Improvement District created and maintained the highest standards for the infrastructure for the Walt Disney World Resort."
"We are hopeful the new Central Florida Tourism Oversight District will continue this excellent work and the new board will share our commitment to helping the local economy continue to flourish and support the ongoing growth of the resort and Florida's tourism industry."
Here's a look at who will be on the board, pending confirmation.
Martin Garcia
The Tampa attorney will be the chairman of the district's new governing board.
His private investment firm contributed $50,000 to the governor's 2022 reelection campaign, per CNN.
Garcia did not immediately respond to Axios' request for comment.
Bridget Ziegler
A conservative school board member and the co-founder of Moms for Liberty, Ziegler is a vocal proponent of DeSantis's education policies, including the "Don't Say Gay" law, per the Washington Post.
She's married to Christian Ziegler, the new chairman of the Republican Party of Florida, which has donated $1.75 million to the governor's campaign.
Ziegler did not immediately respond to Axios' request for comment.
Brian Aungst Jr.
Aungst is an attorney and the son of a former two-term Republican mayor of Clearwater.
He's a DeSantis pick for a state judicial nominating commission, Forbes reports.
Aungst said he had no comment.
Michael Sasso
Michael Sasso is an attorney who has been appointed by DeSantis to several state commissions.
He has donated $370 to the DeSantis campaign and $400 to the Friends of Ron DeSantis PAC, per Florida Politics.
Sasso did not immediately respond to Axios' request for comment.
Ron Peri
The Orlando-based former pastor is the CEO of The Gathering, a Christian ministry focused on outreach to men.
CNN reports that Peri made derogatory remarks about the LGBTQ community, calling homosexuality "evil." In a January 2022 Zoom discussion, he also shared a baseless conspiracy theory about how tap water could be making more people gay.
Peri has donated to multiple Republican candidates and political PACs, including to former President Trump and the Republican National Committee, per Forbes.
Peri did not immediately respond to Axios' request for comment.
Background
DeSantis has been battling with Disney ever since the company came out in opposition against the state's controversial Parental Rights in Education Law — dubbed by critics as the "Don't Say Gay" law.
Go deeper