Updated Mar 4, 2023 -

World
AG Garland makes surprise visit to Ukraine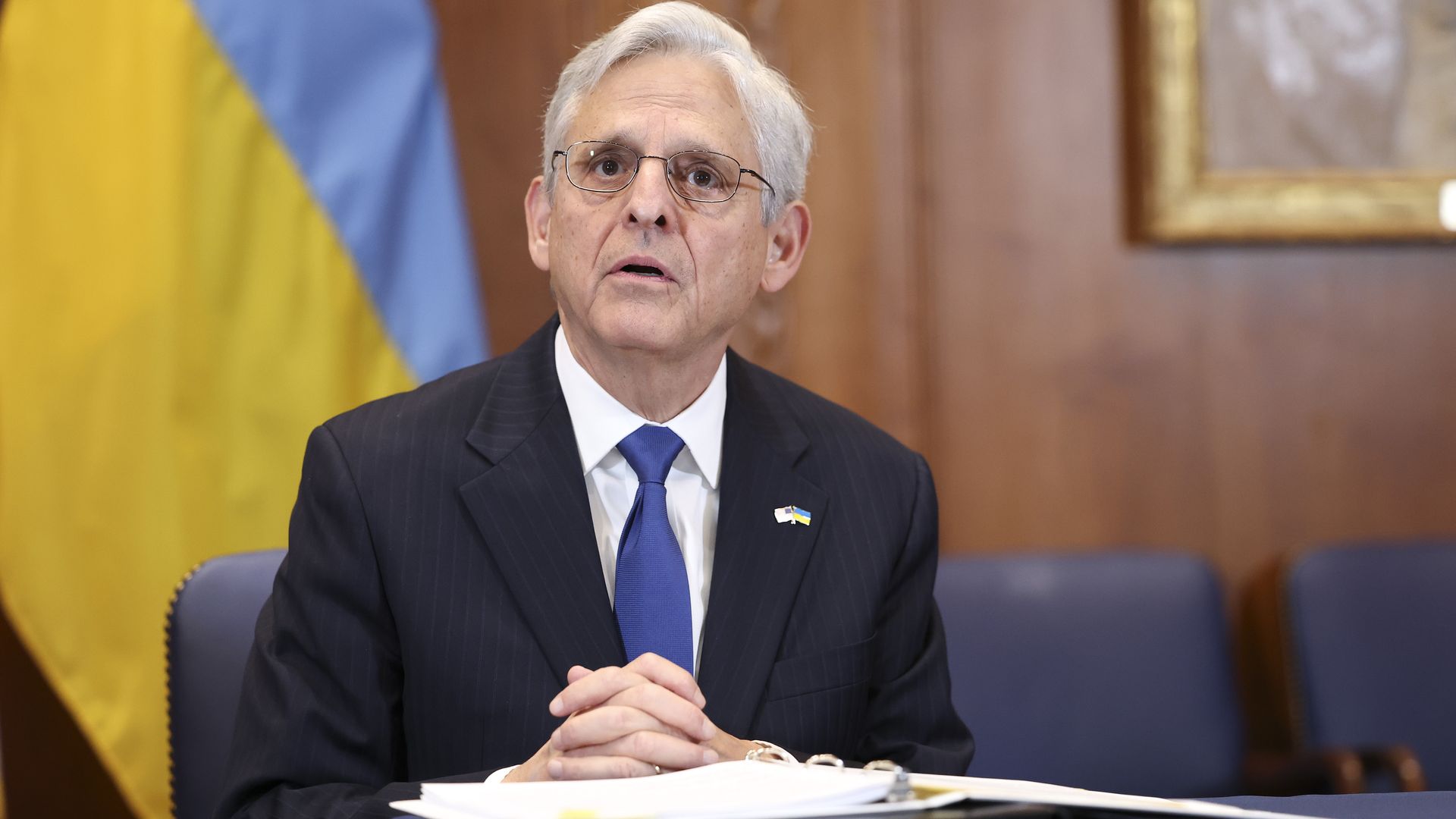 Attorney General Merrick Garland made a surprise trip to Lviv, Ukraine, on Friday at the invitation of Ukraine's prosecutor general, according to a Justice Department official.
Why it matters: During the visit, Garland reaffirmed the U.S.' commitment to help Kyiv hold Russia accountable for crimes committed throughout its invasion of Ukraine.
The trip was not previously announced for security reasons, per the official.
Driving the news: Garland joined Ukrainian President Volodymyr Zelensky, Ukrainian Prosecutor General Andriy Kostin, and several other international figures for a conference.
What he said: "We are here today in Ukraine to speak clearly, and with one voice: the perpetrators of those crimes will not get away with them," Garland said at the conference, per his prepared remarks.
The Department of Justice is working with Ukrainian prosecutors to help investigate Russian war crimes, the attorney general added.
Garland said a recent change in U.S. law allows the DOJ "to prosecute alleged war criminals from anywhere in the world who are found in the United States."
"This means that in the years – and decades – ahead, Russian war criminals who set foot in our country should expect to find themselves in U.S. courts of law," he said. "War criminals will find no refuge in America."
The big picture: Garland previously traveled to Ukraine in June 2021, during which he announced the launch of the "War Crimes Accountability Team" to "centralize and strengthen" the Justice Department's efforts to investigate such crimes committed in Ukraine.
To lead the team, he tapped Eli Rosenbaum, former director of the Office of Special Investigations, which was primarily responsible for identifying, denaturalizing and deporting Nazi war criminals from the U.S.
Garland's most-recent trip comes just days after Treasury Secretary Janet Yellen visited Kyiv to reaffirm U.S. economic support for Ukraine.
Go deeper: Biden and Germany's Scholz commit to continued Ukraine aid in meeting
Editor's note: This story has been updated with comments from Garland.
Go deeper