AOC may have violated House rules at Met Gala, watchdog says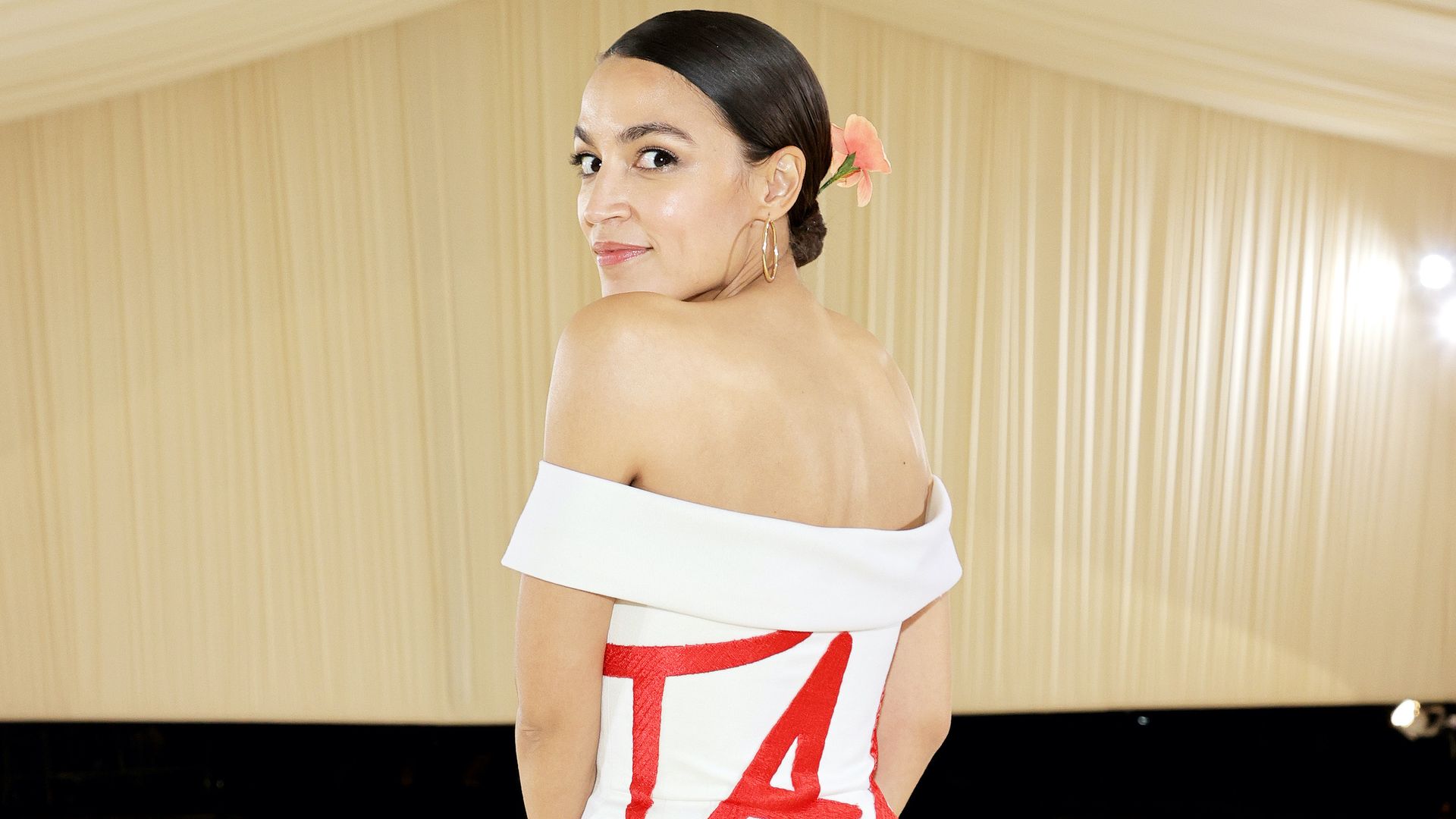 The House Ethics Committee extended its investigation into Rep. Alexandria Ocasio-Cortez (D-N.Y.) on Thurday over allegations that she violated congressional rules by accepting "impermissible gifts" at the 2021 Met Gala.
The big picture: The Office of Congressional Ethics (OCE) released an 18-page report that states the board found "substantial reason to believe that she accepted impermissible gifts." Ocasio-Cortez denies violating House rules and her office told NBC News they're confident the matter would be dismissed.
Driving the news: Ocasio-Cortez made headlines at the 2021 Met Ball with her white Brother Vellies dress that displayed the slogan "tax the rich" on the back.
A review began after the New York Congress member was provided with "a couture dress, handbag, shoes, and jewelry" at the New York City event, along with "hair, makeup, transportation, and ready-room services," per the report. Her partner "received a bowtie and shoes in advance of the event."
The OCE referred Ocasio-Cortez to the Ethics Committee for an investigation last June and House Ethics Committee Chair Michael Guest and acting ranking member Rep. Susan Wild (D-Pa.) decided in December to further investigate the allegations.
Details: "If Rep. Ocasio-Cortez accepted impermissible gifts, then she may have violated House rules, standards of conduct, and federal law," the report states.
"While Rep. Ocasio-Cortez appears to have now paid for the rental value of the attire she wore to the Met Gala and for the goods and services she and her partner received in connection with this September 2021 event, payment for these goods and services did not occur until after the OCE contacted her in connection with this review," the panel wrote.
"It appears that Rep. Ocasio-Cortez may not have paid for several thousands of dollars' worth of goods and services provided to her," the report added.
Context: House rules prohibit members from accepting gifts of "gratuity, favor, discount, entertainment, hospitality, loan, forbearance, or other items having monetary value."
Under a federal statute, no member of Congress can "solicit or accept anything of value from a person seeking official action from, doing business with" or "whose interests may be substantially affected by the performance or nonperformance of the individual's official duties."
What they're saying: Representatives for Ocasio-Cortez told NBC News that no ethics violation had been found, but the OCE "did identify that there were delays in paying vendors for costs associated with the Congresswoman's attendance at the Met Gala."
Ocasio-Cortez found these delays "unacceptable" and she has "taken several steps to ensure nothing of this nature will happen again," her office told the outlet.
"However, while regrettable, these delayed payments definitively do not rise to the level of a violation of House Rules," they added. "Even after OCE's exhaustive review of the Congresswoman's personal communications, there is no record of the Congresswoman refusing to pay for these expenses.
"To the contrary, there are several explicit, documented communications, from prior to OCE's review, that show the Congresswoman understood that she had to pay for these expenses from her own personal funds — as she ultimately did."
Rep. Ocasio-Cortez's office did not immediately reply to Axios' request for comment.
Read the full report, via DocumentCloud:
Go deeper