Scoop: McConnell says U.S. shouldn't weigh in on Bibi's judicial overhaul plan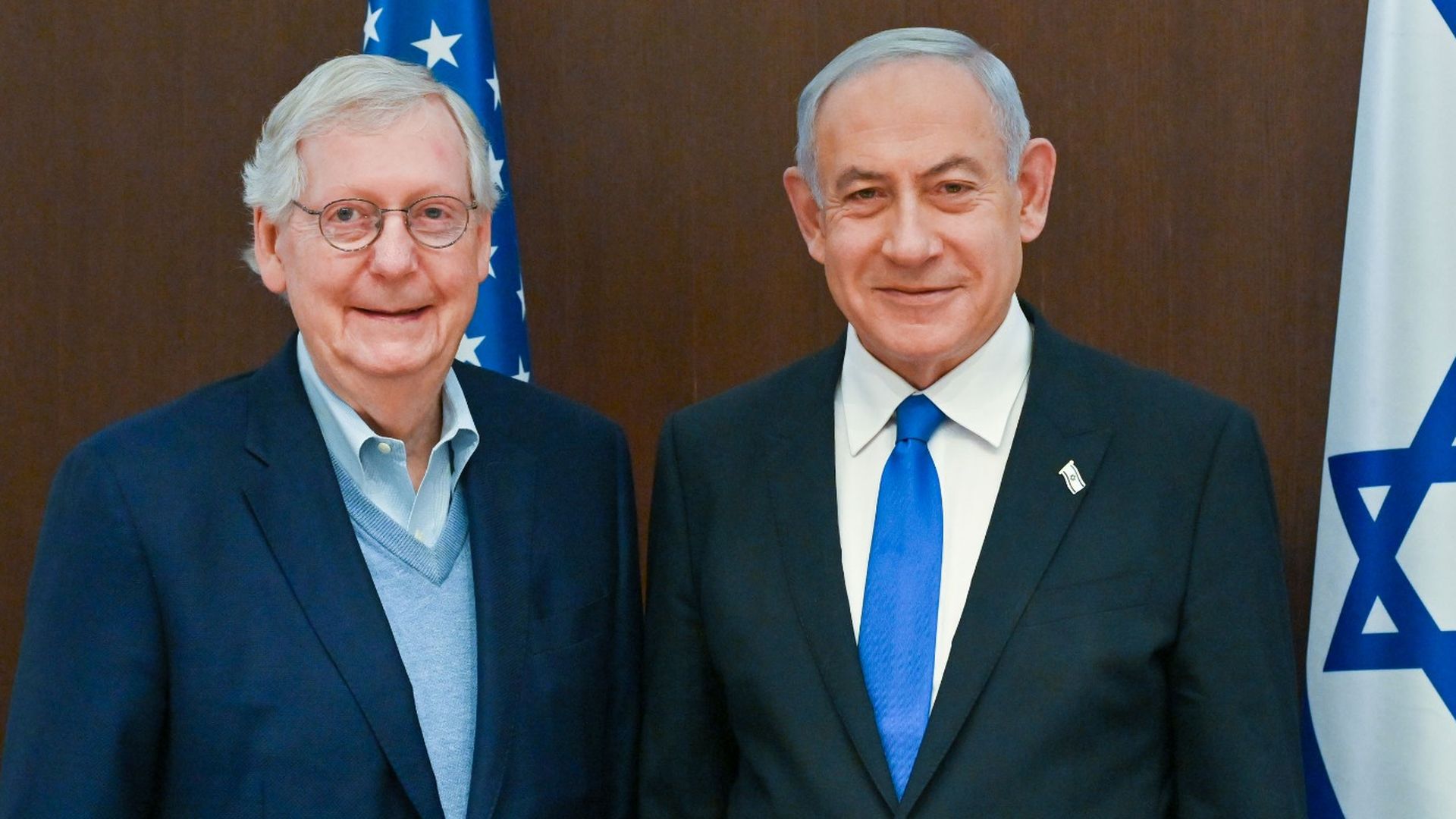 Senate Minority Leader Mitch McConnell (R-Ky.) told Axios in an interview after his recent trip to Jerusalem that the Israeli government's plan to weaken the Supreme Court is an internal Israeli matter and the U.S. should not intervene.
Why it matters: McConnell's comments often set the tone for many Republican lawmakers who, unlike several Democrats, haven't expressed public opposition to the judicial overhaul plan.
Driving the news: McConnell visited the UAE, Saudi Arabia and Israel last week as part of a Senate delegation of Republicans.
The delegation met with Israeli Prime Minister Benjamin Netanyahu and President Isaac Herzog in Jerusalem.
A separate delegation of Senate Democrats led by majority leader Chuck Schumer (D-N.Y.) visited Israel at the same time.
What they're saying: McConnell told me the issue of the Israeli government's judicial plan hardly came up in the meetings in Jerusalem and stressed this was a domestic issue.
"I don't have an opinion I'm willing to express about it," he said in an interview this week.
"This is something the citizens of Israel are going to have to sort out for themselves without any American influence. … It isn't any of my business to give Israelis advice about how to sort this out," he added.
The big picture: Democrats in Congress are increasingly voicing their concerns over Netanyahu's controversial plan and its implications for Israel's democracy and the bilateral U.S.-Israel relationship.
The plan, presented by the most right-wing government in Israel's history, has created an unprecedented constitutional crisis in the country, with growing fears that the confrontation between the government and the opposition will escalate into violence and chaos.
Biden told the New York Times last month that any fundamental changes in Israel's judicial system should be based on a consensus to get legitimacy from the public and be sustainable.
Behind the scenes: McConnell told me a key issue that was discussed with Netanyahu was Israel's policy toward Ukraine.
"We want to see as much help for Ukraine internationally as we possibly can, and to the extent that the government of Israel could head in that direction, that would be a good thing," McConnell said.
He added, however, that he understands the complicated situation Israel is in with Russia. "The deconfliction agreement they have with the Russians with regard to Syria makes things somewhat complicated. But anything that the Israeli government could do to help Ukrainians would be appreciated," he added.
Worth noting: McConnell praised the visit by the Saudi foreign minister to Kyiv earlier this week and the $400 million aid package he announced.
"It's pretty clear to me, the Saudis would not have sent their foreign minister to Ukraine, they would not have committed $400 million if they were not on our side against the Iranians and the Russians in this war. And I think that's a very good sign," he said.
Go deeper