Scoop: Schumer expected to visit Israel as Bibi faces criticism over judicial plan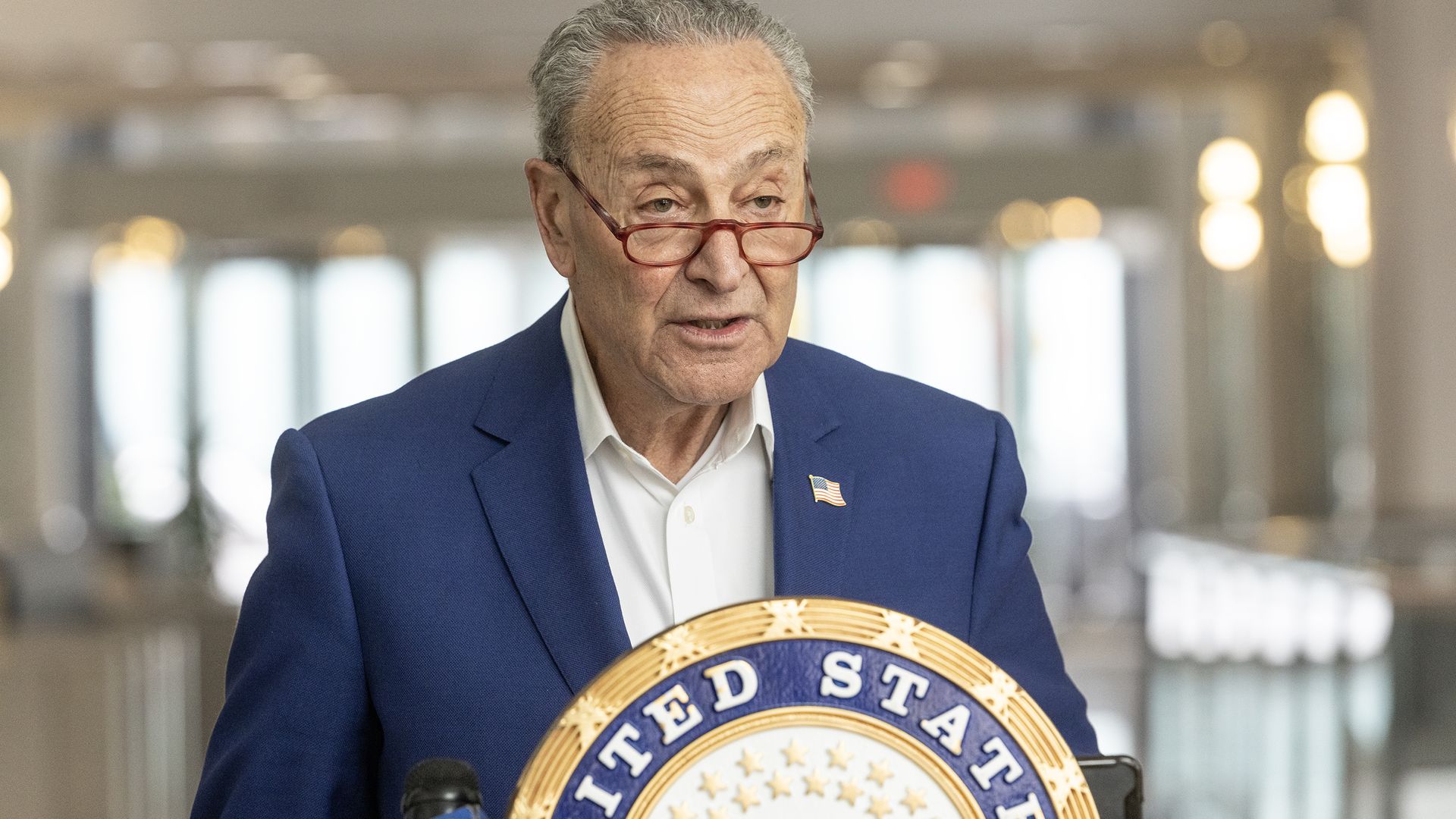 Senate Majority Leader Chuck Schumer (D-N.Y.) is expected to visit Israel next week with a delegation of Senate Democrats for meetings with Prime Minister Benjamin Netanyahu and other senior officials, Israeli Foreign Ministry officials told Axios.
The big picture: Democrats in Congress are increasingly voicing their concerns over Netanyahu's controversial judicial overhaul plan and its implications for Israel's democracy and the bilateral U.S.-Israel relationship.
The plan, presented by the most right-wing government in Israel's history, has created an unprecedented constitutional crisis in the country, with growing fears that the confrontation between the government and the opposition will escalate into violence and chaos.
Unlike many in the Democratic Party, including President Biden, Schumer, one of the most pro-Israel lawmakers, has so far remained silent on the plan.
Driving the news: Israeli officials said Schumer and his delegation are expected to visit Israel Feb. 23–25.
They will also meet President Isaac Herzog, opposition leader Yair Lapid and U.S. Ambassador to Israel Tom Nides.
It is unclear if they will visit the occupied West Bank to meet with Palestinian officials.
Schumer's office didn't respond to several requests for comment.
State of play: More than 100,000 people rallied in front of the Israeli parliament building on Monday in a sign that opposition to Netanyahu's judicial overhaul plan is growing.
The plan, if implemented, would significantly limit the Supreme Court's ability to review laws and strike them down.
Herzog in a speech on Sunday laid out principles for negotiations on finding a broad consensus for a compromise. He also called on the government to suspend the legislative process and enter talks with the opposition and the president of the Supreme Court.
The government refuses to suspend the legislation, and opposition leaders said they won't enter talks as long as the process continues.
The Israeli Knesset could vote in the first hearing on the initial part of the judicial plan as soon as Monday.
What they're saying: Sen. Dick Durbin (D-Ill.), chair of the Senate Judiciary Committee and a staunch supporter of Israel, recently told the Israeli Haaretz newspaper that Netanyahu is putting his own personal interests above those of Israel's democracy.
Durbin, who is one of more than a dozen Democratic lawmakers who spoke on the issue in recent weeks, called on Netanyahu to take a step back in order to not harm Israel's Democratic institutions and said Biden did the right thing when he weighed in.
Biden told the New York Times that any fundamental changes in Israel's judicial system should be based on a consensus to get legitimacy from the public and be sustainable.
"The genius of American democracy and Israeli democracy is that they are both built on strong institutions, on checks and balances, on an independent judiciary," Biden said.
Go deeper: Blinken's civics lesson for Netanyahu
Go deeper