Judges, not lawmakers, are setting 2023's tech policy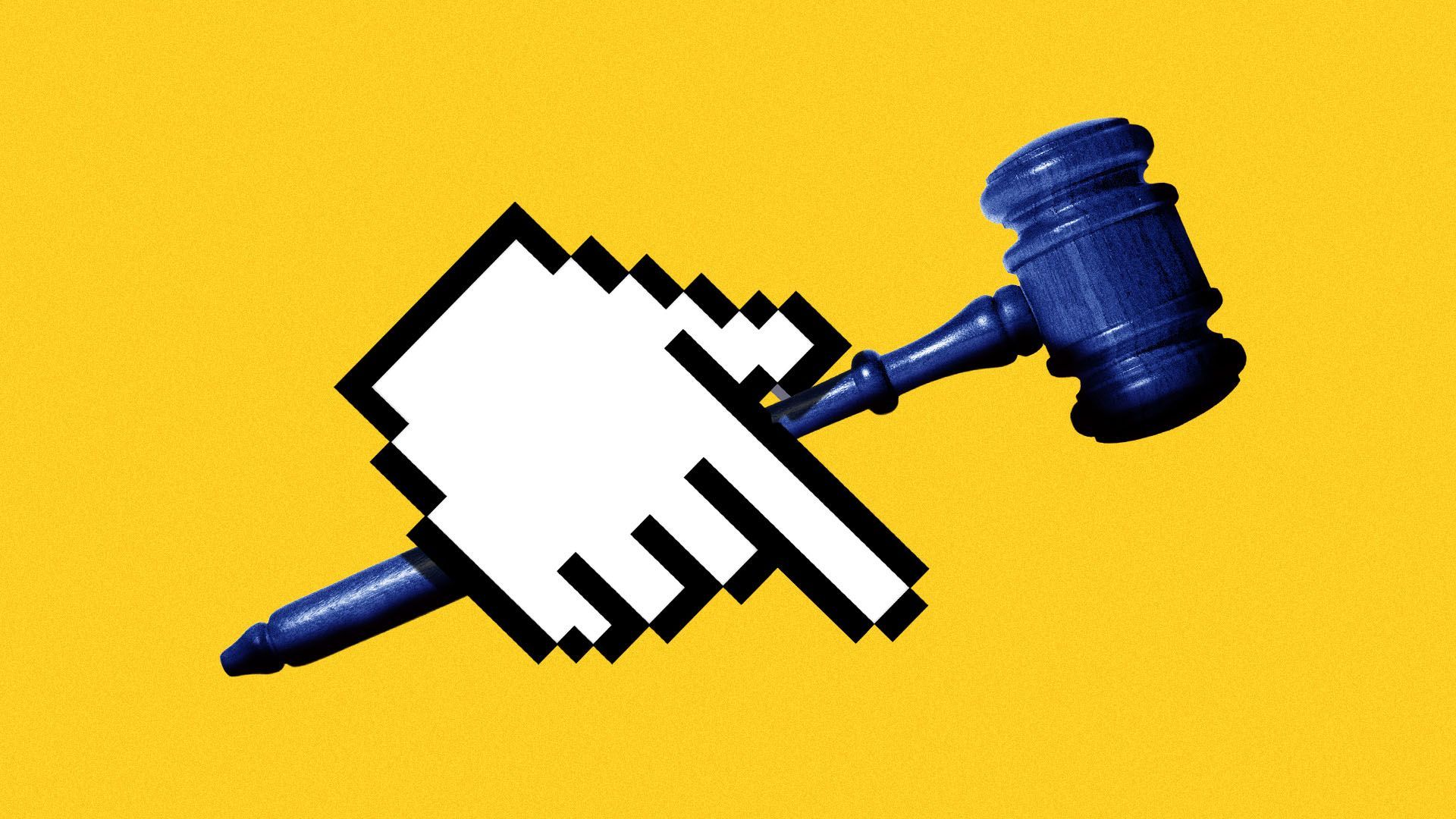 Congress' stall on tech policy is empowering courts to handle important decisions about everything from liability to content moderation.
What's happening: Technology moves faster than Congress can keep up with, and in the absence of new laws, lasting decisions about tech regulation are being determined by judges and courts across the country.
Driving the news: Federal agencies, state governments and attorneys representing different interests and motives for trying to regulate the tech industry are pushing cases forward.
A high-profile instance came last week when the Supreme Court heard two major arguments about liability protections for user content that longstanding federal law grants to tech platforms.
Between the lines: There's widespread agreement this is not an ideal way of determining tech policy. Lawsuits are expensive and time-consuming and can muddy as much as they clarify.
Industry and consumer advocates such as pro-privacy groups would all rather see Congress step in than hope that a court will interpret current law to their preference.
What they're saying: "As we saw last week in Gonzalez v. Google, even Supreme Court justices don't know where to draw the line — saying that Congress is better equipped to make calls on these critical issues. We agree," Carl Holshouser, senior vice president of tech industry advocacy firm TechNet, told Axios.
He added: "Instead of a system that takes years, costs a lot of money and resources for all involved, and often lacks consistency, Congress must do its constitutional duty and make the laws, and in some cases, update them as necessary."
"While the courts wrestle with Section 230 and First Amendment issues, Congress can act to address other critical digital policy issues like ensuring consumers have baseline federal privacy protections," Matt Schruers, president of pro-tech group the Computer & Communications Industry Association, told Axios.
The big picture: Congress missed a big opportunity to pass comprehensive tech policy legislation last year, before Republicans took control of the House of Representatives. With the Senate still in Democrats' hands, consensus will be even harder to come by — making the courts' role even more consequential.
These are some of the most important tech policy battles now playing out in the U.S. courts:
Gonzalez v. Google and Twitter v. Taamneh at the Supreme Court: Congress has ben talking for years about making changes to Section 230 of the Communications Decency Act, the law that largely keeps tech platforms from being held liable for users' posts, but the Supreme Court ended up tackling the law first. A decision on whether to narrow this key internet law is due by early summer.
NetChoice v. Moody/Paxton: Republicans in Congress have argued for years that social media platforms take down too much speech, while Democrats argue they could do more to limit harmful content. Neither party has managed to do much nationally about these complaints. But Republican leaders in Texas and Florida did pass laws to compel platforms to carry certain kinds of speech. Those laws are under challenge by tech groups, and the cases are likely to be heard by the Supreme Court.
Social media multi-district litigation: Earlier this month, a master complaint with at least 125 plaintiffs was filed against Instagram, TikTok, Snapchat, YouTube and Meta, alleging the platforms are designed to exploit younger users and keep them hooked, leading to mental health problems and instances of suicide. A court finding that tech platforms designed harmful, addictive products and are liable for them would go far beyond Congress' efforts on these issues.
Federal and state antitrust cases against Google: Three suits are playing out against Google; two concerning advertising technology and another about search competition, even as the search competition landscape shifts with new rollouts of AI-driven chat interfaces. Those cases will take years to resolve, but they still hold the potential for action — while the last Congress' efforts to pass a big package of antitrust bills that would impact Google ultimately fizzed out.
FTC lawsuits: The FTC has urged Congress to pass new privacy and antitrust laws, but in the absence of legislation, the agency under chair Lina Khan is trying its hand at blocking mergers in court. The first high-profile case the agency fought, over Meta's acquisition of virtual reality fitness startup Within, ended in defeat, but Khan is expected to press more cases.
What to watch: Court decisions that anger the public or frustrate companies could jolt Congress into action down the road.
In the Google v. Gonzalez case specifically, justices are likely to ask Congress to step in to clarify content liability rules, Ben Sperry, associate director for legal research at the International Center for Law and Economics, told Axios: "My intuition is they won't take the invitation to significantly change the status quo, just by listening to the oral arguments... Whether that ends up spurring Congressional action will be interesting."
Go deeper