Capitol Hill's great unifier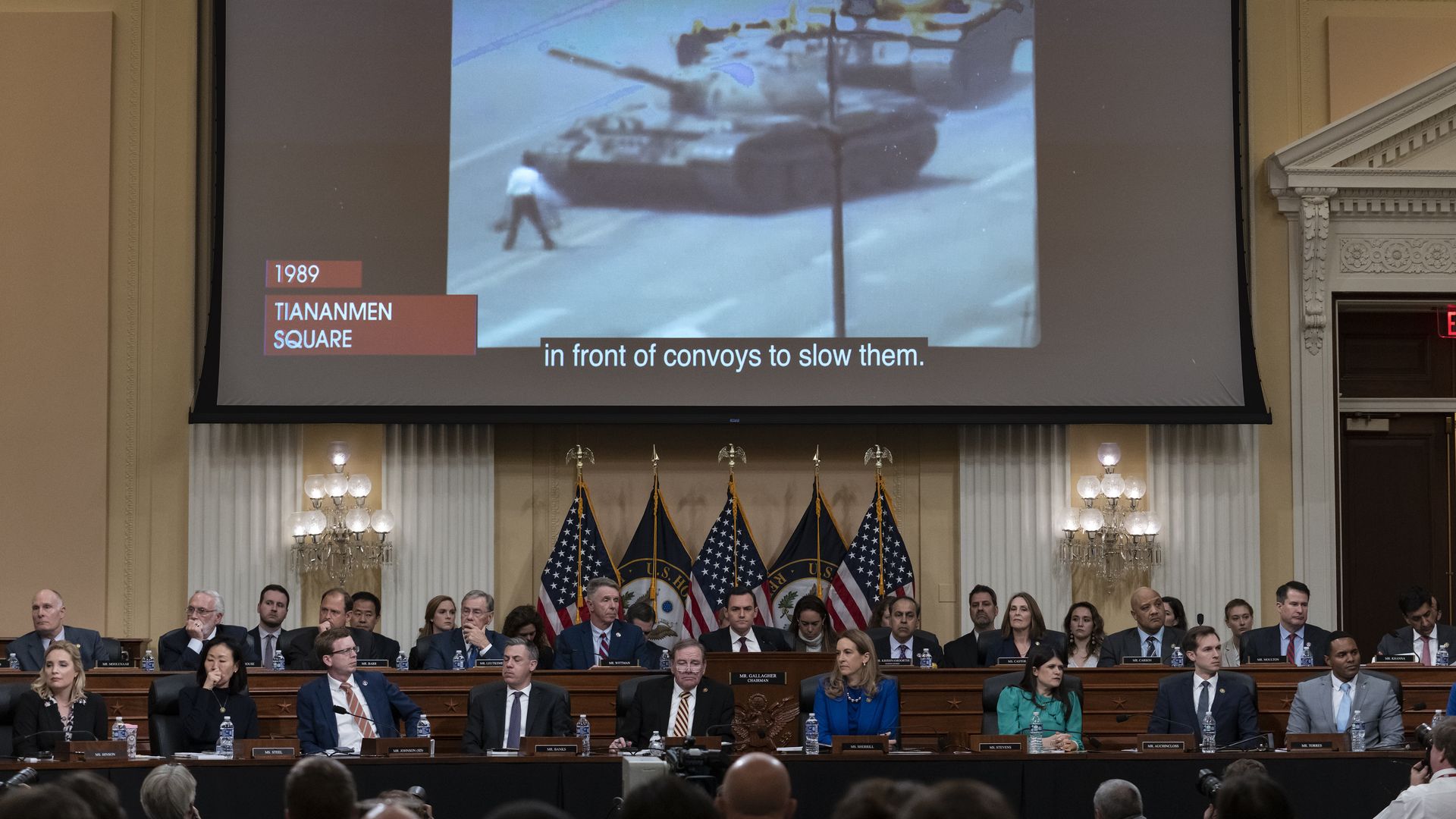 The legacy of the 118th Congress — even amid its high-profile divisions — is set to be defined by an unprecedented focus on the threat emanating from the Chinese government.
Why it matters: With President Biden wielding a veto and Republicans prioritizing sweeping investigations, China is the only issue positioned to pierce Capitol Hill's bitter partisan bubble on a consistent — and meaningful — basis.
It's a testament to just how far the bipartisan consensus on China has shifted over the past six years, as the relationship between the world's two largest economies threatens to spiral into more direct confrontation.
While the last Congress frequently condemned Beijing's human rights abuses, the next two years will bring a bipartisan China agenda unparalleled in its scope and intensity.
Driving the news: The House select committee on China — established last month with an overwhelming 365-65 bipartisan vote — debuts tonight with a prime-time hearing focused on the "overall threat" posed by the Chinese Communist Party.
An opening video obtained by Axios shows footage from different phases of CCP rule — from the Great Leap Forward of 1958 to Mao's Cultural Revolution and the 1989 Tiananmen Square massacre.
The video, narrated by activists as well Chair Mike Gallagher (R-Wis.) and Ranking Member Raja Krishnamoorthi (D-Ill.), lists recent voices that have been silenced: a Chinese doctor sounding the alarm over COVID, an Alibaba tech executive, a tennis player testifying about sexual assault, and gay rights activists.
Witnesses will include former Trump national security adviser H.R. McMaster and deputy national security adviser Matt Pottinger, two China hawks who are widely respected across the aisle.
The big picture: Republicans frequently accuse the Biden administration of being soft on China, but the past several weeks alone have revealed remarkable policy alignment — albeit with minor disagreements — between the two parties.
The White House yesterday gave federal agencies 30 days to wipe Chinese-owned TikTok from all government devices after Congress ordered the crackdown in December's government funding package.
On Tuesday, the House Financial Services Committee advanced a series of bills on a bipartisan basis taking aim at China's economic influence on the world stage.
The Biden administration is launching its massive semiconductor initiative with an eye toward the "very heated global competition with China," Commerce Secretary Gina Raimondo told CNN today.
Earlier this month, the House voted 419-0 in favor of a resolution condemning China for the surveillance balloon that traveled over the continental U.S.
Even the "America First" nationalists who oppose sending aid to Ukraine cast it as a matter of limited resources — and are among the most vocal proponents of arming Taiwan against a potential Chinese invasion.
What they're saying: "It's the one part of the sandbox where everyone can play without flinging sand in each others' eyes," Tim Bergreen, former staff director of the House Intelligence Committee and former chief of staff to Rep. Adam Schiff (D-Calif.), told Axios in an interview.
Yes, but: The China committee's challenge will be to present the complex, amorphous and cross-disciplinary threats in a tangible and easily digestible way — while also contending with remaining partisan differences like the extent to which climate change should affect relations.
"The Chinese Communist Party likes nothing better than to have divisions between Democrats and Republicans," Krishnamoorthi said in a joint CBS appearance with Gallagher this weekend.
"We have to get over that to be effective."
Go deeper