Ukraine tries "creative solutions" for school during war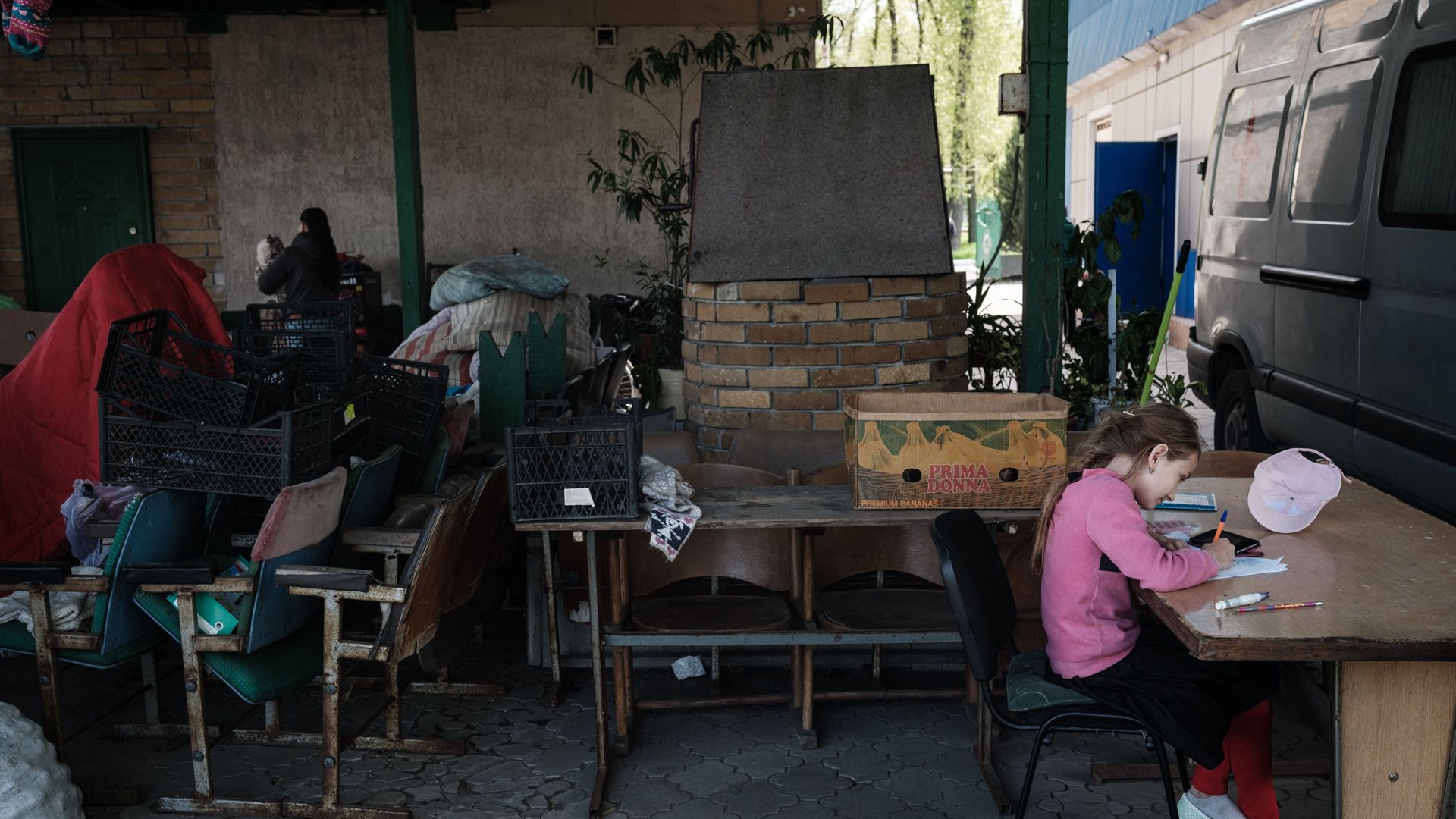 Going to school in Ukraine has become a daily act of adapting and improvising for teachers and students alike.
The big picture: The disruption and trauma of Russia's invasion will shape a generation of Ukrainians and the future of the country.
"There is no pause button. It is not an option to simply postpone children's education and come back to it once other priorities have been addressed, without risking the future of an entire generation," UNICEF's Afshan Khan said in a statement last month.
Driving the news: The Ukrainian education ministry urged schools to hold classes remotely this week out of concern there could be an increase in Russian missile strikes around the one-year mark since the invasion, Reuters reports.
In December, classes were regularly interrupted due to air raids (68%), blackouts (60%), no internet service (57%), no heat (17%), or lack of a teacher (8%), according to survey of 2,000 Ukrainian mothers released this week by the Ukraine Children's Action Project.
Catch up quick: UNICEF estimates the war has disrupted the education of more than 5 million children in Ukraine.
Shelling and bombing have destroyed at least 441 schools and education centers in Ukraine and damaged nearly 2,700 others, according to the Ministry of Education and Science of Ukraine.
Blackouts caused by Russian attacks on energy infrastructure have left many students to alternate between remote and in-person classes, and struggling to study online.
Across Ukraine's roughly 13,000 operational schools, about 1.1 million students attend class in person each day as of the end of Jan., more than 1.6 million are learning entirely online and 1.2 million receive a combination.
What's happening: Bomb shelters, which are required by the government in order for schools to resume classes, are being repurposed as classrooms to create safe spaces for students to learn and socialize.
The House of Culture in the village of Bohdanivka in the Kyiv region is now a school, according to the non-profit savED.
In the town of Hostomel, near Bucha, the community is renting a restaurant-hotel from the owner to use as a temporary school.
A mobile school in Zahaltsi, provided by the International Research & Exchanges Board and savED, allows students to attend classes while still having access to the shelter that survived severe damage to the local school.
"We're trying, like everyone is trying, to find creative solutions," says Anna Novosad, who co-founded savED, which is repurposing bomb shelters as "digital learning centers."
Zoom in: In a converted shelter beneath a school in Chernihiv, a city about 90 miles north of Kyiv that was under siege one year ago, two teachers, Yuliia Masliana and Kateryna Bokach, spoke to Axios over Zoom while children studied English on laptops behind them.
Via Bokach, Masliana said one of the biggest challenges is helping students feel they are in a safe place.
Some days, there are no sirens. Others, students and teachers will have to move to shelters three or four times.
"Sometimes it is difficult to breathe because there are a lot of children and teachers, and there is a lot of noise," Bokach said. "They are tired after the shelters, and I also am tired because we can sit in the shelter for one or two hours."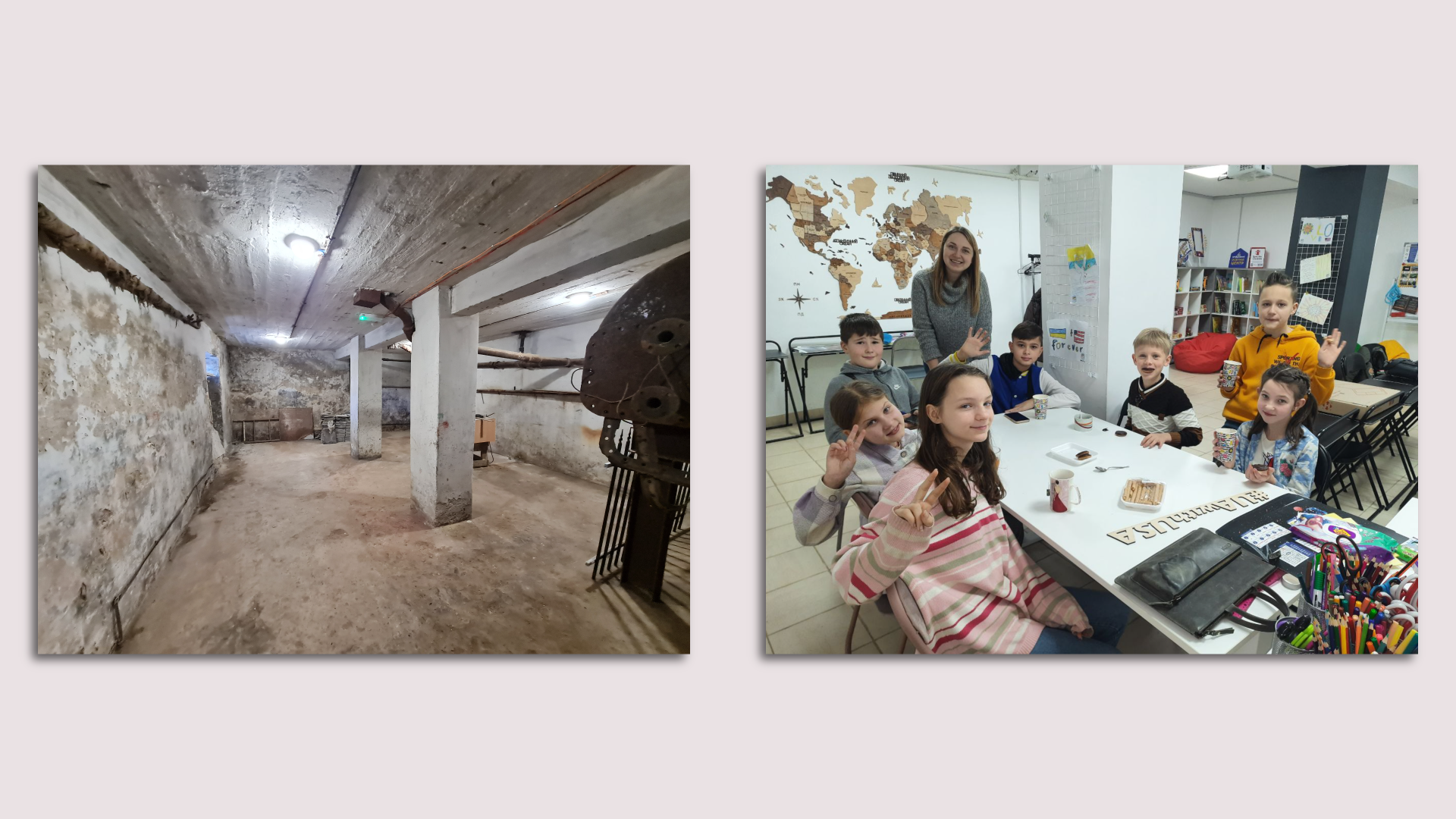 Between the lines: Teenagers' education during the conflict is particularly important for the country's recovery process, Novosad says.
Teens are already in transition moments in their lives, and now also face the instability and uncertainty that war brings. It's "not even about being in a safe place, but to be sure that tomorrow you can go to school or you will be able to continue studying to join university," says Maksym Marchenko, a student in his final year of high school in Kyiv.
"These kids who had to mature so, so quickly because of the circumstances, they have to be not passive, but active participants of this process of recovery," says Novosad, who was Ukraine's minister of education and science from 2019 to 2020.
"We made a choice to stay in Ukraine, and to continue to work in Ukraine and develop our skills in Ukraine. That is how we can support our country," says Sofiia Smovzh, who is in her first year studying chemistry at the National University of Kyiv after returning from Paris last summer.
What to watch: As the rebuilding happens, Novosad says there is an opportunity to take "completely different approaches" to education in the country.
With the U.S. NGO Spirit of America, savED is piloting a civics education program in the Kyiv and Chernihiv regions that involves teens in developing and restoring their communities.
"We understand that this generation will rebuild Ukraine after our victory, so we are working now to prepare them for this," Liliia Drozdyk, the head of communications at savED, said in an email.
Go deeper