How Biden secretly visited Ukraine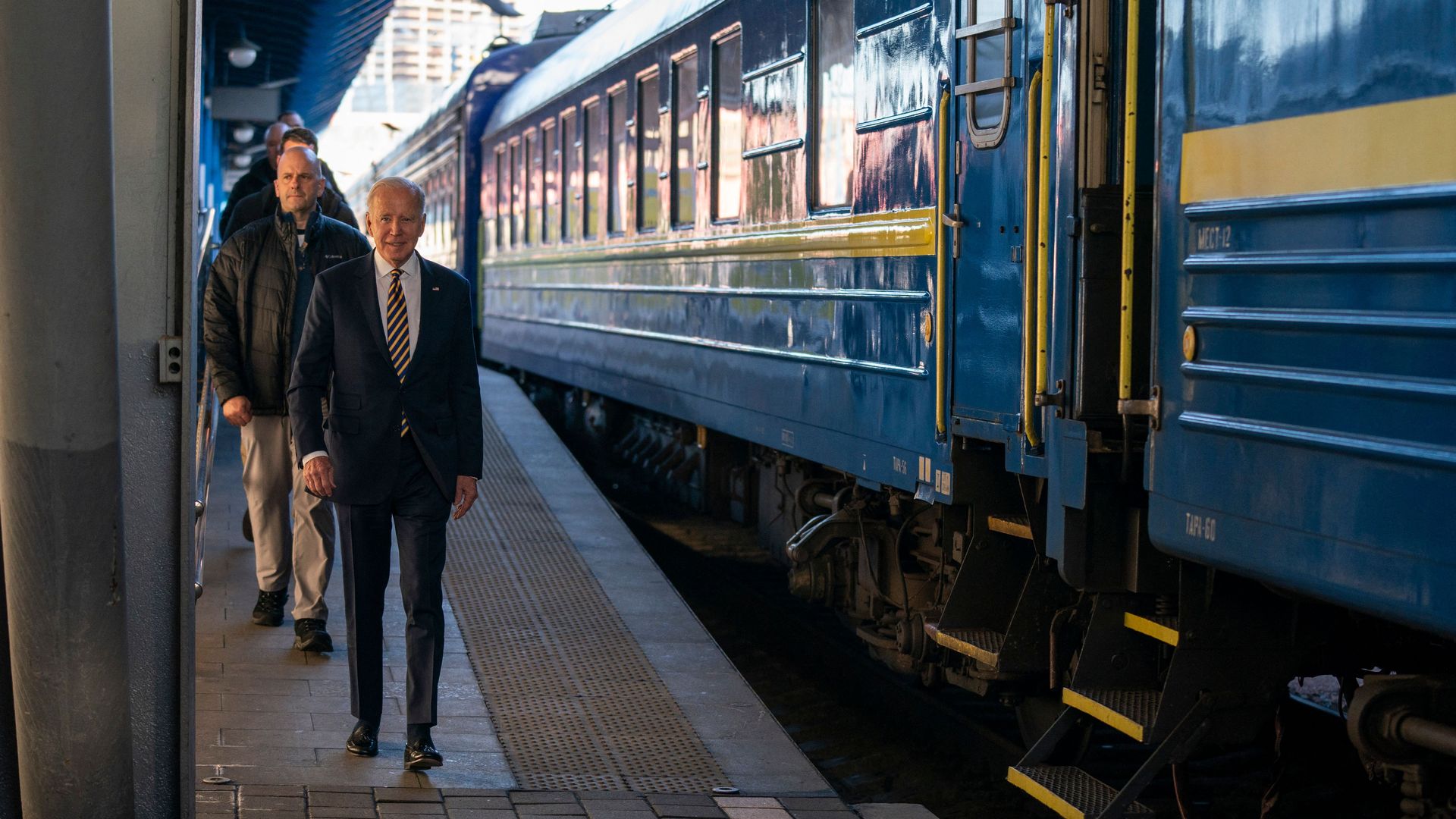 President Biden arrived back in Poland on Monday evening following a roughly five-hour surprise visit to Kyiv ahead of the one-year anniversary of the war.
Why it matters: While American presidents have visited war zones before, Biden's visit to Ukraine was "historic and unprecedented" the White House said, as there has never been a visit by a president to an active war zone where the U.S. does not have a military presence.
Now that Biden has left the country, new details on how Biden made his way to the Ukrainian capital are being reported.
The big picture: Every aspect of the trip was a tightly held secret. On Sunday night, the White House issued a public schedule for Monday showing Biden still in Washington, D.C. and departing in the evening for a previously announced trip to Poland.
Reporters traveling with the president were sworn to secrecy and were told to look out for an email containing instructions for an early Sunday morning departure from Andrews Air Force Base, per the pool.
The subject line would read: "Arrival instructions for the golf tourney," the pool said.
Air Force One took departed Andrews Air Force Base at 4:15 am ET on Sunday, arriving at Germany's Ramstein Air Base at 5:13 pm local time Sunday, according to a pool report issued Monday afternoon.
The shades of the plane were kept drawn as it refueled, before flying onward to to Poland's Rzeszów–Jasionka Airport.
From there, Biden's motorcade traveled directly to the Przemyśl Główny train station, arriving at about 9:15 pm local time. From there, the Biden commenced a 10-hour overnight journey into Ukraine.
Biden arrived at the Kyiv-Pasazhyrsky train station at about 8 am local time Monday.
"It's good to be back in Kyiv," Biden said as he stepped off the train, per the pool report.
Following the day's events, Biden and his motorcade arrived back at the train station at 1 pm local time to commence the journey back to Poland.
The train crossed the border back into Poland shortly after 8 pm local time
Go deeper: Biden's secret visit to Kyiv — in photos
Go deeper