White House: Norfolk Southern will be held accountable for Ohio train derailment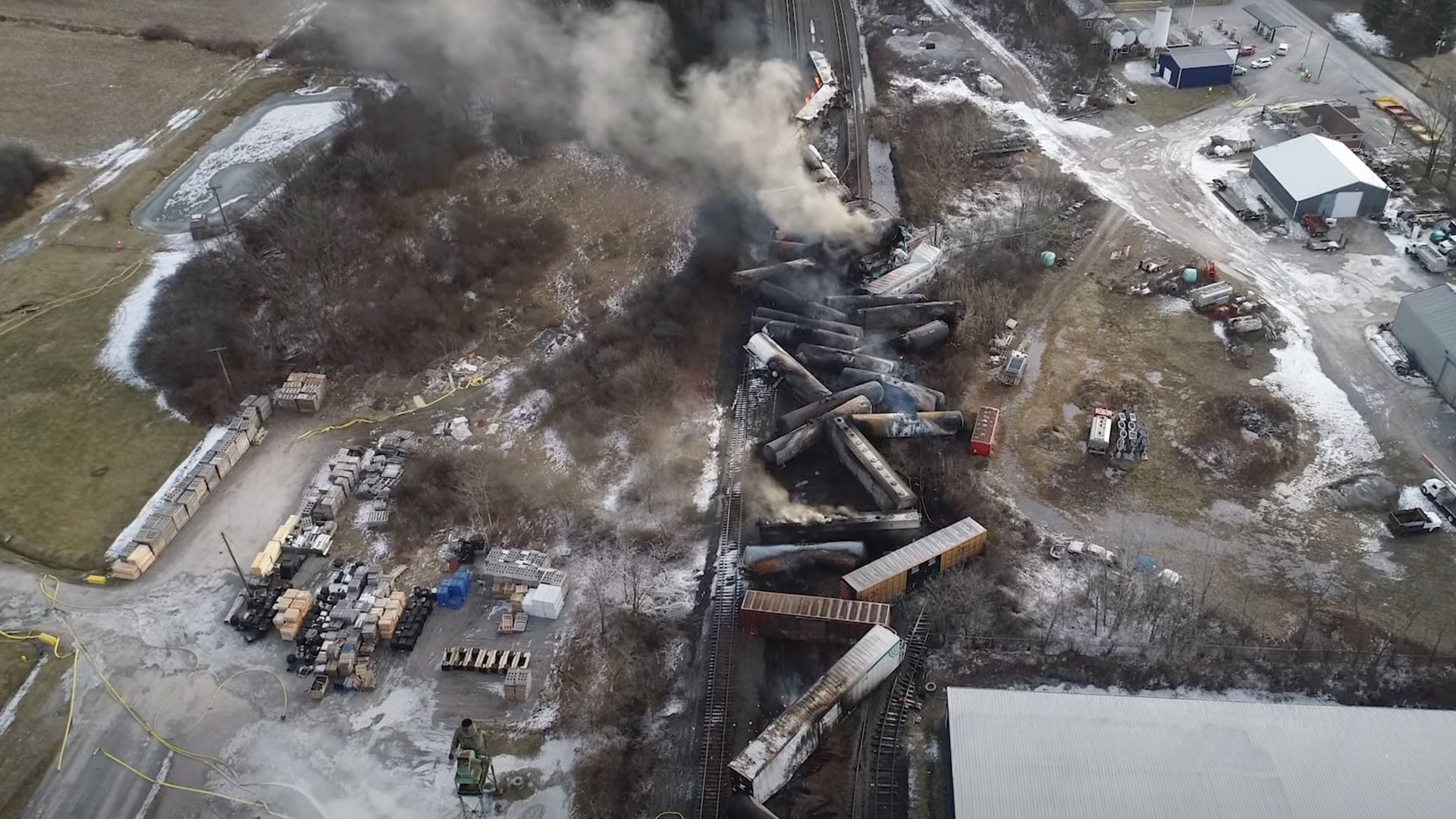 The Biden administration said Thursday that it will hold rail operator Norfolk Southern accountable for the derailment of a 150-car freight train in East Palestine, Ohio — a day after the town's mayor said he heard from the White House for the first time this week.
Driving the news: The comments — made by White House Press Secretary Karine Jean-Pierre at a briefing on Thursday — come almost two weeks after the Norfolk Southern train, which was pulling at least five tanker cars containing a hazardous gas, crashed and forced the company to vent and burn carcinogenic chemicals from train cars.
The derailment forced hundreds of people to evacuate and caused alarm about toxic fumes and water contamination from spilled materials.
Several federal lawmakers have since pushed for answers about government oversight of the freight train system, while Transportation Secretary Pete Buttigieg has countered that the solution lies with Congress.
What they're saying: "The health and safety of the community is our top priority," Jean-Pierre said.
When asked why the Biden administration had not reached out earlier, Jean-Pierre noted that the Environmental Protection Agency has been on the ground since Feb. 4 and that President Biden has spoken with Ohio Gov. Mike DeWine (R) to offer federal assistance.
DeWine said earlier Thursday he had requested assistance from the Department of Health and Human Services, the Health and Emergency Response Team and the CDC.
"Multiple federal agencies have been on the ground working ... to get to the bottom of what caused the derailment, monitoring air quality, collecting soil samples, testing surface and ground water for any contaminants," Jean-Pierre said.
"We understand the residents are concerned as they should be ... and we're going to try to figure out an answer," she added. "We're going to hold Norfolk Southern accountable."
"Our message to folks in Ohio in that area is to listen to your state and local officials."
The big picture: What led to the crash is still unclear, but a mechanical issue with an axle of one of the 150 cars is believed to be the cause of the derailment of at least 50 of the cars.
Norfolk Southern faces at least four class action lawsuits that allege negligence over the crash.
Railroad worker unions, several of which rejected a Biden-brokered labor deal last year, had previously made it clear that employees were fed up with being overworked and that rail companies had cut down the workforce too excessively in a bid to save costs.
The National Transportation Safety Board, backed by the Department of Transportation, is leading an investigation into the derailment.
Go deeper