Deese departure leaves West Wing power vacuum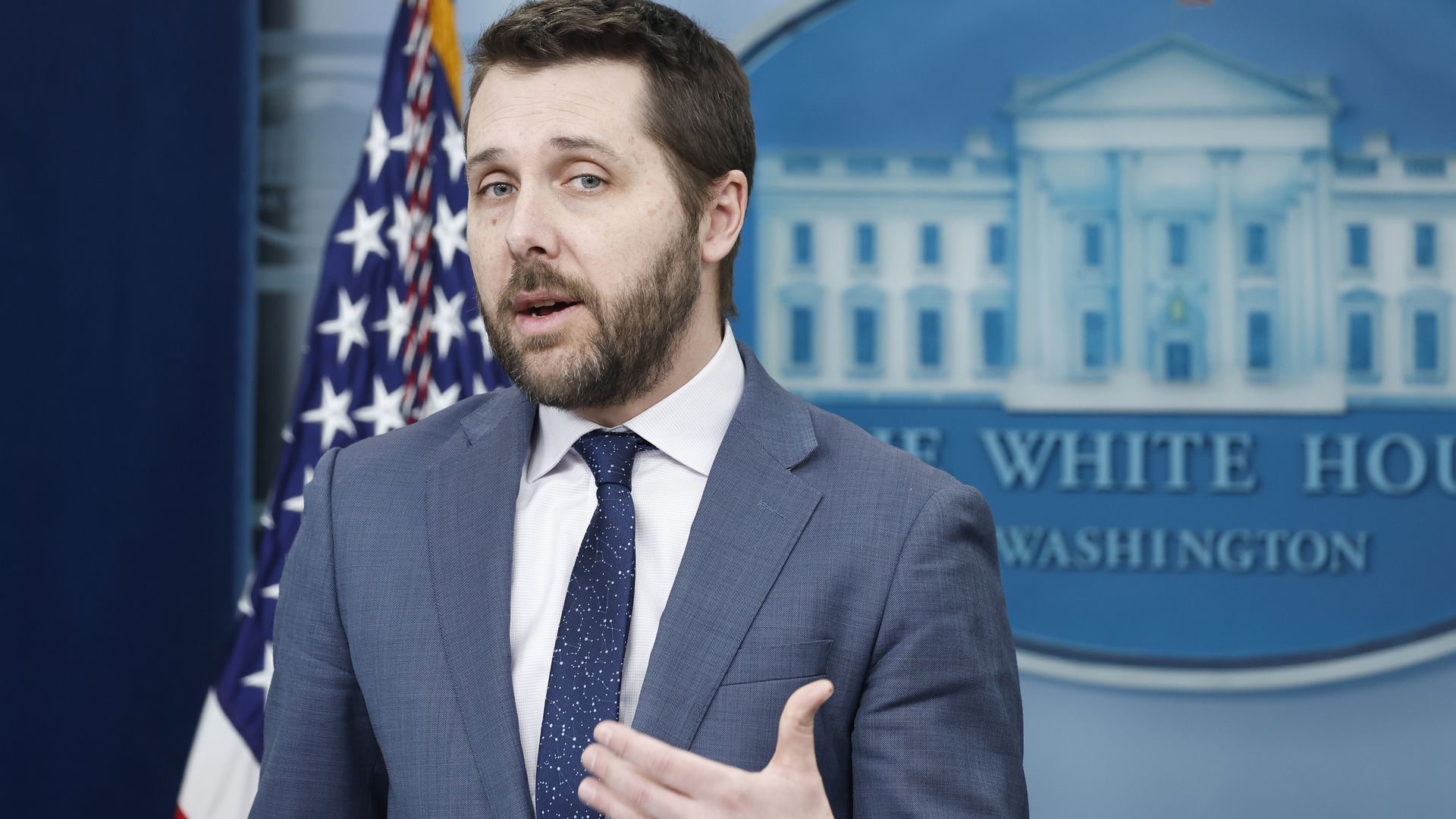 When White House officials gather Wednesday night in the Indian Treaty Room for Brian Deese's farewell party, they'll be saying more than just goodbye to a colleague. They'll be watching a power center head for the exits.
Why it matters: Deese's departure as director of the National Economic Council will leave an enormous hole for Fed Vice Chair Lael Brainard to fill inside the West Wing, according to current and former administration officials.
Deese was instrumental in delivering Sen. Joe Manchin's (D-W.Va.) vote for Biden's $740 billion climate and health care bill, salvaging the parts of the Build Back Better agenda that he helped draft during the campaign.
More recently, Deese ensured that a once-niche idea to ban "junk fees" — hidden costs on everyday things consumers buy — made it into Biden's State of the Union address. "Americans are tired of being played for suckers," Biden said.
The big picture: His impending exit comes a few weeks after Chief of Staff Ron Klain, who brought years of legal, political and congressional experience to the job, also left the White House.
When reports of Deese's pending departure emerged last fall, many officials simply didn't believe that Deese, who helped turn off the lights in Obama's White House, would walk away from a job that gave him free rein to craft the country's economic policies — or that Biden would let him depart.
The Yale Law grad and former BlackRock executive held enormous sway across the administration and Congress, playing a lead role in formulating — and executing — communications and legislative strategy.
Driving the news: After stock markets closed Tuesday, Biden also announced that Jared Bernstein would replace Cecilia Rouse as chair of the Council of Economic Advisers.
He called Deese and Rouse "trusted advisers," adding that "our country owes them a debt of gratitude for their service."
Between the lines: Brainard will bring a different skillset to the NEC job.
With a doctorate in economics from Harvard, she'll be able to provide snap analysis on global macro trends, help Biden's inner circle understand inconsistent data and work seamlessly with the Treasury Department, where she traveled the world as undersecretary for international affairs.
Brainard doesn't have as much recent experience cajoling Congress, where high-stakes negotiations with Republicans over spending and the debt ceiling will dominate most of the year.
The intrigue: Biden also elevated one of Deese's deputies, Bharat Ramamurti, as his adviser for "strategic economic communications," — indicating that the former economic adviser to Sen. Elizabeth Warren (D-Mass.) will assume some of Deese's role as a White House salesman on television.
What we're watching: A former social worker, Bernstein will ascend to the CEA chairmanship, which requires Senate confirmation, with the kind of D.C. think tank experience that's more in line with the NEC job.
Brainard, who did stints at the CEA and NEC in the Clinton administration, has spent almost a decade at the Fed.
She overlapped with Treasury Secretary Janet Yellen both in Clinton's CEA and at the Federal Reserve. Biden passed her over for Treasury Secretary at the outset of his term, and then to replace Jay Powell as Fed chair in 2021.
Go deeper