4 more charged in Haitian President Jovenel Moïse's assassination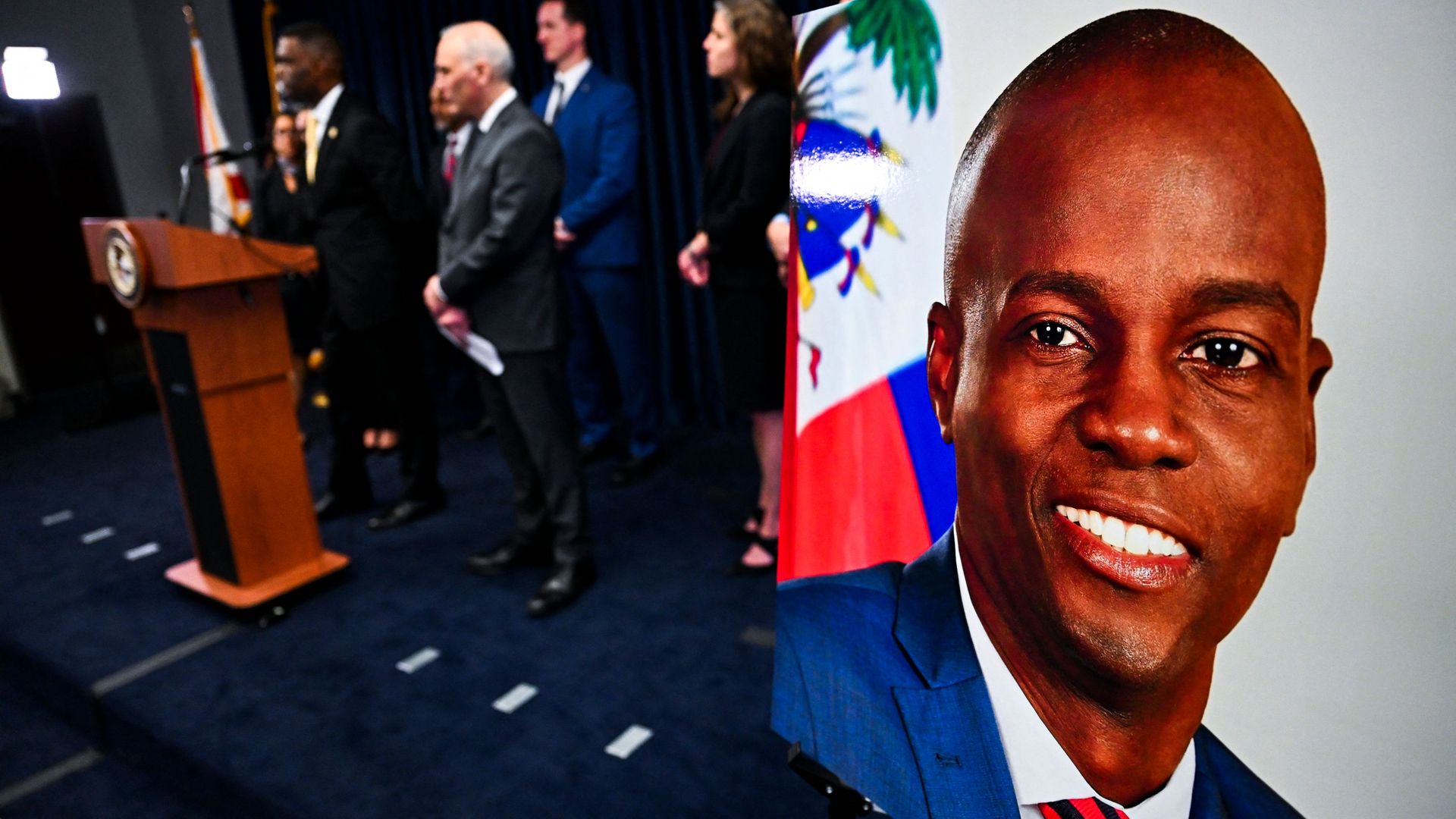 Federal law enforcement arrested four people on Tuesday in connection with the assassination of Haitian President Jovenel Moïse, who was killed at home by a group of gunmen on July 7, 2021.
Driving the news: The four men — three U.S. citizens and a legal permanent resident in Florida — plotted to "remove President Moise from office by either killing or kidnapping him in order to replace him with a candidate who would serve their political goals and financial interests," according to Attorney General Merrick Garland.
Colombian national Arcangel Pretel Ortiz, 50, of Miami; Venezuelan American Antonio Intriago 59, of Miami; and Walter Veintemilla, 54, of Weston face charges that include conspiracy to kill or kidnap a person outside the United States.
Frederick Bergmann, 64, of Tampa faces charges for allegedly committing export violations and smuggling ballistic vests.
Details: From as early as February 2021, the four men prepared to oust Moïse and later decided to replace him with Christian Emmanuel Sanon, 64, a Haitian American dual citizen with aspirations to political office in Haiti, court documents allege.
In exchange, Sanon agreed to award lucrative contracts to Ortiz and Intriago — principals of a security firm — for infrastructure projects in Haiti as well as the provision of security forces and military equipment, federal prosecutors say.
Ortiz and Intriago allegedly retained a group of about 20 Colombian nationals with military training to provide security to Sanon, while Bergmann helped fund the Colombians' lodging in Haiti and worked with Sanon and Intriago to ship 20 ballistic vests from South Florida to Haiti, per the Justice Department.
The plan pivoted to assassination after unsuccessful attempts to force Moïse out of power, the DOJ said.
What they're saying: "Today, individuals who we allege participated in the planning, financing, and orchestration of the assassination of Haitian President Jovenel Moïse will face justice in an American courtroom," Garland said in a statement.
"The Justice Department will not tolerate individuals plotting violent attacks from U.S. soil that undermine the rule of law abroad."
The big picture: Eleven people in total now face charges in connection to the assassination, according to the DOJ.
Go deeper