Electric car road trips are perfectly doable — if you plan ahead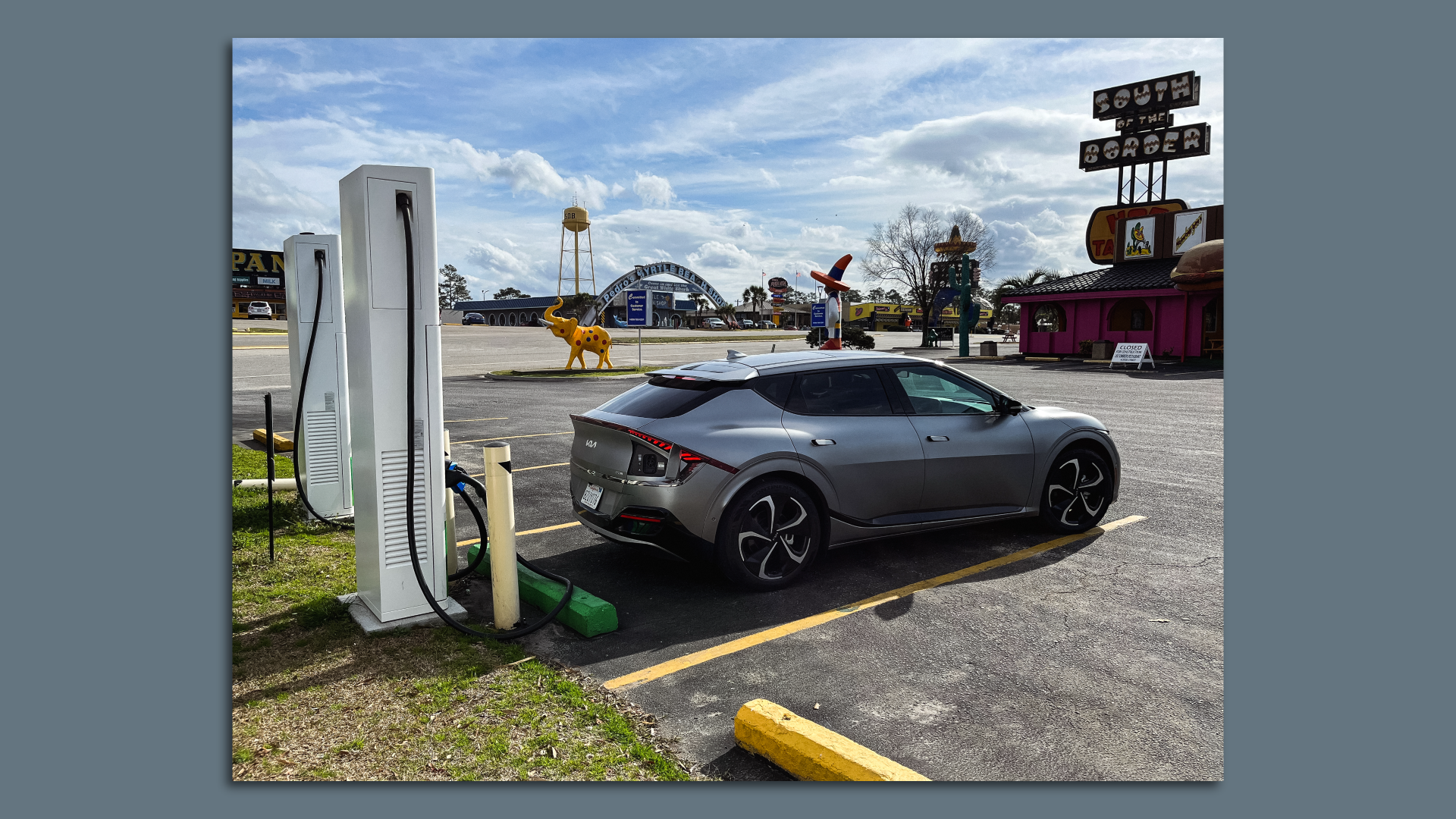 A long road trip in an electric vehicle (EV) is entirely doable — but not without its challenges, as Axios learned this week.
We drove from Michigan to Florida in a Kia EV6 — 1,500 miles in all — to see if America is ready for the era of electric transportation.
The answer: not quite, but we're making progress.
Why it matters: EVs account for about 5% of new car sales, and just 1% of all cars on the road.
What we found: You can make a long road trip without fear of getting stranded, as long as you plan ahead.
That means juggling route-planning apps and billing accounts with various charging companies, which can get confusing.
And be prepared for the unexpected, like glitchy charging equipment touchscreens, billing questions and inoperable plugs.
First, the car: The EV6 is a great choice for a road trip because its 800-volt charging system makes it among the fastest charging EVs available today.
At a 350 kW DC fast-charger, the EV6's battery can go from 10% to 80% (good for up to 217 miles) in under 18 minutes, according to Kia.
It's also roomy and comfortable, with lots of advanced technology — including a heads-up display with augmented reality and various driver assistance technologies.
Details: My husband, Bill, set out from Detroit last Tuesday in the all-wheel-drive EV6 GT-Line, which has an EPA-estimated battery range of 274 miles.
The plan was to meet up in Washington, D.C., and then travel together to Winter Garden, Florida.
His first recharging stop was at an Electrify America station outside Cleveland, per the advice of an app called A Better Route Planner. But he was anxious about the car's driving range.
What he said: "When I left Detroit, the temperatures were in the low 30s and the vehicle said it had a range of 216 miles. A Kia engineer told us that the cold would put extra stress on the battery, draining it faster than normal. So I used only the heated steering wheel and heated seats while driving — no cabin heat."
After a chilly 151 miles, he arrived at the recharging spot with 16% left on the battery, which helped him get over his range anxiety.
"But I did learn a lesson: Know where your next charging stop is before you leave, and make sure to have extra range upon arrival in case that charger is inoperable."
This was a leisurely trip, with stops to visit friends and do some sightseeing. If we cannonballed from Michigan to Florida, it would have taken about 24 hours. We did it over four days.
But we were constantly thinking about where to charge next. It occupied our minds more than where to eat or spend the night.
We stopped 12 times to recharge over the 1,500-mile journey. Charging times varied between 20 minutes and 55 minutes, depending on the state of the car's battery and the speed of the chargers we used.
Sometimes we were just topping off to make it to the next destination.
The bottom line: Gradually, our confidence grew. We never felt range anxiety again — even when the battery level fell below 10% and the dashboard flashed orange warnings.
Yes, but: We learned a lot from the challenges we faced, and we'll share our key takeaways in an upcoming story.
What's next: We'll be heading north again in a few weeks on a different route, so stay tuned.
Go deeper