What electric car buyers need to know about charging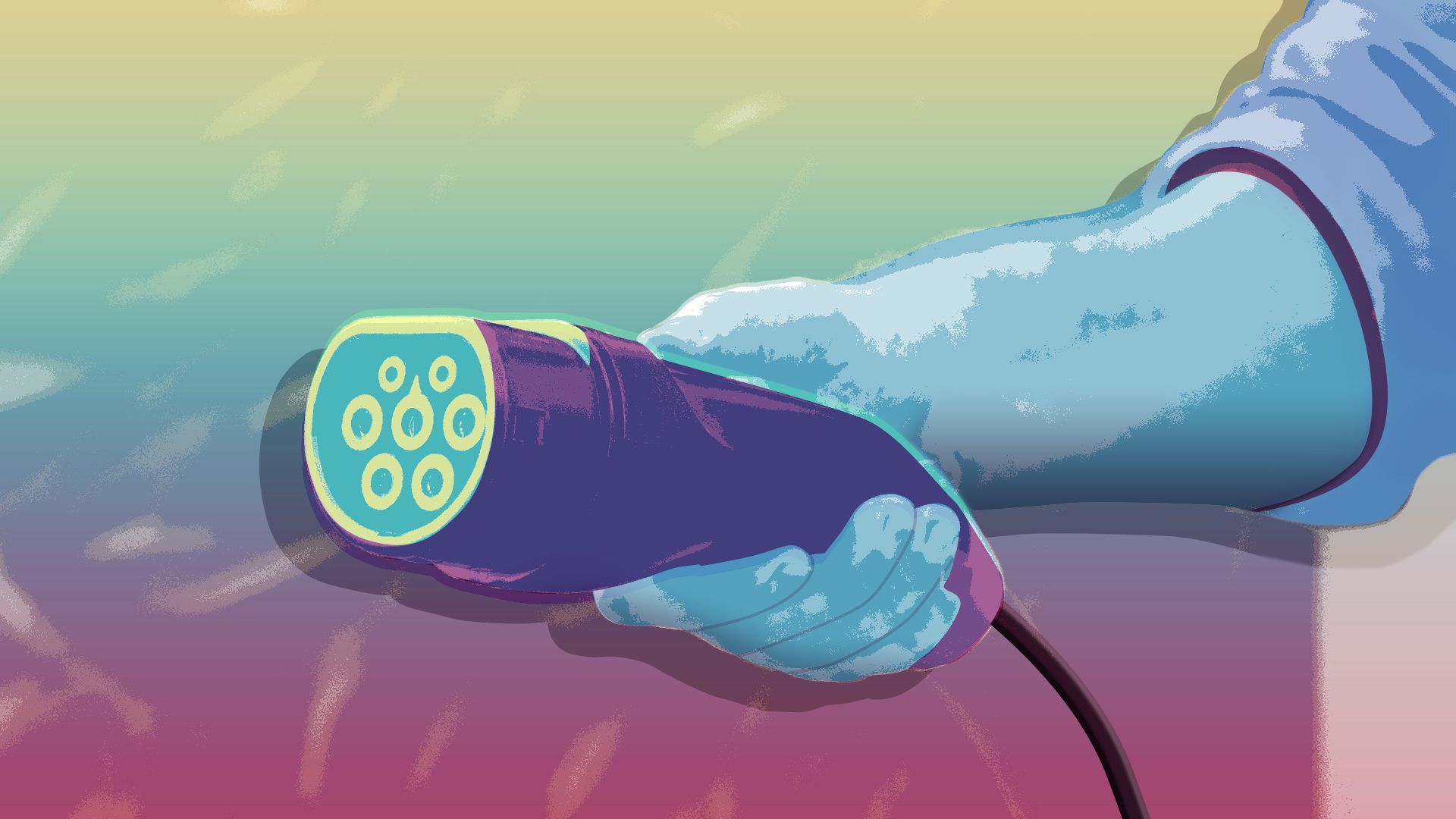 Understanding how charging works is important for anyone who drives an electric vehicle (EV), but the process breeds anxiety for many. We're here to help.
Why it matters: Plugs vary (depending on the car) and chargers have different power levels (which affects charging time).
It can all be overwhelming, and education is an important step toward charging equity.
Of note: Teslas use a proprietary network, which makes charging pretty straightforward. The tips below are for non-Tesla drivers.
Charging is easiest if you can top off at home and you don't drive long distances.
Just plug the cord that comes with your car into a standard 120-volt outlet overnight and you'll get about 40 miles of range — enough for most daily driving.
Recharging from empty this way, however, would take at least a day and a half.
A better option for EV owners: Install a so-called Level 2 charger at home.
It uses the same 240-volt household connection as your clothes dryer.
You might need some electrical prep work first. Expect to pay anywhere from $500 to several thousand dollars.
Your electric bill will go up, of course. But at least you won't need to buy gas.
By the numbers: The average price for residential electricity is about 16 cents per kWh. It's higher in some places, such as the Northeast and Hawaii.
A full Level 2 recharge takes around 6-8 hours, and adds about $10 to your home's electric bill.
Level 2 chargers are also available at many offices, shopping centers and hotels — often as a free courtesy.
Think of these as a place to top off your car's battery as you would your phone when a plug is available.
On a road trip, you're going to want to charge a lot faster — but you'll need to do some planning.
Networks with fast chargers, like Electrify America, EVGo, ChargePoint and Blink, are proliferating — but they're still not as common as gas stations.
These chargers can get you back on the road in 20-40 minutes, depending on your car and the charger's maximum output.
Some chargers max out at 24 kilowatts, while newer models are capable of up to 150 or even 350 kilowatts. The higher the power, the faster the charging speed — in theory, at least.
Reality check: Even the industry's fastest-charging cars, such as the Hyundai Ioniq 5 and Kia EV6, rarely charge at their maximum possible speed.
The status of your battery and whether other drivers are using the same charging station can cause slowdowns.
EVs sometimes limit their power intake to avoid frying their batteries.
The bottom line: Set your expectations low and you won't be disappointed.
Go deeper: Pack up the electric car, honey! We're hitting the road
Go deeper