GOP targets Dem "training wheels" in '24 messaging strategy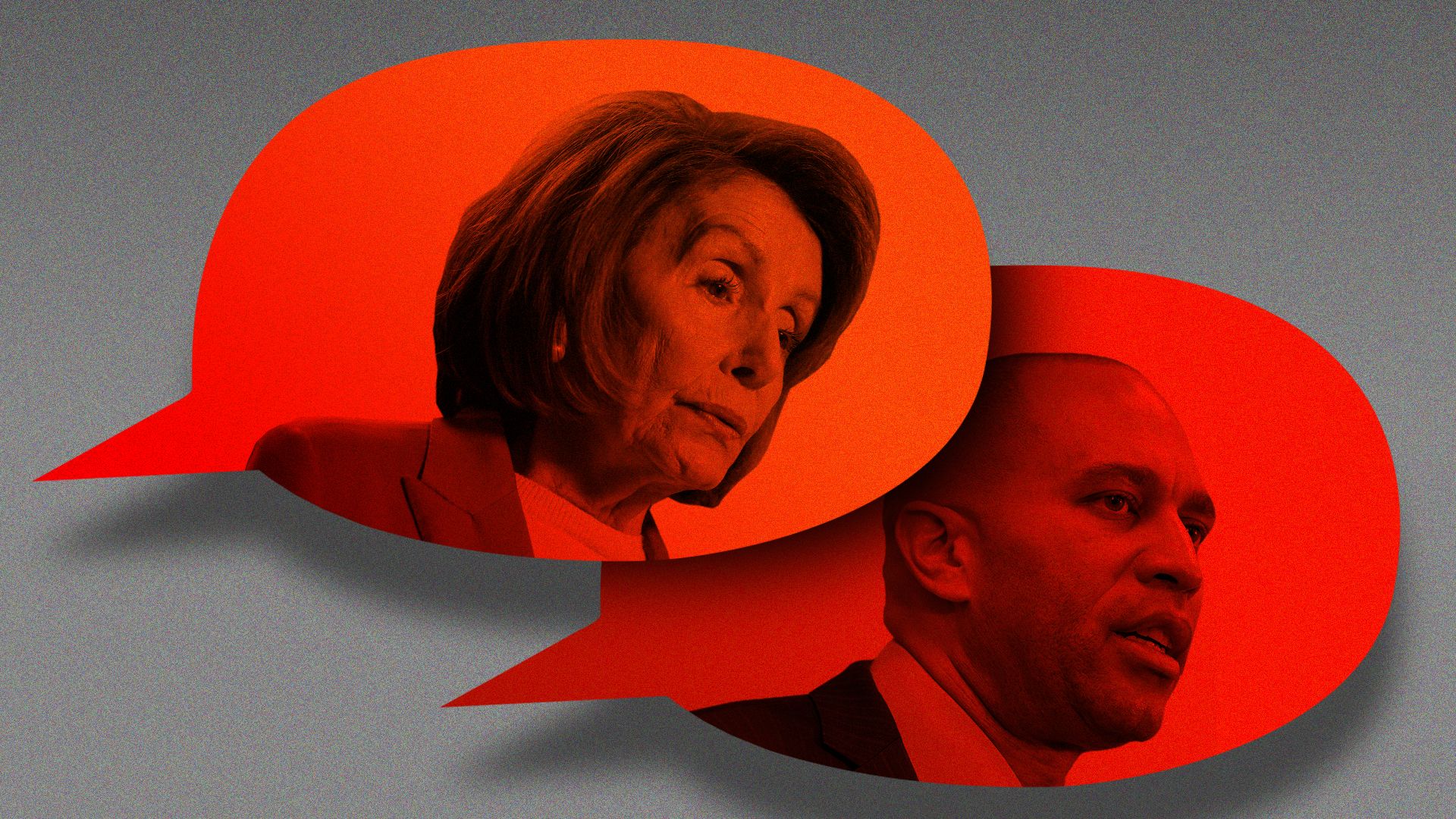 The GOP's campaign arm is looking to former House Speaker Nancy Pelosi's (D-Calif.) decision to stay in Congress as a messaging goldmine, Axios has learned.
Why it matters: It's an early glimpse at how Republicans are planning to defend their razor-thin majority in 2024, and how they're trying to spin opportunity out of Democrats' relatively seamless transition to a fresh leadership team.
What we're hearing: The messaging strategy involves targeting House Minority Leader Hakeem Jeffries' (D-N.Y.) inexperience in the top job when things go wrong, and crediting Pelosi for his party's successes.
In a break with most of her modern predecessors, Pelosi opted to remain as a backbencher despite relinquishing her leadership after 20 years on the job, with her colleagues voting to give her the honorary title of "Speaker Emerita."
Her allies told Axios at the time that they expect her to remain a powerful figure in the House. "She will never be a rank-and-file member," said Rep. Jackie Speier (D-Calif.).
What they're saying: "Hakeem Jeffries begins his stint in leadership with his former boss Nancy Pelosi looking over his shoulder on every decision," Jack Pandol, the communications director for the National Republican Congressional Committee, told Axios in a statement.
"As Jeffries ... forces his vulnerable members to unquestionably defend Joe Biden from accountability, it's not clear Pelosi's training wheels have been effective."
The other side: "Republicans spent decades villainizing Speaker Emerita Pelosi and while Democrats unanimously supported the historic nomination of Hakeem Jeffries ... Kevin McCarthy struggled to become Speaker," said Democratic Congressional Campaign Committee spokesperson Tommy Garcia.
McCarthy, Garcia continued, "sold himself out to extremists, and embraced an out of touch agenda that will make the House Republicans' two year leadership tenure just as embarrassing as the NRCC's 'strategy.'"
The backdrop: Jeffries first entered Congress in 2013 and served as House Democratic Caucus leader from 2019 to 2022, before ascending to the minority leader role unopposed last year after Pelosi stepped down.
By contrast, House Speaker Kevin McCarthy (R-Calif.), who entered Congress in 2007, has been serving in GOP leadership roles since 2009, including as majority or minority leader since 2014.
What caught our eye: Pelosi, who has led her caucus since 2003 and is known as a fundraising powerhouse thanks to her connections to wealthy California donors, has been introducing Jeffries to her network as he steps into his new role.
She took Jeffries and his deputies, Minority Whip Katherine Clark (D-Mass.) and Caucus Chair Pete Aguilar (D-Calif.) on a multi-state fundraising swing during last month's recess, including to her home state, according to Punchbowl News.
Go deeper