The big-money effort in the GOP to stop Trump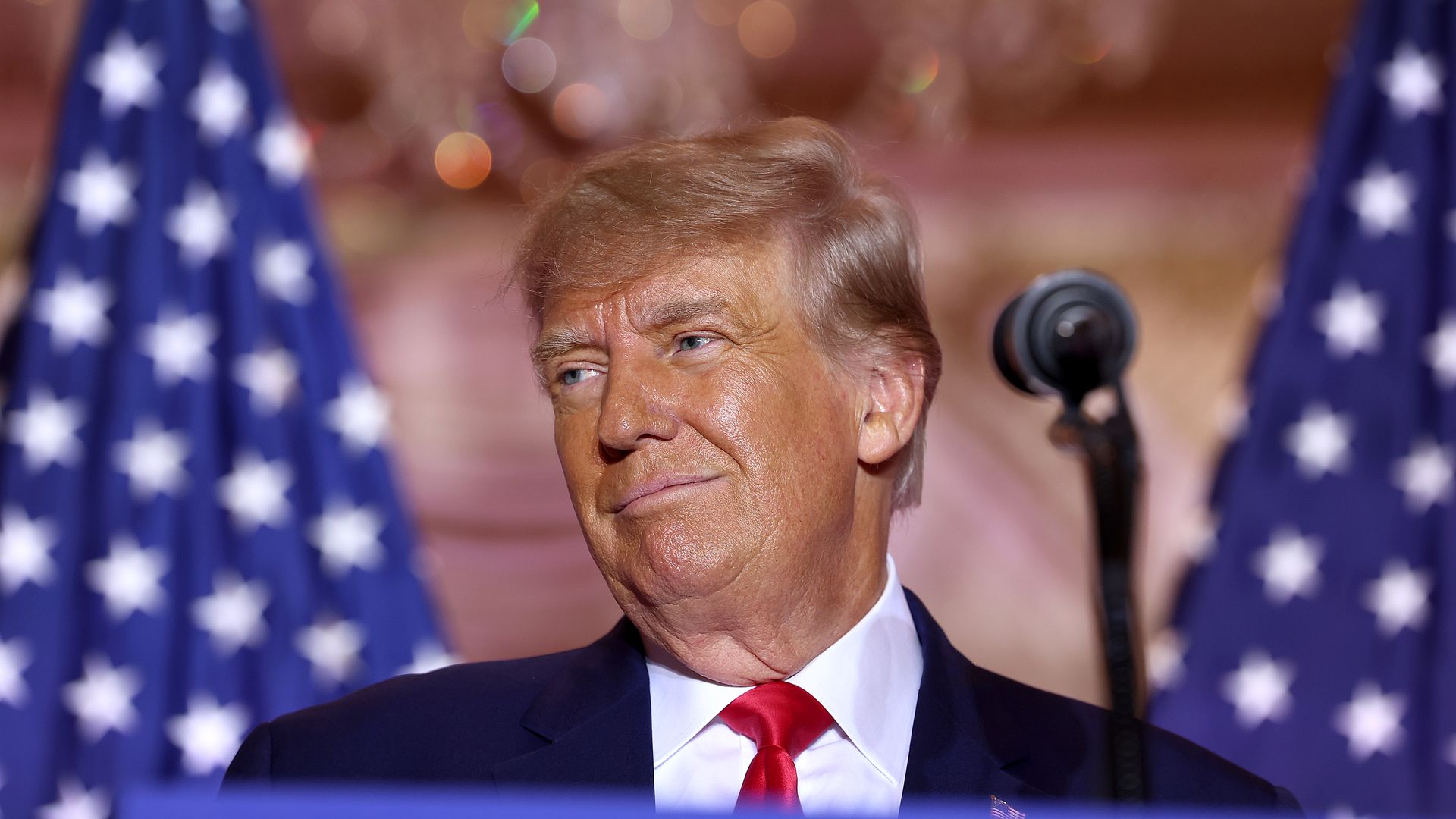 A pair of libertarian-minded Republican groups — Americans for Prosperity and the Club for Growth — are planning to pour millions into the presidential campaign to stop former President Trump from winning the GOP nomination.
Why it matters: The battle for the Republican Party's future is a clash between the interests of its big donors and grassroots voters. The donors are overwhelmingly looking for a Trump alternative in 2024, but Trump still maintains a strong hold on much of the populist base he empowered in 2016.
Conservative donors tend to support free trade, changes to Social Security and Medicare, and a less restrictive immigration policy. In 2016, Trump stood out by rejecting such conservative orthodoxy — and sounding an anti-war pitch.
Driving the news: Americans for Prosperity, the conservative political network founded by the billionaire Koch brothers, has said it will back a specific Republican candidate by the end of the summer.
The anti-tax Club for Growth, which has close ties to several potential presidential candidates, is less likely to coalesce behind one candidate.
The club has invited six prospective GOP candidates— Florida Gov. Ron DeSantis, former South Carolina Gov. Nikki Haley, former Vice President Mike Pence, South Carolina Sen. Tim Scott, Virginia Gov. Glenn Youngkin and former Secretary of State Mike Pompeo — to its donor summit in Florida next month. Trump isn't invited.
On the eve of Trump's 2024 campaign launch, the club commissioned polling that indicated he would be vulnerable against DeSantis in a one-on-one presidential matchup.
What they're saying: "The majority of people I talked to worry we lost in 2018, 2020 and 2022, and that it's time for a new standard bearer that believes and will fight for free-market principles," Club for Growth president David McIntosh told Axios.
"The Club For NO Growth, an assemblage of political misfits, globalists, and losers, fought me incessantly and rather viciously during my presidential run in 2016. They said I couldn't win, I did, and won even bigger in 2020," Trump wrote on his TruthSocial page, still denying the results in 2020.
Reality check: Message often matters more than money in today's politics. Trump lagged behind many of his 2016 primary competitors in campaign cash, but won the nomination because his message resonated with primary voters.
Our thought bubble: One of the biggest challenges outside groups face in moving the needle in elections is their lack of coordination on a message or strategy. AFP already is signaling it plans to get behind a specific candidate, but its choice may not be favored by other GOP stakeholders.
"As we saw in 2016, the time to make a difference is early. Money can come in too late when narratives are already baked," said one GOP strategist involved in presidential politics.
The bottom line: Keep an eye on the fundraising totals for super PACs tied to prospective presidential candidates for signs they could emerge as counterweights to Trump.
DeSantis' state-level political action committee banked about $70 million at the end of the year and is likely to be able to move the funds into a federal super PAC, which could be used to back a prospective presidential campaign. Donors gave DeSantis more than $200 million for his re-election campaign in Florida — one of the highest totals in gubernatorial history.
The big test for other candidates is whether they can attract enough big donors to remain viable — or whether donors are looking to consolidate behind DeSantis, who has not officially entered the race, as the consensus Trump alternative.
Go deeper