Pentagon shoots down "high-altitude" object over Alaska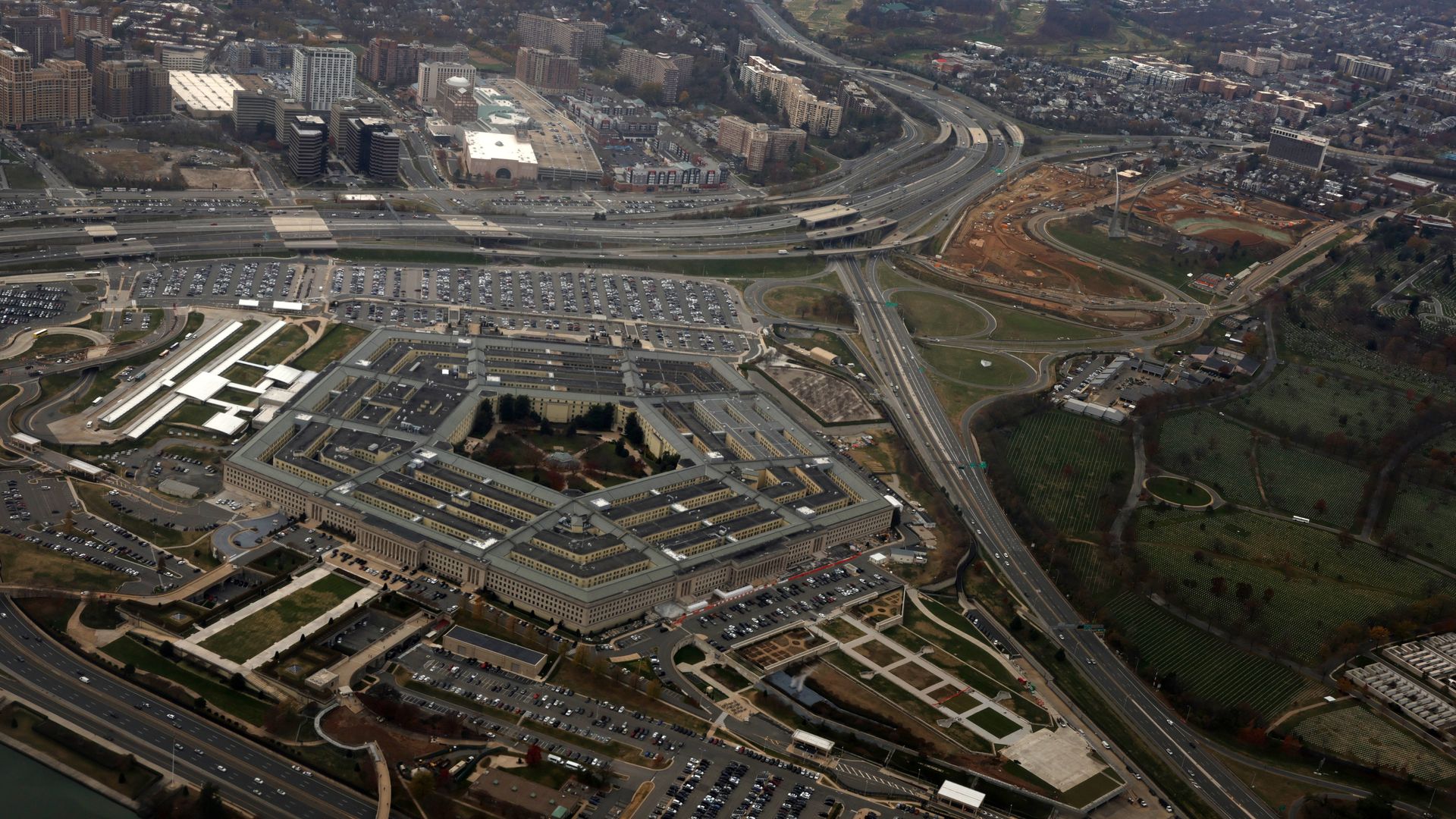 President Biden ordered the Department of Defense on Friday to shoot down a "high-altitude" object that violated U.S. airspace above territorial waters near Alaska, National Security Council spokesperson John Kirby confirmed during a news conference.
Driving the news: Kirby said fighter aircraft assigned to U.S. Northern Command shot down the object, described as being the "size of a small car," because it "posed a reasonable threat to the safety of civilian flight."
Details: Kirby said the U.S. downed the object, which officials learned about Thursday night, "out of an abundance of caution and at the recommendation of the Pentagon."
The object was flying at an altitude of 40,000 feet — a common cruising altitude for commercial aircraft.
He said it was downed "just off the very, very northeastern part of Alaska, right near the Alaska-Canada border" on frozen waters in the Arctic Ocean.
"A recovery effort will be made, and we're hopeful that it will be successful. Then we can learn a bit more about it," Kirby said.
The U.S. does not know whether the object was owned by a state, corporate, or private entity but did assess that it was unmanned before shooting it down, he said.
What they're saying: The U.S. used a missile fired from an F-22 aircraft to down the object, Pentagon press secretary Brig. Gen. Pat Ryder said during a press conference.
Canadian Prime Minister Justin Trudeau said Friday he "was briefed" on the object and "supported the decision to take action," noting that it had "violated American airspace."
"Our military and intelligence services will always work together [...] to keep people safe," Trudeau said on Twitter.
Sen. Lisa Murkowski (R-Alaska) applauded the military for taking down the object "in some pretty tough conditions off of the northern coast of Alaska," but said "what is concerning is that it was yet another unidentified object violating U.S. sovereignty by coming into our airspace, coming over our waters, and coming through Alaska."
"Unlike other states, Alaska is truly on the front lines," Gov. Mike Dunleavy (R) said in a statement. "Because of our close proximity to our neighbors there is very little margin for error."
"As such, decisions need to be made quickly to preserve the territorial integrity of Alaska and the United States."
The big picture: The downing of the unknown object comes almost a week after the Pentagon destroyed a balloon, which was suspected to have been sent by the Chinese government, off the South Carolina coast after it had moved across the continental U.S.
The Pentagon accused China of using the balloon system to collect information on U.S. military sites, while China has claimed it was a civilian airship used for research that had deviated from a planned course.
China condemned the downing of the balloon, calling it a "serious violation of international practice" and claiming it "reserves the right to take necessary measures to deal with similar situations."
Secretary of Defense Lloyd Austin had not reached out to his Chinese counterpart regarding Friday's object, per Ryder, who emphasized the U.S. does not know the point of origin of the object.
Editor's note: This story has been updated with additional developments and reporting.
Go deeper