Native Americans are protesting Kansas City Chiefs ahead of Super Bowl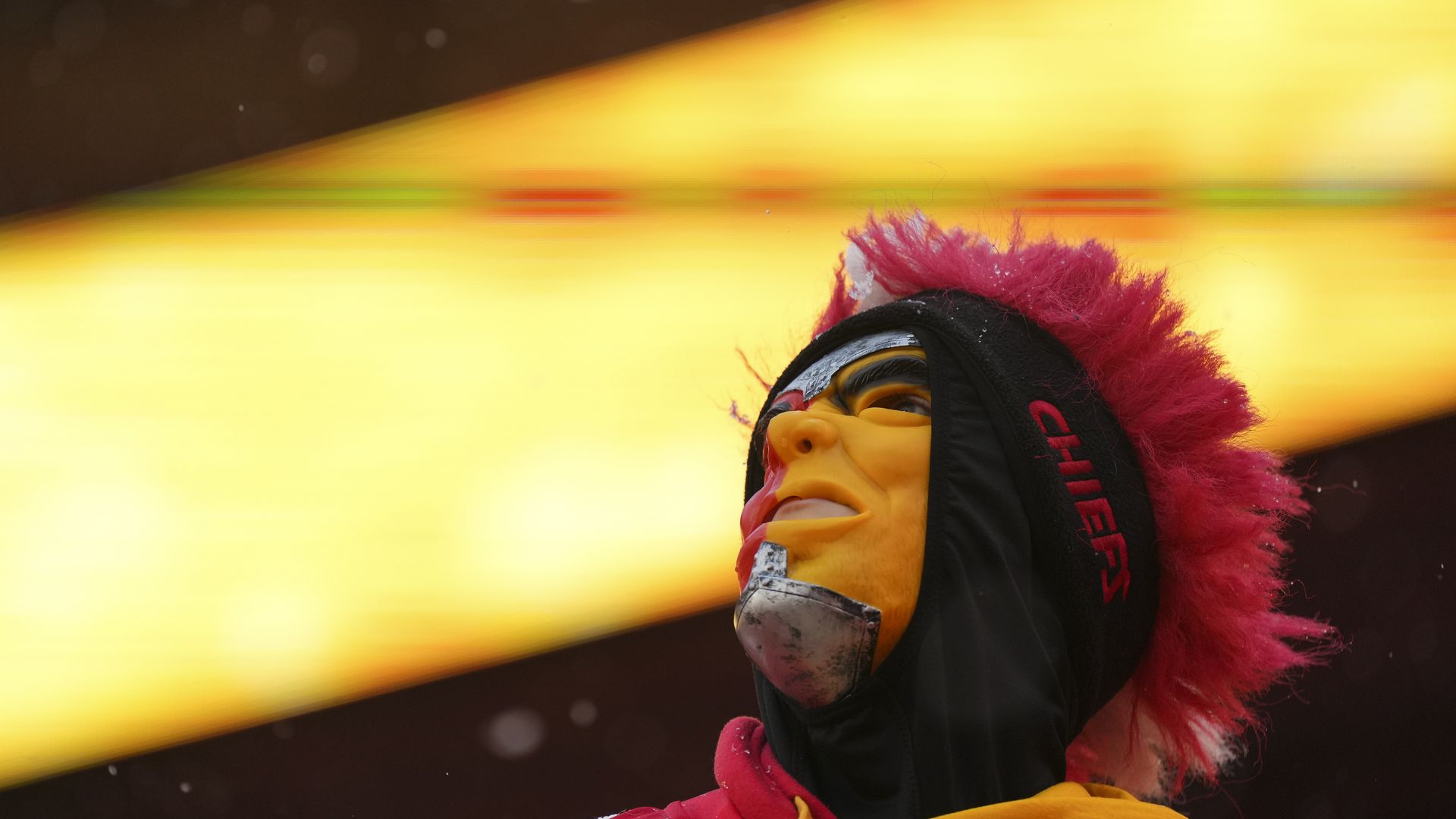 Native Americans are doubling down on protests over the Kansas City Chiefs' appropriation of Indigenous cultures ahead of the team's face-off against the Philadelphia Eagles at the Super Bowl on Sunday.
The big picture: The push is part of a larger movement to end the use of racist stereotypes and sports traditions rooted in the cultural appropriation of Indigenous people who were systematically wiped out by white colonizers.
State of play: The team's name comes from former Kansas City mayor Harold Roe Bartle, who called himself "chief" as part of the so-called Tribe of Mic-O-Say, which he founded in the 1920s.
The Tribe of Mic-O-Say, which is affiliated with the Boy Scouts of America and still exists today, has long-perpetrated made-up narratives, imageries and ceremonies that relied on racist tropes and encouraged its members to "play Indian."
The Kansas City Chiefs franchise fully embraced the name, which spun off into appropriation that included the use of an arrowhead logo, a so-called "tomahawk chop" and "war drum," face paint, headdresses and other Indigenous symbols. On Super Bowl Sunday, the team will sport white jerseys with the arrowhead logo and the initials KC.
In the mid-1980s, Chiefs fans also began using a made-up "war chant" popularized by Florida State University.
Driving the news: Native Americans, led by the coalition Arizona to Rally Against Native Mascots, plan to stake out in protest outside State Farm Stadium in Arizona this week.
Several Indigenous advocates from Kansas City are expected to join as well.
What they're saying: "Native American mascots, including nicknames, logos, and costumes of Native American people in sports, promote stereotypes and dehumanize Native People," the coalition said in a press release about the demonstration.
"While fans can feel good about their team as they appropriate and mock Native people, real and actual Native people endure the consequences ... Native people are stereotypes, hate-crimed, and their voices are drowned out."
Worth noting: An art gallery owner in Scottsdale, Arizona was captured on camera harassing a group of Native American performers as they were attempting to film for the Super Bowl this week.
The video shows him chanting in a mocking manner and saying "MAGA Country" at one point, per Fox 10.
Flashback: When the Chiefs last played the Super Bowl in 2020, the team faced similar calls to ban the use of tribal headdresses and symbols, change its name and end the "tomahawk chop" and "war chant."
Don't forget: Several other sports teams have taken steps to rebuild their brands in recent years.
Go deeper