Updated Feb 12, 2023 -

World
WHO warns Turkey and Syria quake survivors face "secondary disaster"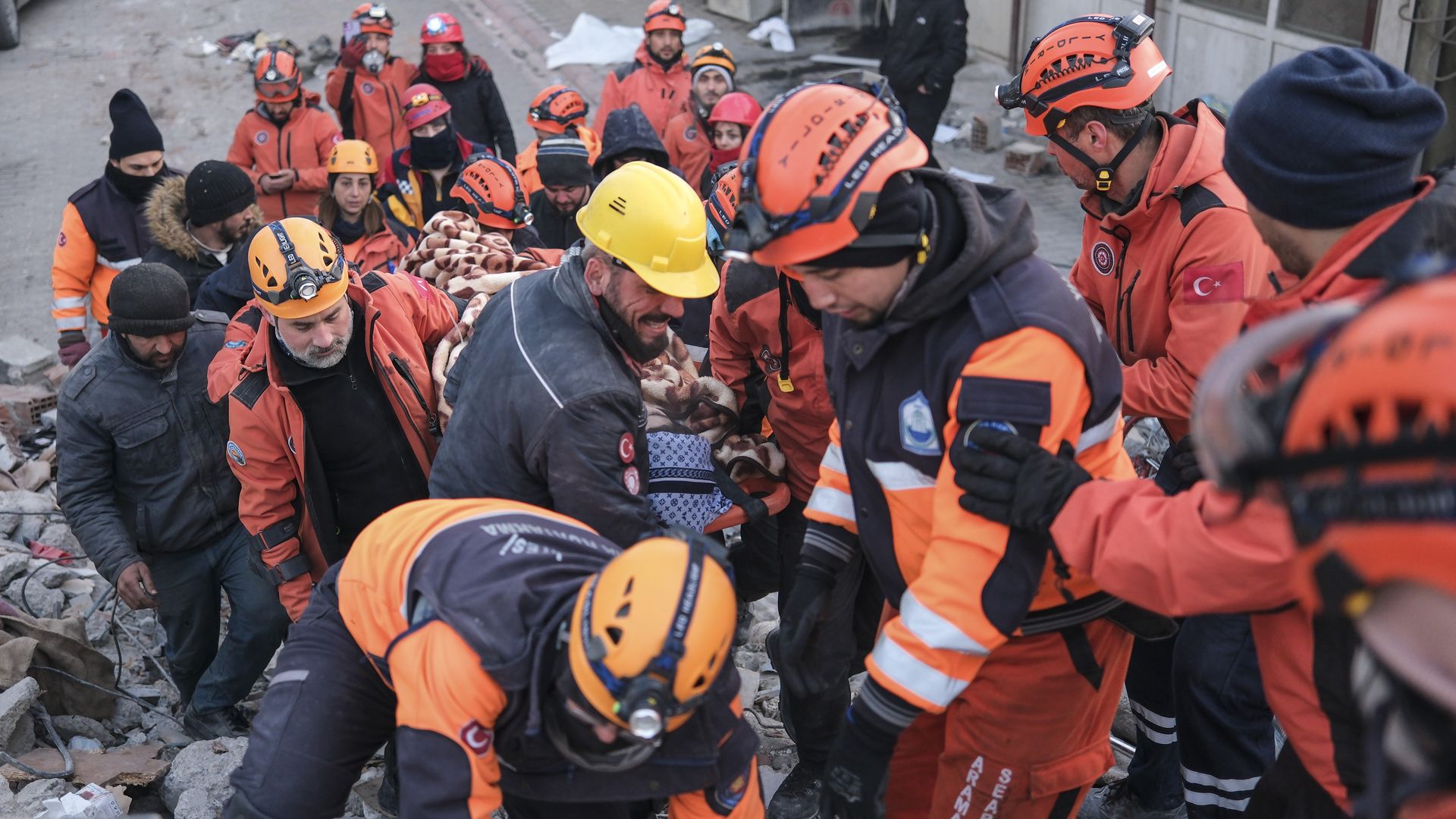 The death toll from this week's massive earthquakes and aftershocks in Syria and Turkey surpassed 33,000 on Sunday, as hope for finding survivors trapped under toppled buildings began to fade.
The big picture: Freezing winter weather conditions and the sheer scale of the destruction have hampered rescue efforts for days after the 7.8-magnitude quake hit Monday.
The number of quake-related deaths recorded is now greater than the 2011 earthquake that rocked Japan and spurred a tsunami, killing roughly 20,000 people and triggering the Fukushima nuclear disaster.
Robert Holden, the World Health Organization's incident response manager, said at a news conference in Geneva Thursday "a lot" of survivors were "out in the open, in worsening and horrific conditions" with "major disruptions" to accessing water fuel, electricity and communication supplies," per CNN.
"We are in real danger of seeing a secondary disaster which may cause harm to more people than the initial disaster if we don't move with the same pace and intensity as we are doing on the search and rescue side," Holden added.
By the numbers: Turkey's Disaster and Emergency Management Authority confirmed Sunday that 29,605 people had died as a result of the quake.
The agency said Saturday that 80,278 people were injured following the quake.
Syrian state media said Friday at least 1,387 people were killed and over 2,326 others injured in government-held areas.
The Syrian Civil Defense, first responders also known as the White Helmets, said Saturday more than 2,167 people had died and another 2,950 were injured in opposition-held areas — bringing the country's death toll from the quake to at least 3,554 people, and the overall death toll to more than 33,000.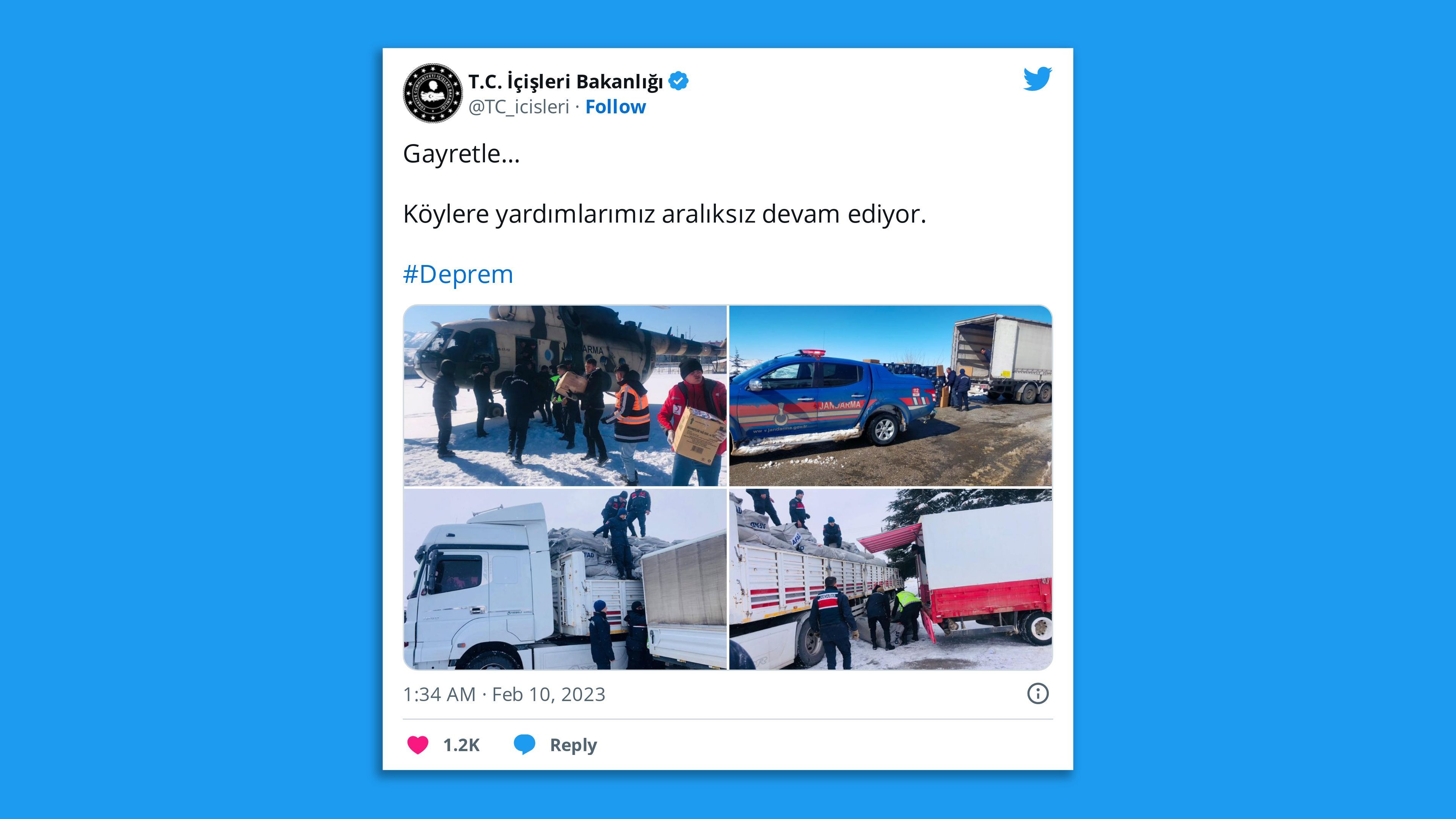 Zoom in: At least three U.S. citizens were among the dead in Turkey, the State Department said in a statement Thursday noting its staff was working to help the victims' families.
"We are working closely with local authorities and other partner organizations to assist any U.S. citizens in the affected areas," the statement added. "We offer our sincerest condolences to the victims and to the families of all of those affected."
Secretary of State Antony Blinken announced Thursday the U.S. would provide $85 million in urgent humanitarian aid in addition to the hundreds of personnel deployed to the region since Monday.
The Treasury Department on Thursday issued Syria General License (GL) 23, authorizing for 180 days "all transactions related to earthquake relief that would be otherwise prohibited by the Syrian Sanctions Regulations."
State of play: Turkish President Recep Tayyip Erdoğan has declared a three-month state of emergency in the provinces devastated by the earthquake.
In opposition-held areas of northwestern Syria, where millions of people displaced by the war live in densely populated towns, the devastation will compound other humanitarian and economic crises people in the region already face.
In southern Turkey, Gaziantep and its surrounding areas were home to hundreds of thousands of Syrian refugees who have been displaced by nearly 12 years of war.
Go deeper: Satellite images from Turkey, Syria capture earthquake devastation
Go deeper