Exclusive: New PAC targets Dems written off by the establishment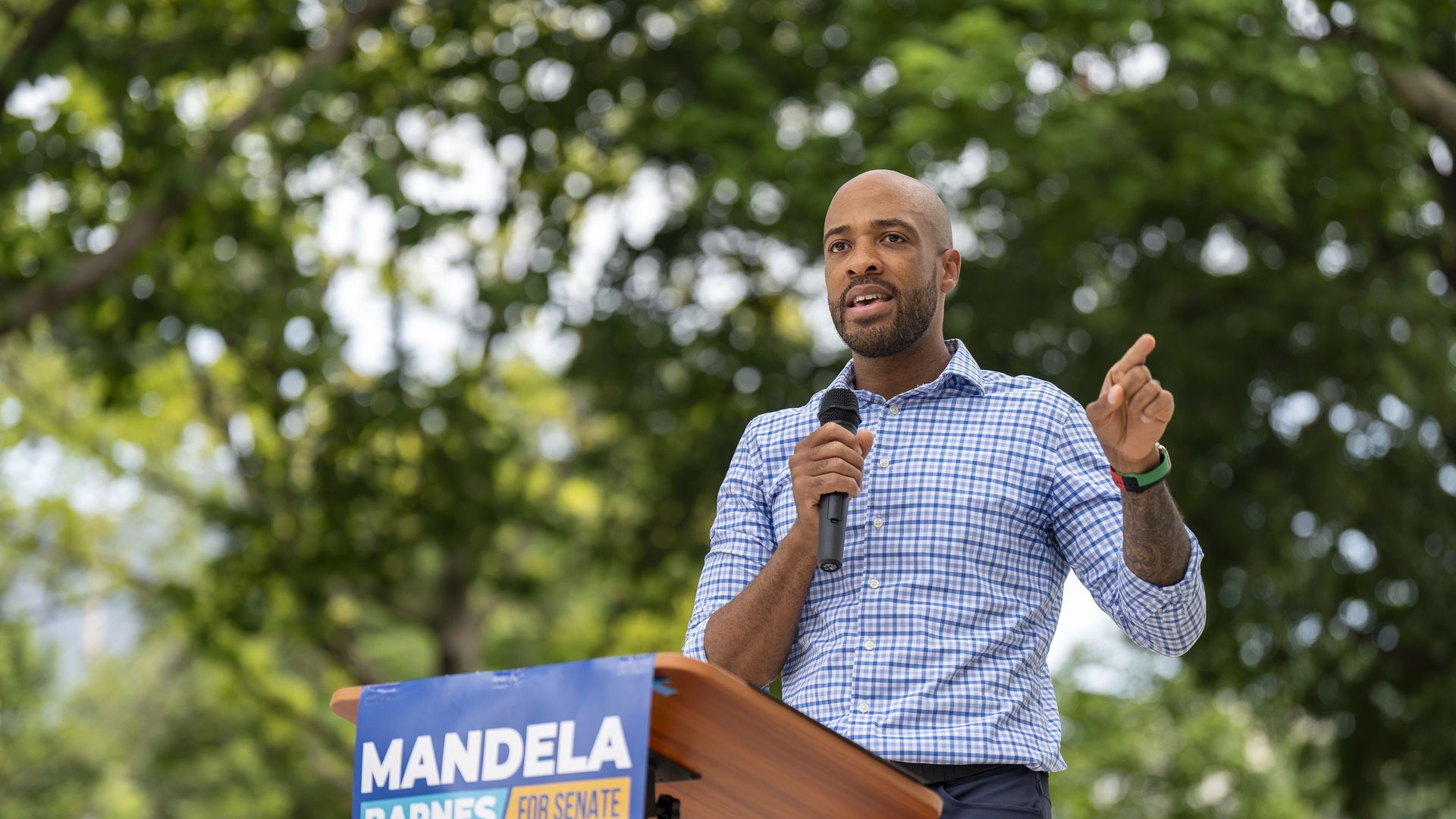 2022 Senate almost-winner Mandela Barnes is launching a PAC to help candidates who are written off by institutional supporters, Axios has learned.
Why it matters: The Wisconsin Democrat, like Maryland's newly-elected Gov. Wes Moore, faced skepticism from some corners of the Democratic Party about his electability, as they both were competing for seats that had always been held by white lawmakers.
Before he was elected, Moore — like others running in places like Illinois, Pennsylvania, and Arkansas — faced similar questions about his electability in a state where no Black Democrat had won that race before.
The backdrop: The Long Run PAC hopes to support women, people of color, LGBTQ, and working-class candidates across the country, Barnes told Axios, as they're most likely to face negative "assumptions" about their candidacy because they don't "fit the mold" that Democrats think can win in statewide, competitive races.
The Long Run PAC is launching Tuesday and will announce an initial slate of candidates it will support later this summer.
"Too often, fairly or unfairly, the questions of 'Can this person win?' and 'Does this person have what it takes?' come up," Barnes said in a phone interview.
"Sometimes those questions aren't always asked in good faith," he added.
Between the lines: Barnes refused to take donations from corporate PACs during his 2022 race, and after raising over $40 million from grassroots supporters, he said he wants to take the same approach with The Long Run PAC.
"Our campaign was built by grassroots support and we're going to lean on those supporters" and build "a people-powered national fundraising operation," Barnes said.
He also plans to host events with and fundraisers for the candidates backed the PAC, and help campaigns with hiring and training.
Don't forget: Barnes' Wisconsin Senate race in 2022 was always going to be a challenge for Democrats, but the party and outside groups failed to invest in his campaign after Labor Day at the same rate as Republicans.
Republicans outspent Democrats by $1.6 million in mid-September, with crime a main focus.
Exit polling found 49% of Wisconsin voters viewed Sen. Ron Johnson as too extreme, but nearly as many (46%) viewed Barnes the same way. 
Barnes ended up losing by a single percentage point.
Yes, but: The November election results showed that a historic barrier to Black representation in Congress — namely white voters refusing to support African-American candidates — is rapidly declining, Axios' Josh Kraushaar reports.
Of the 60 Black lawmakers elected to Congress this year, 30 now represent states or districts with a plurality of white voters, according to an Axios analysis.
In 2014, only eight (of 43) elected Black lawmakers were from plurality-white states or districts.
The bottom line: "There are a lot of quote-unquote different candidates out there who don't get the attention they should be getting or the initial investments that they should be getting," Barnes told Axios.
"But it's those 'different' candidates who often make the biggest difference when elected."
Go deeper