Black history booms as states restrict it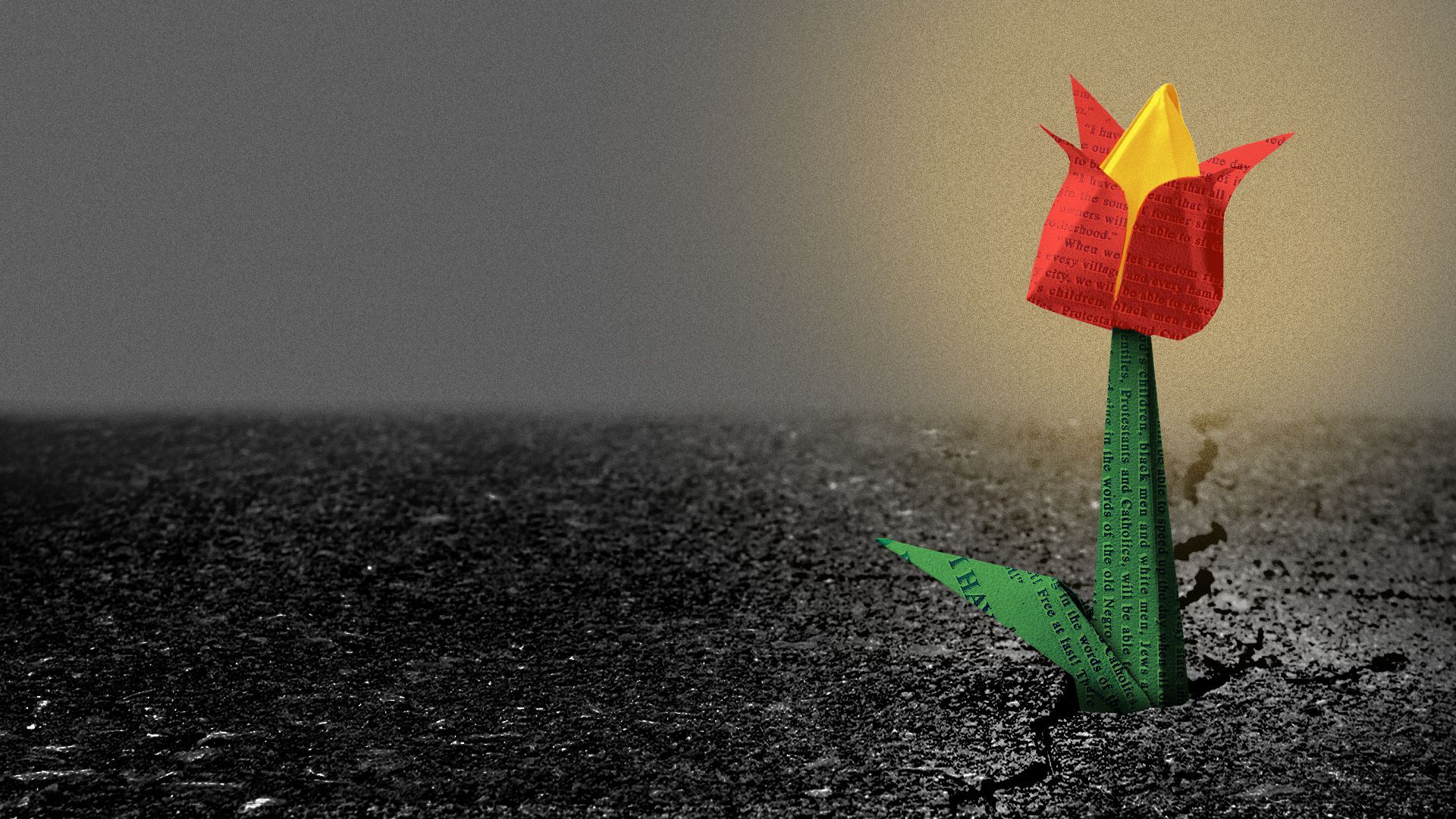 Red states are limiting Black history lessons in public schools at the same time scholars are producing groundbreaking new works around art, slavery, civil rights, and the Great Migration.
Why it matters: A work on Black history has won a National Book Award every year since 2018 as historians find more stories that challenge the popular U.S. narrative. That's sparking a backlash.
Details: "South to America: A Journey Below the Mason-Dixon to Understand the Soul of a Nation" by Imani Perry won the National Book Award last year and was an immediate bestseller upon its release.
State of play: The boom results from new sources and scholars who entered graduate programs after segregation, Gerald Horne, a history professor at the University of Houston, tells Axios.
The new generation of scholars also is responding to current events, from the backlash to Barack Obama's presidency to the rise of Donald Trump. "The times impact the way that history is written."
Yes, but: At the same time scholarship is expanding, schools' ability to teach some of the same themes and information is shrinking.
The intrigue: The National Council for Black Studies, an organization dedicated to advancing Black Studies, is holding its annual conference next month at the University of Florida.
It's the first in-person gathering for the organization since the pandemic, Amilcar Shabazz, a history professor at the University of Massachusetts Amherst, tells Axios.
Scholars in Black Studies are coming to Florida in solidarity with other scholars in the state.
What's next: Shabazz and Horne said states' restrictions won't stop the momentum of exciting work in Black history, but could make it harder for new scholars to get jobs.
"The discouragement is the highest for folks who are in the pipeline...the dissertation writers and the recent PhDs," Shabazz said.
Of note: The National Council for Black Studies this year is focusing on the 100th anniversary of the Rosewood Massacre of 1923 — in which a white mob violently attacked the predominantly African American town of Rosewood, Florida, and wiped it out.
It's unclear whether teachers in Florida, under new restrictions, can even bring up the massacre without facing discipline.
Go deeper