USDA proposes new nutrition standards for school meals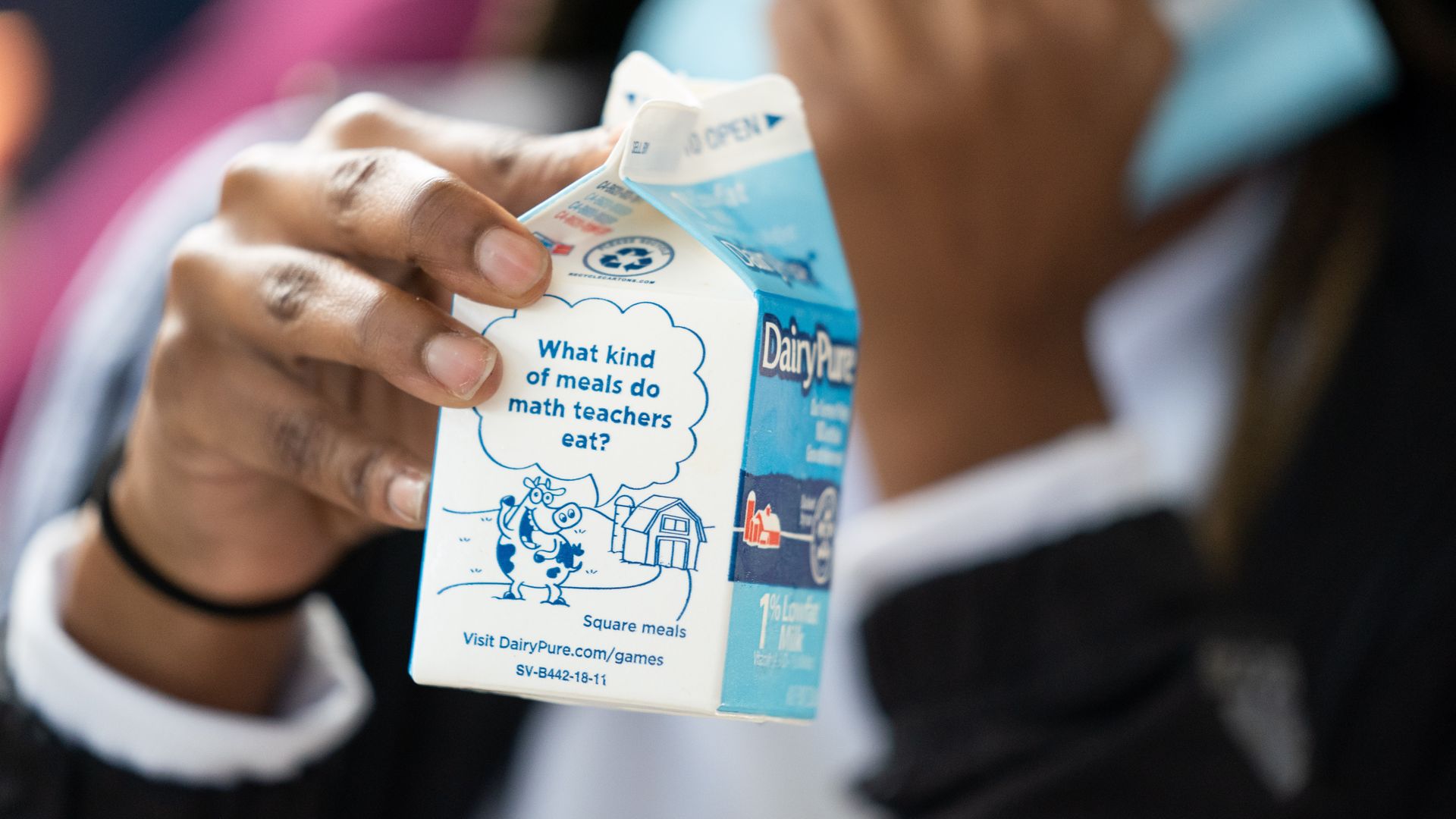 The Biden administration and U.S. agriculture officials on Friday proposed new nutrition standards for school meals, including the first limits on added sugars — part of an effort to fight childhood obesity and other diet-related diseases.
Driving the news: Agriculture Secretary Tom Vilsack announced the proposed standards at the USDA Conversation on Healthy School Meals Roundtable, and said in a statement that the goal is "keeping kids healthy and helping them reach their full potential."
Why it matters: Childhood obesity has been on the rise, with obesity affecting more than 14.4 million young people in the U.S., according to the American Academy of Pediatrics.
Last month, AAP released new guidelines for addressing childhood obesity, emphasizing a comprehensive and proactive approach to treatment, Axios' Erin Doherty reports.
It was the first update by the group in 15 years and the first time that the guidance recommends the age at which youth could be offered medical treatments, including drugs, surgery and lifestyle interventions.
What they're saying: Vilsack said many children aren't getting the nutrition they need and diet-related diseases continue to increase.
"Research shows school meals are the healthiest meals in a day for most kids, proving that they are an important tool for giving kids access to the nutrition they need for a bright future," Vilsack said.
Flashback: The USDA published a rule establishing "transitional standards for school years 2022-2023 and 2023- 2024 in three key areas – milk, whole grains, and sodium."
Nutrition standards changing: What we know
What's happening: The USDA is proposing gradual updates to science-based nutrition standards in school meals and will assist small and rural school districts in improving the nutritional quality of school meals.
The proposed changes include:
Added sugars: Limit added sugars, first with product-based limits for specific high-sugar items and then with overall weekly limits.
Milk: The USDA said it will allow some fat-free and low-fat flavored milk to be served in school meals with "reasonable limits for added sugars."

The agency said it is seeking feedback on two options: limiting flavored milk to grades 9-12 or "allowing it for all grades (K-12)."

Whole grains: Requires products that are primarily whole grain (at least 50% whole grains) with the option to occasionally offer non-whole, enriched grain products.
Sodium: Would gradually lower the weekly sodium limit over several school years.
USDA timeline for school nutrition changes
The USDA said the first changes could take effect in fall 2024 and the final updates would be complete by fall 2029. The agency said Friday it expects to issue a final rule in time for schools to plan for the 2024-2025 school year.
Here is the proposed implementation timeline:
February 2023: Issues the proposed rule on "on long-term school nutrition standards based on the latest Dietary Guidelines for Americans."
The public comment period for the proposed rule is from Feb. 7 through April 10 and comments can be submitted at the Federal Register Notice, the USDA said.
Fall 2024: The rule for whole grains is expected to begin.
Fall 2025: Implement limits on high-sugar products like yogurts and cereal.
Allow some flavored milk with reasonable limits on added sugars.
Reduce weekly sodium limit for breakfast and lunch by 10%
Fall 2027: Limit added sugars to less than 10% of calories per week for breakfast and lunch.
Reduce the weekly sodium limit for breakfast and lunch by an additional 10%.
Fall 2029: Reduce weekly sodium limit by an additional 10% for lunch only.
Editor's note: This story has been updated with additional information.
More from Axios:
Go deeper