Obesity in children accelerated during the pandemic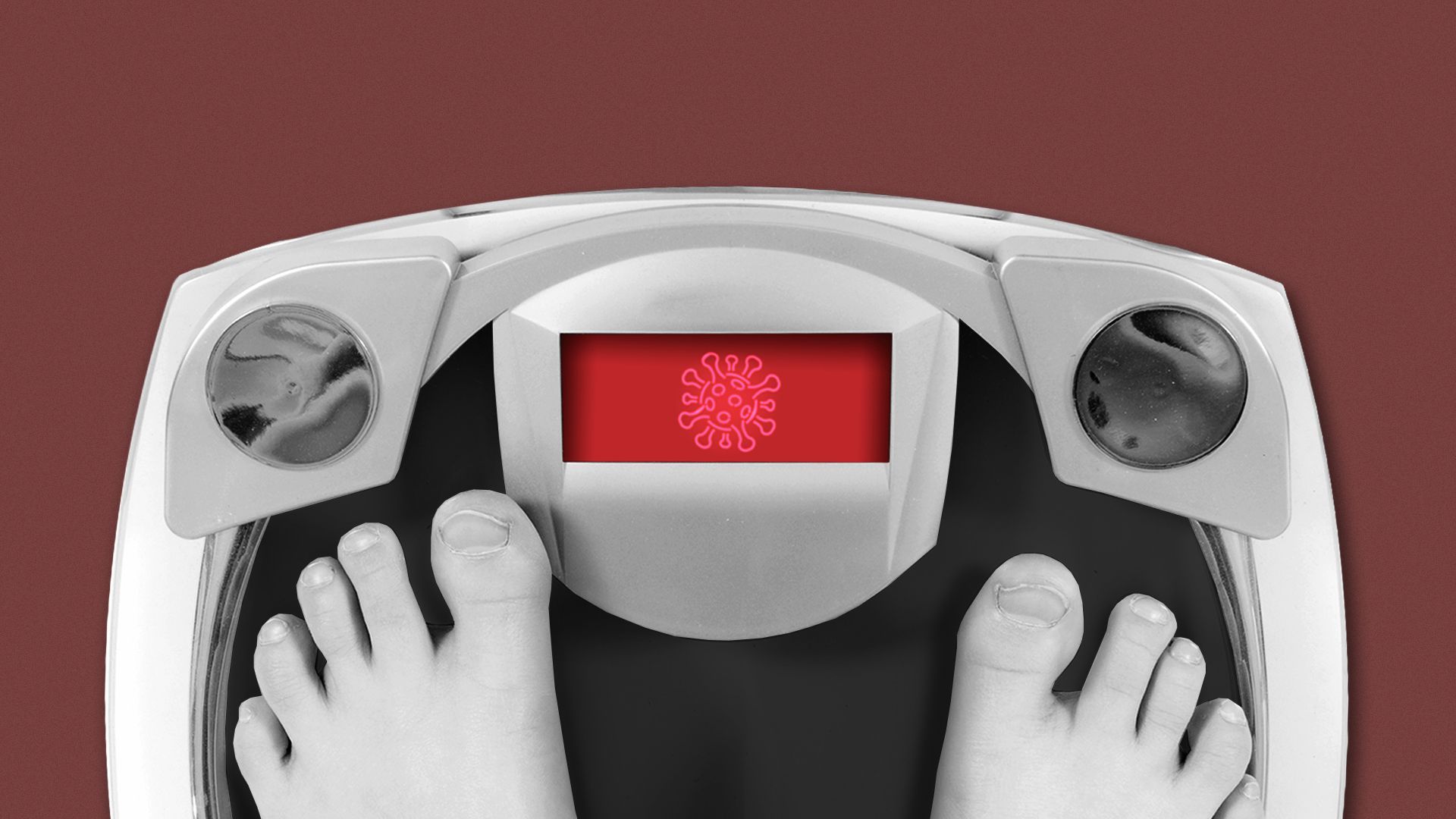 Children and teens gained weight at a more "alarming" rate during the pandemic, especially those who are overweight or obese, a CDC report out Thursday shows.
Why it matters: The study, which analyzed more than 430,000 kids ages two- to 19-years-old, supports warnings by experts who said the nationwide closures of schools and early child care settings may have reduced the ability for children to have regular physical activity and access to healthy meals.
The study is the largest tracking to date on the rate of weight gain in children and teens.
By the numbers: The average body-mass index increase for children and teens approximately doubled between 2018 and 2020. About 22% of children and teens were obese last August, up from 19% a year prior.
Children who were a healthy weight were gaining an average of 5.4 pounds a year last year, two pounds more than before the pandemic.
Weight gain from children with moderate obesity increased from 6.5 pounds a year to 12 pounds after the pandemic began.
For kids with severe obesity, the anticipated annual weight gain went from 8.8 pounds to 14.6 pounds.
The big picture: Heart disease and cancer were the leading causes of death in the U.S. last year despite hundreds of thousands of lives lost from COVID-19.
These chronic conditions such as cardiovascular disease, diabetes and obesity are caused by diet-related factors and are often preventable.
Another concerning report released on Wednesday showed the number of states with high obesity nearly doubling in two years.
What's happening: A federal watchdog report also out Thursday concluded that federal government-led efforts in combatting obesity and chronic conditions related to Americans' diets haven't been effective.
This included government agencies not fully addressing important gaps in scientific research when it came to healthy diets for infants and young children.
But, but, but: Pediatricians have an equal amount of concern for the increasing amount of young people with eating disorders during the pandemic.
C.S. Mott Children's Hospital in Ann Arbor, Mich. saw the number of people admitted for complications of an eating disorder more than doubled between April 2020 and March 2021, compared to the mean for the previous 3 years.
The emotional tax of self-isolation led to higher levels of depression, anxiety and stress, conditions conducive to developing an eating disorder.
What's next: The American Academy of Pediatrics in September recommended because of the pandemic, pediatricians should assess all children for obesity-related risk factors, provide counseling, and screen for patient and family stress, disordered eating and social determinants of health.
Go deeper