Exclusive: Tribal nations face threats to food security funding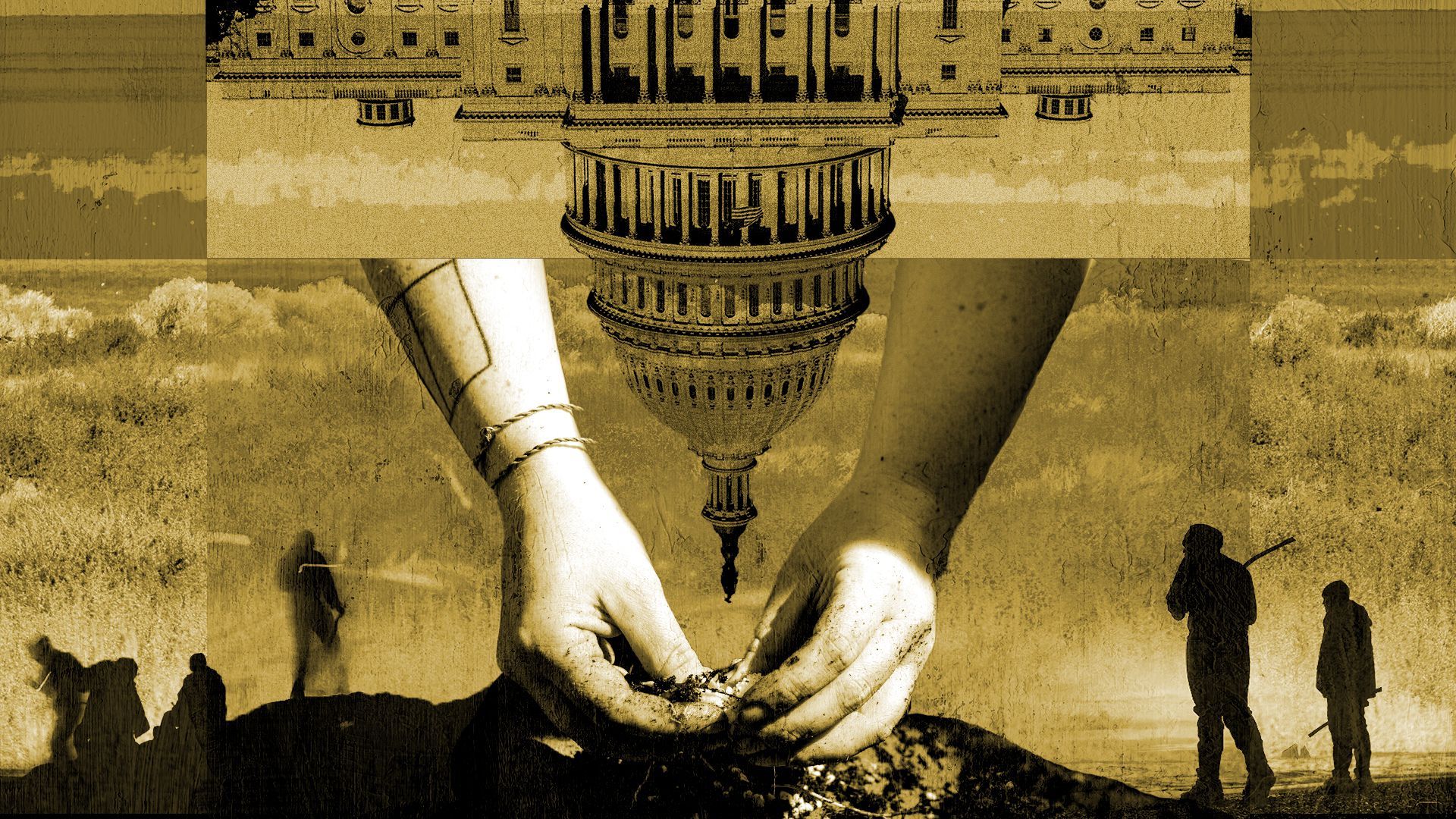 Increasingly hungry tribal nations are facing an uncertain future, as expanded food assistance benefits are about to run out and it's not clear whether they'll find a stable funding source for future aid.
The big picture: Anti-hunger activists warn that this month's expiration of increased SNAP benefits will hurt food-insecure populations — and temporary federal pilot programs don't have any guarantees of enough funding to fill the gaps.
What they're saying: Heather Dawn Thompson, director of the USDA's Office of Tribal Relations, tells Axios that without food assistance pilot programs that empower local and regional food systems, "we are in trouble."
One example is the LFPA, or Local Food Purchase Assistance program, a pilot that provides funds for state, territory and tribal governments to purchase foods directly from local producers to distribute to community members.
The LFPA is in its second funding cycle, with tribes competing for $100 million.
"[The amount] is historic, for sure, but certainly not enough to maintain it long-term," says Thompson.
Yes, but: Given the LFPA's status as a temporary program, it would have to be institutionalized and fully funded by Congress in the 2023 farm bill.
The 2023 farm bill will be one of the most significant congressional spending packages this year, with food and climate provisions expected to be among the most divisive, reports Politico.
While the USDA has yet to take any public policy positions on the farm bill, Thompson tells Axios that tribal nations support the expansion of the pilot projects.
Meanwhile: The Food Distribution Program on Indian Reservations (FDPIR) provides monthly food packages intended to supplement meals in food-insecure households, acting as a more accessible alternative to SNAP for rural reservations.
Tribal leaders nationwide are calling for Congress to expand the FDPIR in this year's farm bill, per Public News Service, while the tribes helping operate the program report not having much say in their diet, according to Roll Call.
The 2018 farm bill established a fund allowing tribes to buy foods from local vendors for the packages under the FDPIR, which launched in 2021 as a pilot project.
Thompson describes both food assistance programs — the LFPA and the FDPIR pilot — as "off to really good pilot project starts," but in need of "institutional investment long-term."
The backstory: Food insecurity is a serious problem facing Indigenous communities in the U.S., where nearly half of Native Americans and Alaskan Natives are thought to be food-insecure, per a 2022 study.
"[Food insecurity] is very much exacerbated in Indian Country where most of our reservations are very rural and isolated, and are food deserts," Thompson, a member of the Cheyenne River Sioux Tribe, tells Axios.
Historic reasons — such as land loss and the destruction of many Indigenous foodways — play a part in why the tribes were put in the locations that they are, Thompson says.
A legacy of policies like these compound with present-day legislation in further exacerbating the problem, as anti-hunger activists warn that federal changes will significantly impact impoverished communities.
While some states have already ended increased pandemic emergency allotments, or EAs, that served as additional benefits issued to SNAP-eligible households, more than half maintained them into 2023.
But under the omnibus bill, all of those will universally expire at the end of the month.
Joel Berg, CEO of Hunger Free America, says that while a provision of the omnibus bill did end the extra food assistance benefits, the funding will "theoretically" be reallocated to pay for added investments in child nutrition, like a permanent Summer EBT program.
"But that was paid for by cutting SNAP," Berg tells Axios. "You will see a significant decline in the money people have to pay for food."
Of note: Around a quarter of Indigenous peoples in the U.S. receive a form of federal food assistance. In some tribal communities, the rate can be higher than 50%.
Context: From marine heatwaves decimating species of salmon in the Yukon River to the decline of Alaskan snow crabs, climate change is contributing to the loss of traditional food sources, escalating food insecurity for Indigenous communities.
Coastal tribal nations in particular are experiencing dramatic climate-fueled impacts to their food sources, which is "significantly increasing their food insecurity," says Thompson.
"They are the canary, if you will, in the coal mine."
What we're watching: Tribal nations are "very clear" in their messaging that they do not want to be incorporated as subsets of state, as they are with food programs like SNAP that are currently run by state agencies, Thompson tells Axios.
"[Tribal nations] don't simply want increases in federal nutrition programs, although that's very important and key for a lot of folks. They really want to rebuild their own food systems."
Go deeper