Dems raise alarms about Capitol security ahead of State of the Union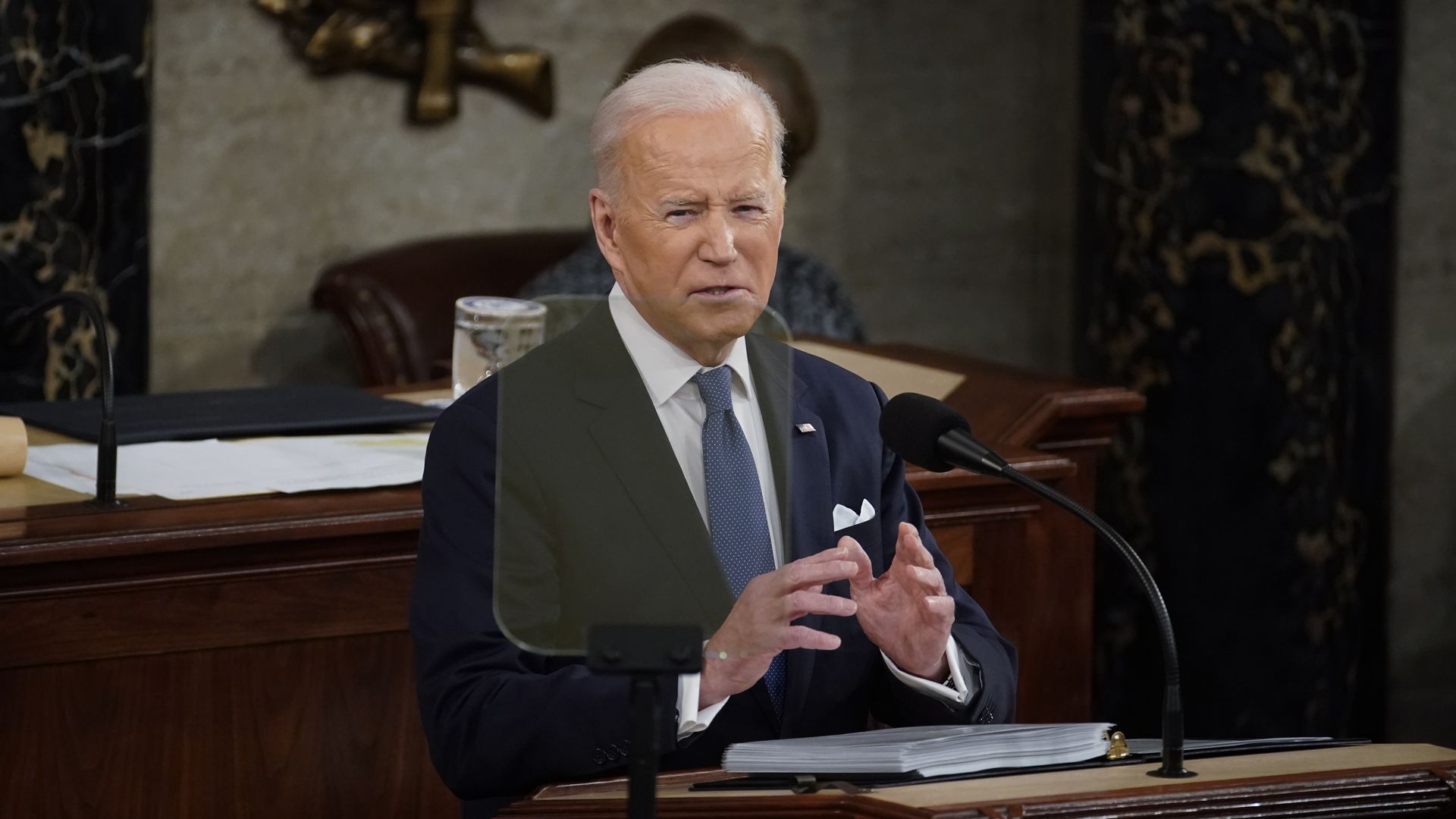 House Democrats are raising concerns about Capitol security after House Republicans scaled back safeguards put in place after Jan. 6.
Why it matters: The renewed focus on Capitol security comes ahead of President Biden's State of the Union address, when nearly all members of Congress, Biden's cabinet and the Supreme Court will be packed into the House chamber.
Driving the news: More than a dozen House Democrats penned a letter to congressional leadership on Wednesday expressing "urgent concern for the safety and security of the President, other dignitaries, and guests at the upcoming State of the Union[.]"
"The GOP House Majority's new rules have made the safety and security of the House Chamber ... at risk to infiltration and violence with reckless changes to necessary preventative measures," they wrote.
It cites Jan. 6 and, more recently, Rep. Cory Mills (R-Fla.) sending inert grenades to colleagues as evidence that "the House is vulnerable to multiple fronts of attacks both from inside and outside Congress."
The letter requests information on what steps leadership and Capitol security officials are taking to protect State of the Union attendees.
The other side: House Speaker Kevin McCarthy (R-Calif.), asked about State of the Union security, told Axios, "I haven't had a briefing on that" but said he would include Minority Leader Hakeem Jeffries (D-N.Y.) in the planning.
Mills also defended sending what he described as "inert paperweights" to colleagues, saying he got permission from law enforcement including the Capitol Police's bomb squad: "There was not a single [step in the] process that didn't, in some way, get checked off."
The backdrop: Republicans, upon taking the majority last month, allowed metal detectors set up outside the House chamber after Jan. 6 to be taken down.
Zoom in: The letter follows a cacophonous Natural Resources Committee meeting on Wednesday at which Democrats tried and failed to reinstate a ban on lawmakers carrying guns in committee rooms, which Republicans removed from the rules.
Rep. Jared Huffman (D-Calif.), who introduced the amendment reinstating the ban, asked committee members for a show of hands if they "do not have a weapon on them." All Democrats but only a few Republicans raised their hands.
"I feel like I need [a gun] everywhere here," said Rep. Lauren Boebert (R-Colo.) after Huffman asked if members feel they need a gun in committee hearings. She specified that the gun she carries would be loaded.
"We will never hurt you," Rep. Anna Paulina Luna (R-Fla.) said, "I will use my firearm to defend you, just to be clear."
What they're saying: "With Republicans taking the mags out, we have an honor system that we know is violated," Huffman told Axios. "I mean, they talk openly about bringing guns here, and they're going to keep doing it."
"We're about to gather every senior level representative from the president to the Supreme Court to the diplomatic corps well on down into that chamber," he added, "I think it's a really bad idea."
Rep. Ruben Gallego (D-Ariz.) told Axios that he's concerned that a Republican member will "end up accidentally having a discharge" because they "use them as political talking points instead of knowing how to properly handle them."
What we're hearing: Several high-profile Democrats expressed concern to Axios about their Republican colleagues' posture towards congressional security.
"I would hope that, as they take down the security measures, they alter their behavior in terms of respect," said former House Speaker Nancy Pelosi (D-Calif.).
Rep. Alexandria Ocasio-Cortez (D-N.Y.), who was part of Wednesday's hearing, told Axios "it's all extremely concerning."
"I sit on that committee with a man who threatened to kill me," she said, referring to a video posted by Rep. Paul Gosar (R-Ariz.) — who denied it was meant as a threat. "Their reassurances that they don't want to hurt members, frankly, are I think quite empty because … they have stoked an environment that is unsafe."
What we're watching: Huffman said he is looking to reform a law banning guns in the Capitol complex in most cases to eliminate an exception allowing lawmakers to bring them to their personal offices.
"Nobody likes the [metal detectors]. They're annoying," he said, "But if you're not going to have some meaningful rules and enforcement at the perimeter of the Capitol, at a minimum you've got to make sure the House chamber is a safe place."
Flashback: Former House Majority Leader Steny Hoyer (D-Md.) tried in 2021 to limit firearm access in the Capitol after a staffer was arrested for bring an unlicensed firearm into a House office building.
Go deeper