Exclusive: Southwest Airlines CEO Bob Jordan on rebuilding reputation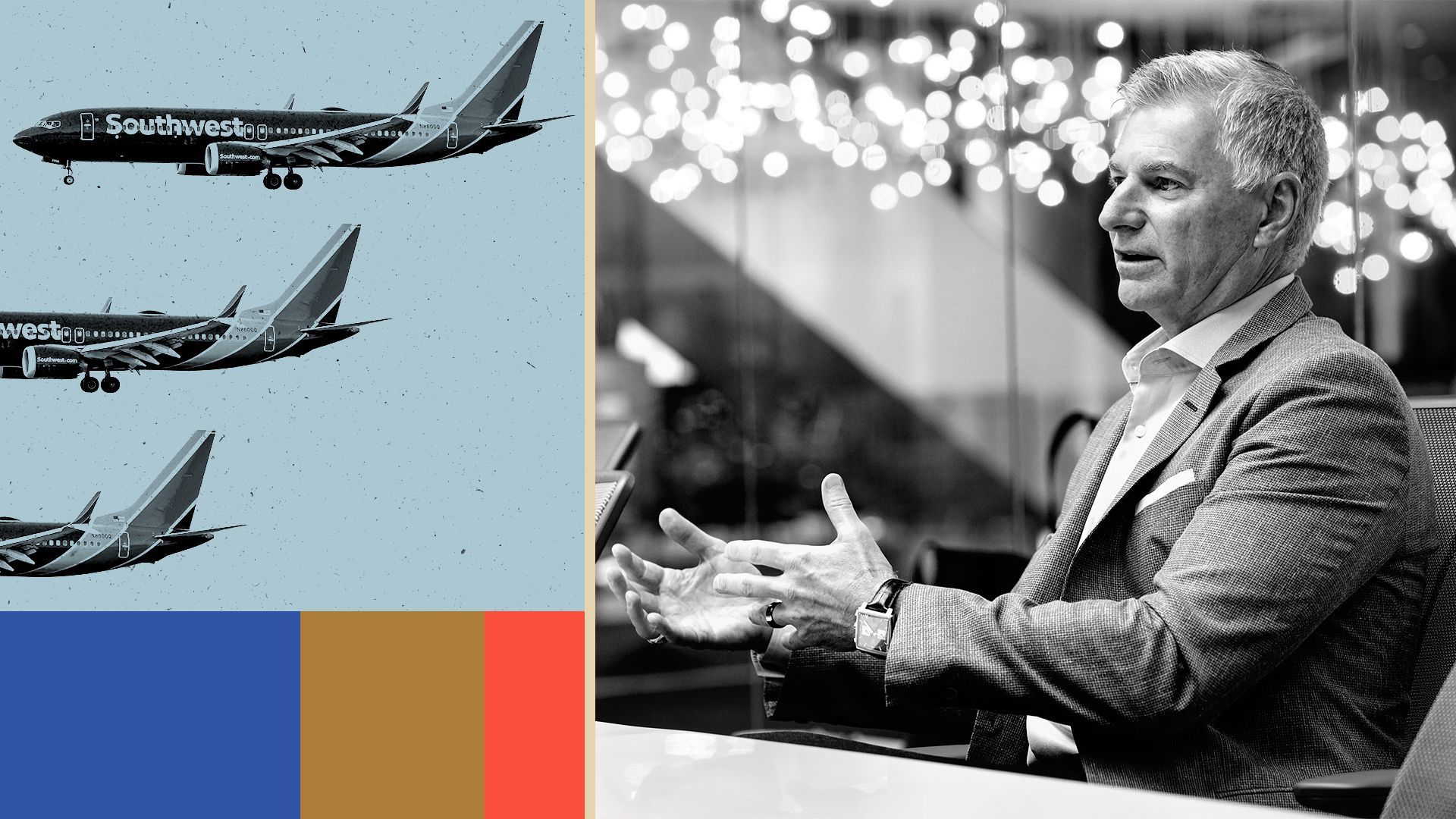 This week marks Bob Jordan's 0ne year anniversary as CEO of Southwest Airlines. In year two, he's focused on making sure the operational meltdown that happened in December never happens again.
Why it matters: Bold communications is Jordan's current weapon of choice as he speaks candidly about the company's missteps and beats back misinterpretations of what went wrong.
What they're saying: "I think the biggest misconception right away was that it was a technology issue. We tried to be really clear that while the technology got overwhelmed, it is not what caused this," Jordan tells Axios in an exclusive interview.
"It was a weather event that turned into a crew and aircraft routing network event, that then pushed the technology to a point that it couldn't help us because it was having to solve [operational] problems that were already in the past — but it wasn't a technology event."
The other misconception is lack of investment, Jordan says.
"We spend a lot of money on technology and recently put in a new state-of-the-art maintenance system, a new reservation system and a new human capital workday system."
And the point-to-point flying system: "A point of confusion is that we're all point-to-point, but given our size and scale, we [operate] roughly in between for point-to-point and hub-and-spoke. I think the issue was the weather [being] more severe than we expected and it hit so many very large locations for us."
The big picture: It was impossible to communicate what was happening in the moment, which led to more outside speculation.
"In the moment, all of our efforts were focused on getting the network restored and running ... and let's be honest, we didn't have an answer for our customers," Jordan says.
"You always wonder whether you communicated fast enough...We were very quick to communicate internally every single day, but I think 'did we communicate externally, quickly enough?' would be the ultimate question."
State of play: Now, Jordan is over-communicating in an attempt to explain these dense, operational snafus to consumers, shareholders and legislators.
"We have a lot of work to do to make sure each group understands what went wrong and what we're doing to fix it," says Jordan. "You've got to be transparent and not defensive. That builds trust."
Refunds and reimbursements help too.
"We're being really generous, as you would expect...We had an instance where a couple bought a $500 used car to drive home. We covered it and bought them a car, so to speak."
Yes, but: It might not be as easy to regain the faith of FAA regulators.
"Other airlines that experienced weather-related cancellations and delays due to the winter storm recovered relatively quickly, unlike Southwest," Secretary of Transportation Pete Buttigieg wrote in a letter to Jordan in late December.
Zoom in: Communicating with employees is a major priority too. Jordan will appeal to them in-person at upcoming Southwest roadshow rallies, which are attended by thousands of employees, contractors and retirees.
At this year's rallies — which will stop in Baltimore, Las Vegas and Dallas — Jordan will deliver a more serious message.
"I will make sure [employees] understand that I own what happened," says Jordan." And I want our people to know that the bad week in December is not going to define Southwest Airlines, and we are going to be a better company because of it."
Southwest leadership is also in the process of pushing the few remaining active union negotiations across the finish line, says Jordan.
The bottom line: Southwest's reputation is 51-years in the making, and based on recent earnings, the airline's ongoing operational reviews and communication efforts appear to be working.
Go deeper