Florida's citrus crisis drives up orange juice prices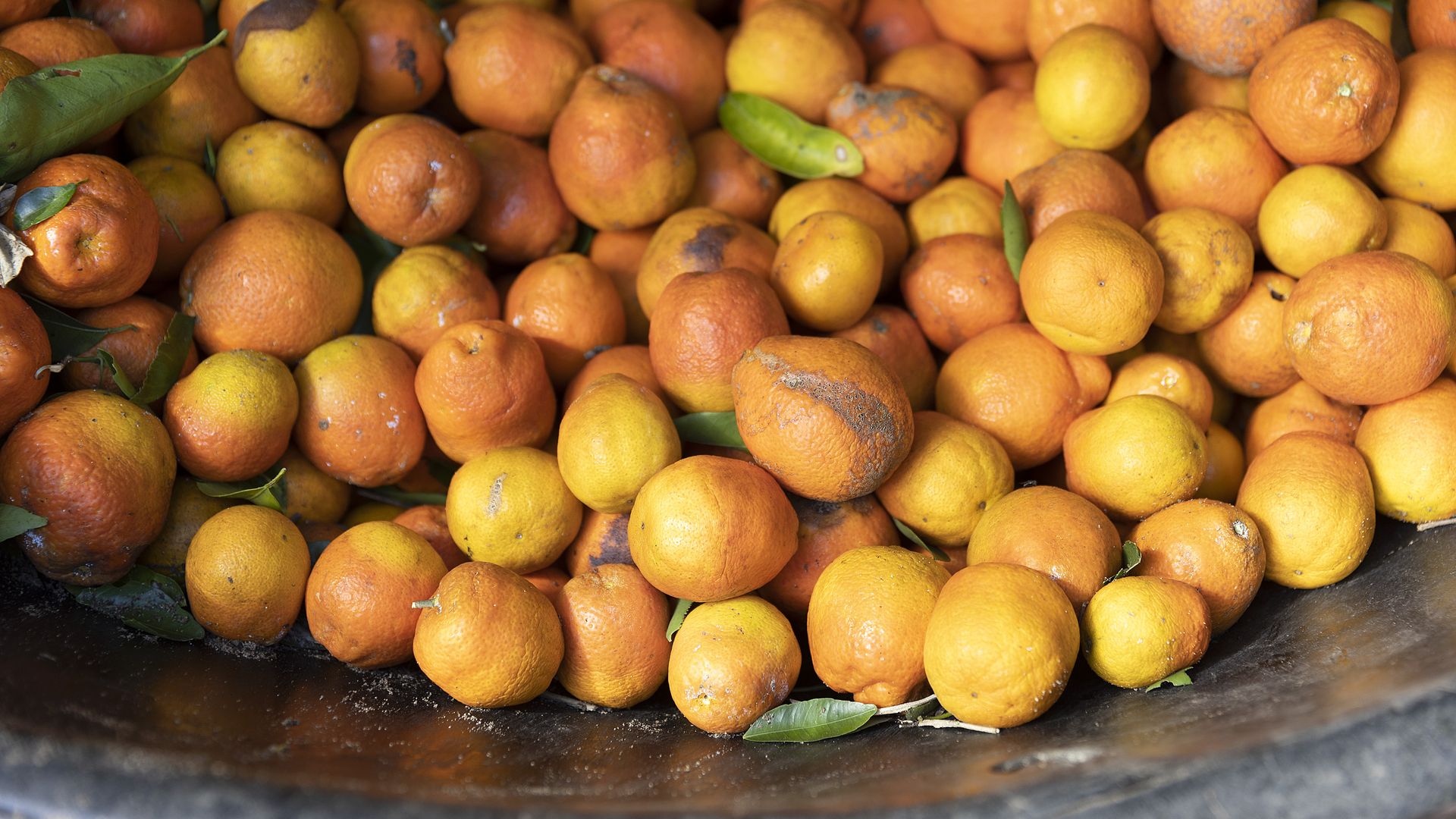 Florida orange growers are facing what's forecast to be their smallest crop in nearly 90 years.
What's happening: Florida is expected to produce 18 million 90-pound boxes of juicing oranges this year, according to a U.S. Department of Agriculture forecast last month.
Why it matters: The existing short supply of Florida oranges is already driving orange juice prices up. Not-from-concentrate juice now costs more than $10 a gallon, up roughly 20% from 2016, per WSJ.
And a poor harvest will further squeeze growers still struggling to recover from two hurricanes last year.
Between the lines: Matt Joyner, CEO of trade association Florida Citrus Mutual, told Axios that farmers had just started to recover from 2017's Hurricane Irma when 2022 brought a series of severe weather events.
"Replanting — it's a five-year process to get trees back up and productive," he said. "And here we are, five years out, and got hit by a freeze back in January of '22."
The industry was then challenged by Hurricanes Ian and Nicole, which damaged and uprooted more trees.
On top of that, since about 2005, farmers have been fighting citrus greening, a hard-to-manage disease that's spread by a flying insect and causes fruit to drop prematurely from trees.
By the numbers: Citrus is produced in 27 counties on 375,000 acres in Florida, and 100% of those were affected by these factors in 2022, Marisa Zansler, the director of economic and market research with the Florida Department of Citrus, told Axios.
She said a University of Florida analysis pegged damages for the season between $418 million and $675 million, not counting infrastructure damage.
What they're saying: Despite the misfortune, Joyner said he's optimistic about the industry's future. "Within the last 12 months, we've started to see some real breakthroughs in therapies that have very strong potential to … turn this decreasing production trend around."
He noted that new therapies are helping fruit adhere longer on trees affected by greening, until they ripen.
Plus, antimicrobials targeting the citrus disease are also ready for commercial production, Joyner said.
The bottom line: It's true that some Florida farmers have shuttered and sold land to developers in recent years. "But by and large, the growers that are still in citrus are those diehard, multi-generation growers," he said. "Orange juice will not go away."
Go deeper