Bed Bath & Beyond misses bond payment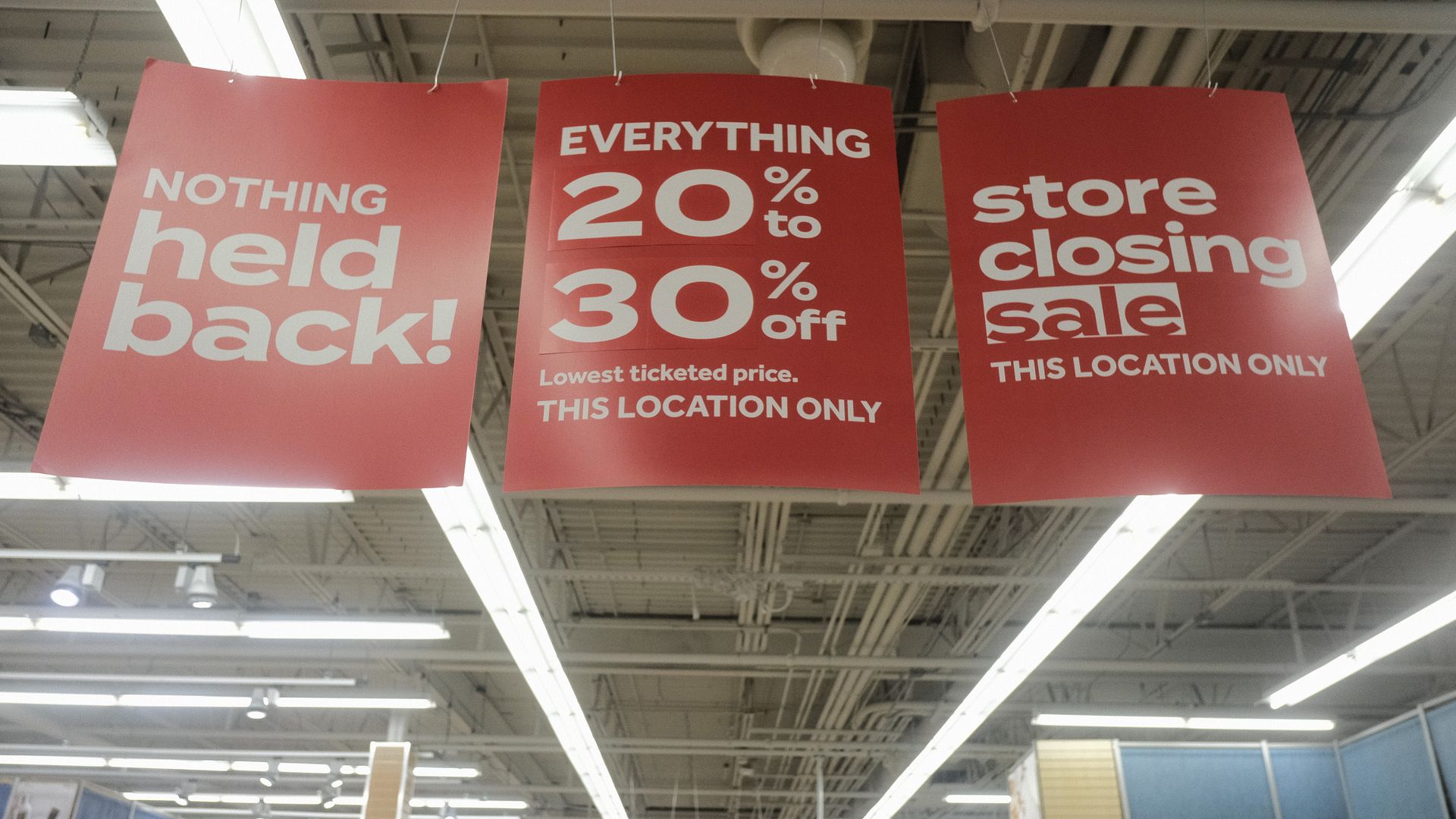 Bed Bath & Beyond missed interest payments on approximately $1 billion in bonds yesterday and has entered a 30-day grace period during which it can still make the payments, the company confirmed via email.
Why it matters: The company is in cash preservation mode as it props up operations while it decides its next steps.
What they're saying: "We continue to work with our advisors and implement actions to manage our business as efficiently as possible. Multiple paths are being explored and we are determining our next steps carefully, and in a timely manner," the company said in the email.
Catch up fast: Last week the company revealed in an SEC filing that it received a default notice from JPMorgan, the administrative agent for its credit facility.
Flashback: Bed Bath & Beyond began attempting a turnaround in 2019 when activist investors installed a new management team under Target's former chief merchandising officer Mark Tritton.
As CEO, Tritton pushed a strategy centered around new private label offerings and ridding the banner of higher end goods that tied well into special occasions, such as its wedding registry.
Yes, but: Building new private label brands takes years, a source familiar with the situation says, shifting the retailer's product assortment away from national brands.
That strategy, in addition to nixing its 20% off coupons and decluttering its stores, entailed a large cash investment and alienated shoppers, the source adds.
By replacing the entire the management, there was no one with institutional knowledge left to guide the new CEO on the risks of such moves, the source explains.
Tritton essentially "bet the farm" without first testing it, reminiscent of retail executive Ron Johnson's efforts to revitalize department store chain JCPenney, the source says.
The big picture: In both the case of JCPenney and Bed Bath & Beyond, activist investors' urgency combined with a newly installed CEO's overconfidence led to costly mistakes that could have been avoided, the source says.
Between the lines: Electronics retailer Best Buy faced a situation similar to Bed Bath & Beyond, but instead of eschewing its big brands, such as Samsung and Microsoft, partnered with them instead.
In BBBY's case, it will be difficult for the home goods retailer to bring back the alienated national brands that might have saved it, the source says.
What we're watching: Private equity firm Sycamore Partners has expressed interest in purchasing the Buybuy Baby brand, the source said. (The New York Times first reported Sycamore's interest last month.)
The intrigue: Stefan Kaluzny, Sycamore's founder, was at Golden Gate Capital where he successfully bid more than a decade ago for the operations of apparel retailer Eddie Bauer, then considered a liquidation candidate.
The bottom line: There's still a place in the retail landscape for a retailer such as Bed Bath & Beyond, but in its case, the time and money it would take to make it viable again is a big deterrent to a would-be white knight, the source adds.
Go deeper