Trump "more angry," "more committed" as he kicks off 2024 campaign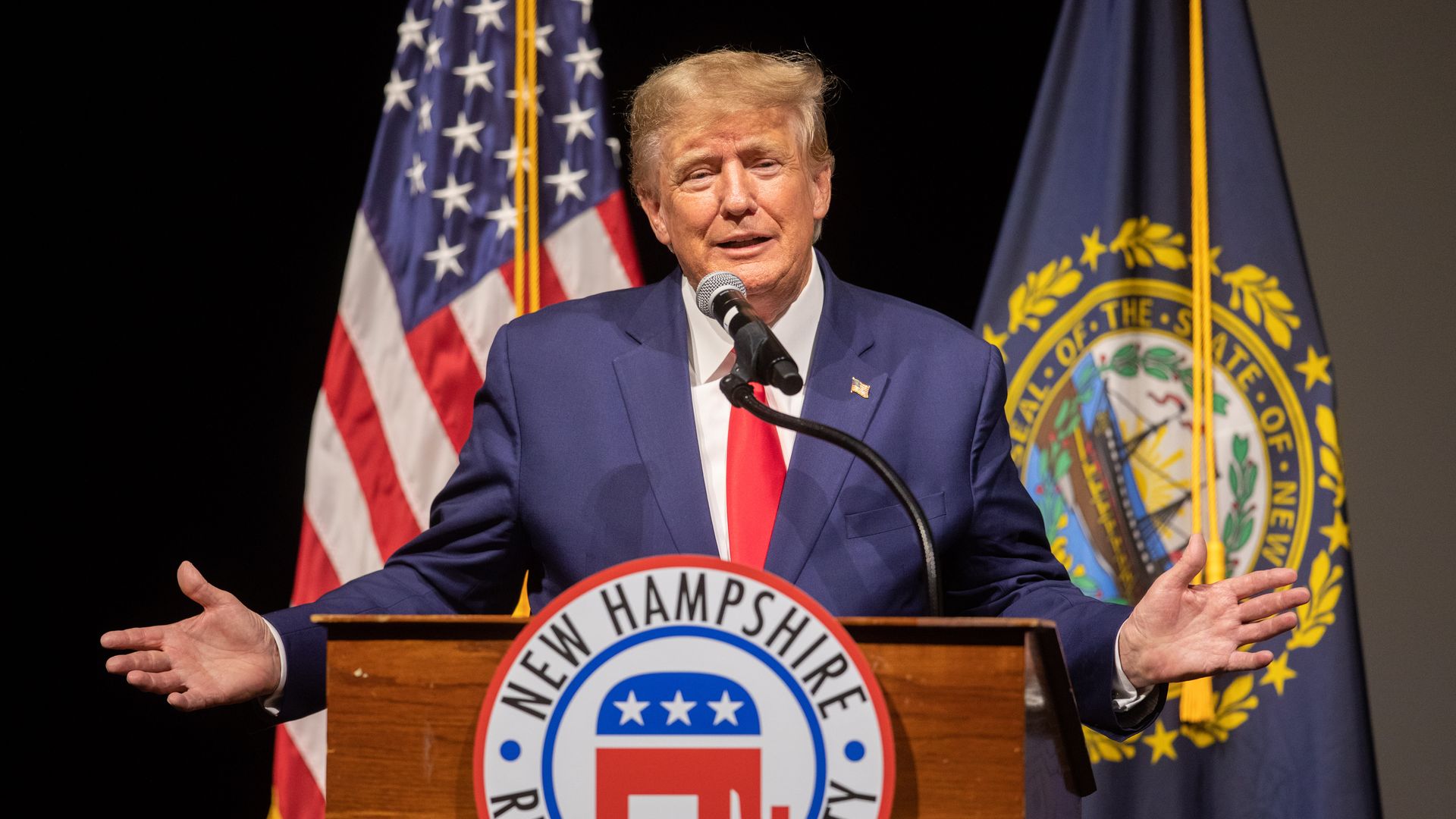 Former President Trump on Saturday said he's angrier and more committed than ever as he kicked off his 2024 presidential bid in New Hampshire, per AP.
Driving the news: "We're starting. We're starting right here as a candidate for president," Trump said while delivering the keynote address for the state Republican Party's annual meeting in Salem, New Hampshire, on Saturday morning.
He announced that outgoing New Hampshire GOP Chairman Stephen Stepanek will oversee his campaign in the state, per The Hill.
Trump was headed to South Carolina next, where he was expected to introduce his leadership team in the state.
What he's saying: "I'm more angry now and I'm more committed now than I ever was," Trump said while making his debut on the 2024 campaign trail.
In his speech, Trump talked about his campaign agenda, including his plans to eliminate federal funding for schools that "push" critical race theory or "left-wing gender ideology."
Trump also discussed the military, saying, "We have a great military, but we have some fools on top." He also said he "rebuilt our entire military" during his time as president.
Zoom in: The former president criticized Democrats' effort to move the election calendar to make South Carolina the first state to vote instead of New Hampshire.
"From the very beginning, I've strongly defended New Hampshire's first-in-the-nation primary status," Trump said in the state. "I've been your defender, and I've refused to let any Republican … even think about taking that cherished status away."
He accused President Biden of "cruelly and disgracefully trashing this beloved political tradition," suggesting his endorsement of the change was "a revenge on the voters" motivated by Biden's fifth-place finish in 2020's New Hampshire Democratic primary.
The big picture: New Hampshire and South Carolina are pivotal in the early primaries and hold immense power in picking the GOP and Democratic presidential nominees.
Meanwhile, Trump, who is currently the only declared 2024 presidential candidate for either party, is trailing behind expected Republican opponent Florida Gov. Ron DeSantis in New Hampshire by a 12-point margin, per a new poll conducted by the University of New Hampshire.
Go deeper: DeSantis calls for "new blood" at RNC
Go deeper