Trump sets out on 2024 campaign trail with fresh momentum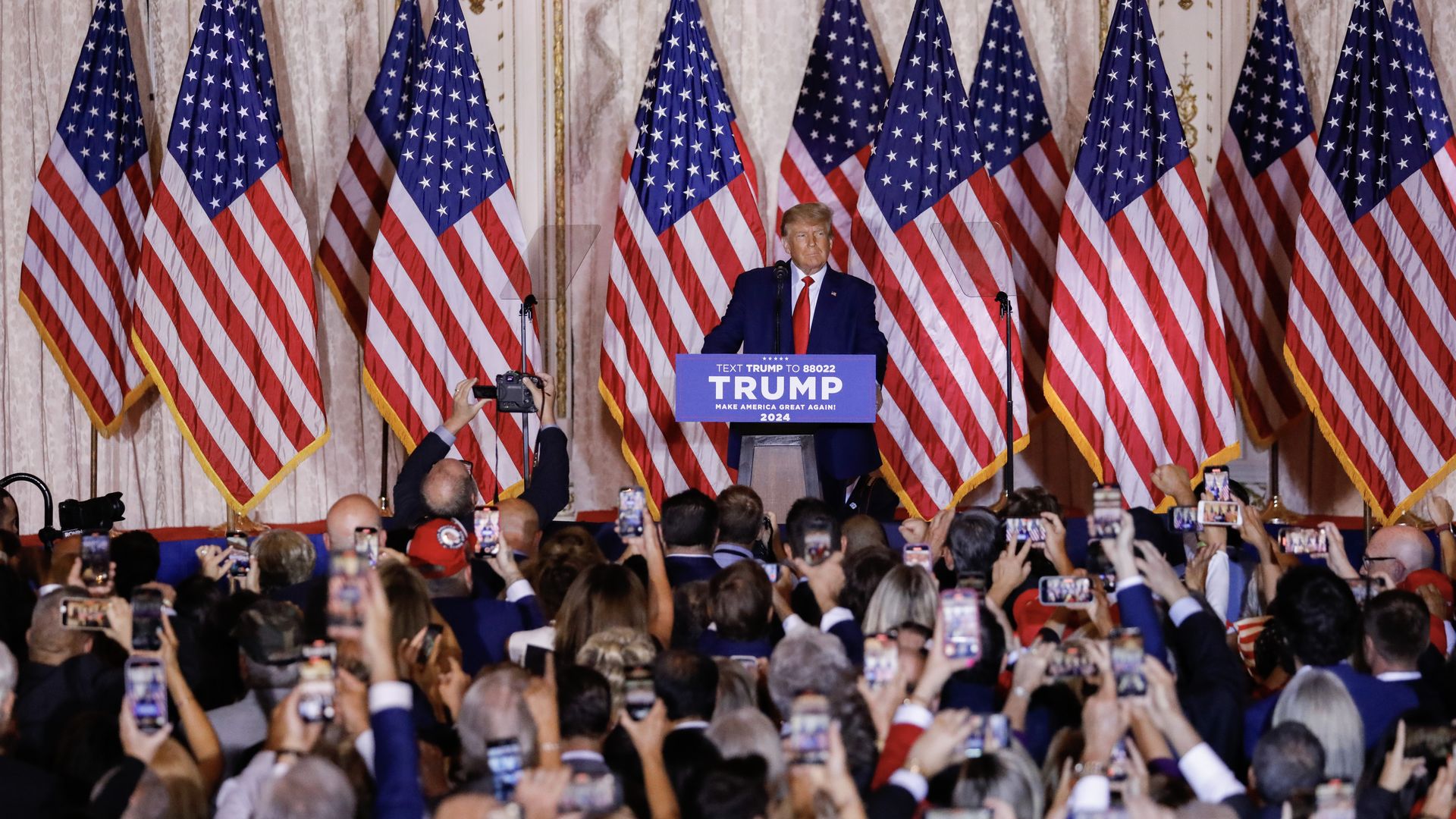 Former President Trump will be making his debut on the campaign trail this weekend in the pivotal early primary states of New Hampshire and South Carolina, amid signs of polling momentum for his 2024 presidential campaign.
Why it matters: Trump is the Lazarus of presidential politics. Just when you think he's tapped out, he returns from the political dead.
In South Carolina, Gov. Henry McMaster and Sen. Lindsey Graham are endorsing Trump's presidential campaign — a critical show of support from the party establishment.
Trump secured McMaster and Graham's early endorsements even though former South Carolina Gov. Nikki Haley is likely to run — and with South Carolina Sen. Tim Scott considering jumping in.
In New Hampshire, Trump will be delivering the keynote address for the state Republican Party's annual meeting Saturday morning.
Go deeper: The latest round of public polling shows Trump ahead of Florida Gov. Ron DeSantis by significant margins. That's a marked shift from polls conducted immediately after the midterms — from November to December 2022 —which (on average) gave DeSantis a small edge.
Republican operatives believe that the classified document scandal dogging President Biden has been a gift to the former president, allowing him to claim a double standard in treatment for his own mishandling of classified documents.
Trump has also been largely out of the news this month. That counts as good news after his lackluster campaign launch last November, followed by his notorious dinner with antisemitic rapper Kanye West and white nationalist Nick Fuentes.
By the numbers: An Emerson College survey, conducted from Jan. 19-21, finds Trump holding a sizable 26-point edge over DeSantis, 55%-29%. Trump also leads Biden in a head-to-head matchup, 44%-41%.
In a Harvard-CAPS/Harris poll, conducted Jan. 18-19, finds Trump up 48%-28% over DeSantis. Trump leads Biden 46%-41% in a general election matchup — with nearly two-thirds of voters saying Biden is too old to be president.
The Morning Consult presidential primary tracker finds Trump expanding his advantage over DeSantis to 19 points (49%-30%) in a hypothetical primary field. Biden led Trump, 44%-41%, in a general election matchup.
Go deeper