DOJ announces arrests over alleged Iranian plot to kill U.S. journalist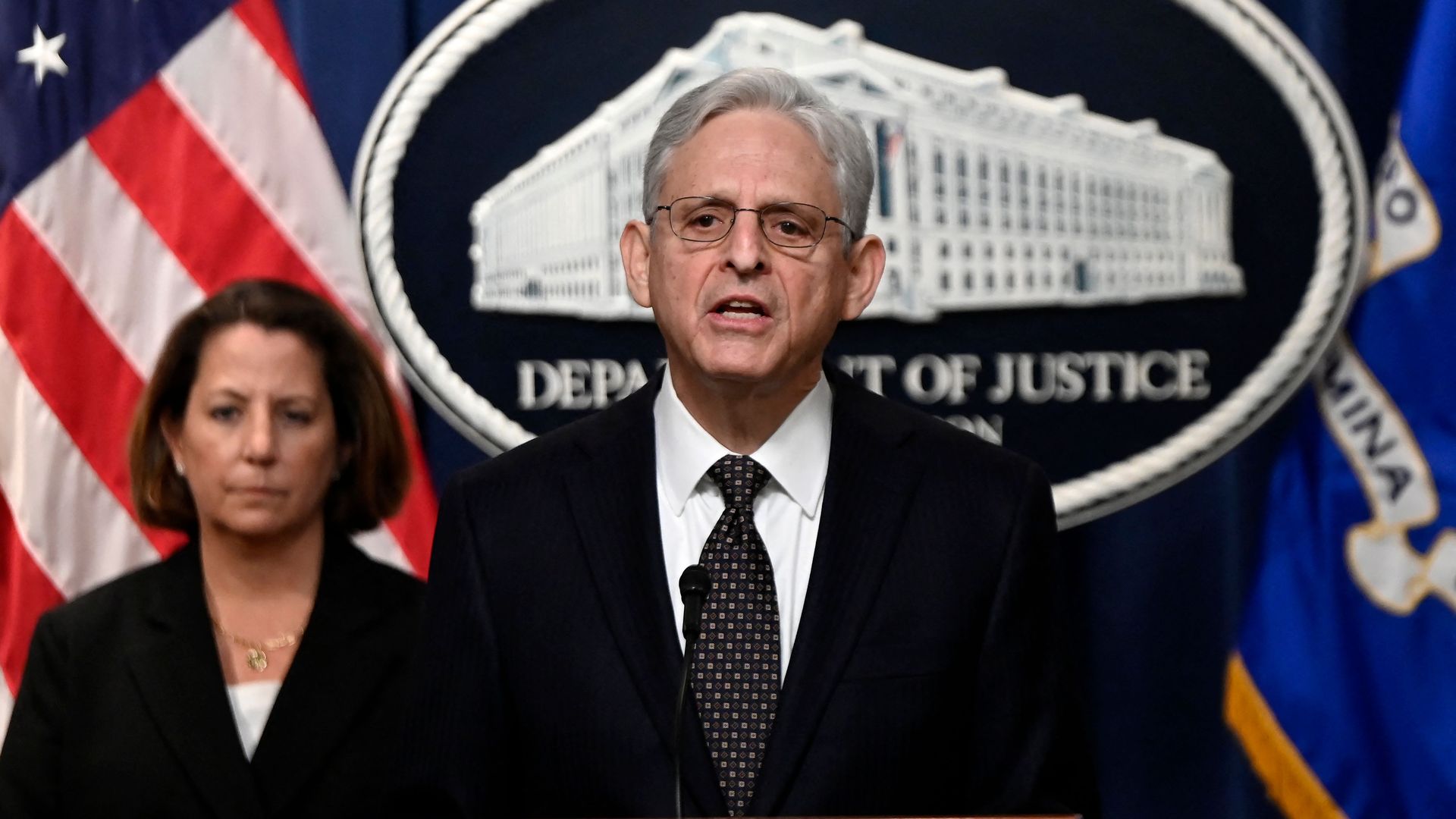 The Department of Justice on Friday announced three new arrests related to an alleged murder-for-hire plot to kill a New York-based journalist and human rights activist who was critical of the Iranian government.
Why it matters: The Justice Department alleged that the three arrested men were members of an Eastern European criminal organization with ties to Iran and were tasked with killing the victim, a U.S. citizen of Iranian origin who was previously the target of other intimidation, harassment and kidnapping plots by the Iranian government.
The department said the victim, who has publicly identified herself as American journalist Masih Alinejad, has published stories about human rights abuses and political suppression committed by the Iranian government, including during recent nationwide protests in the country.
What they're saying: Attorney General Merrick Garland, speaking Friday at the Justice Department, said the victim has publicized the Iranian government's discriminatory treatment of women, its suppression of democratic participation and expression, and its use of arbitrary imprisonment, torture and execution.
"The Department of Justice will not tolerate attempts by an authoritarian regime to undermine those protections and the rule of law upon which our democracy is based. We will not tolerate attempts by a foreign power to threaten, silence, or harm Americans.  We will stop at nothing to identify, find, and bring to justice those who endanger the safety of the American people," Garland said.
"The law enforcement action today is the latest U.S. disruption of plotting activities against this victim and other Americans," White House national security adviser Jake Sullivan said Friday in a statement. "It follows a disturbing pattern of Iranian Government-sponsored efforts to kill, torture, and intimidate into silence activists for speaking out for the fundamental rights and freedoms of Iranians around the world."
The big picture: In a 25-page indictment unsealed in the U.S. District Court for the Southern District of New York, defendants Rafat Amirov, Polad Omarov and Khalid Mehdiyev, who also went by several aliases and codenames, are charged with murder-for-hire, money-laundering and conspiracy.
The indictment details the organization of the plot and steps taken by the defendants to carry it out, including Mehdiyev's repeated surveillance and reconnaissance of the victim's home and activities.
Amirov was taken into custody in the Southern District of New York on Jan. 26. Mehdiyev was arrested in July 2022. Omarov was arrested in the Czech Republic on Jan. 4 and the U.S. has requested his extradition.
Mehdiyev was also charged with possessing a firearm with an obliterated serial number, which carries a maximum sentence of five years in prison. 
The DOJ said other members of the Eastern European criminal organization have previously committed murders, kidnappings, assaults and extortions.
Go deeper: UK condemns Iran over "barbaric" execution of dual citizen Alireza Akbari
Go deeper