Axios interview: Yellen on inflation, growth, and jobs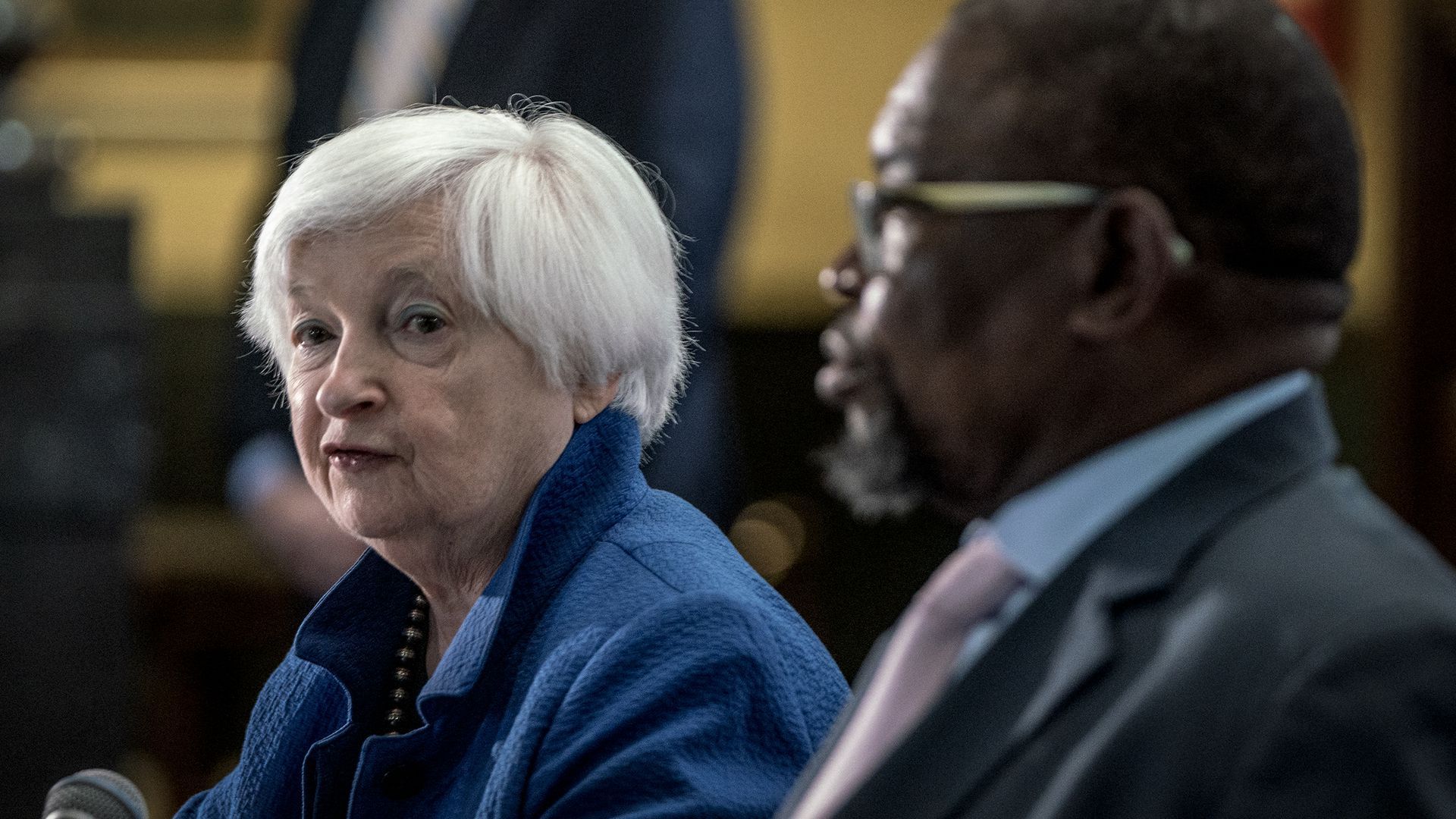 Treasury Secretary Janet Yellen sees the "tightest labor market we've arguably had in 50 years" amid receding inflation pressure.
Yellen is on a 10-day trip to Africa, part of a mission to deepen U.S. ties on the continent, at a time China is also making geopolitical inroads. She spoke with Axios Friday in Nelson Mandela's former house in Johannesburg.
Driving the news: Yellen has used her trip to try to convince Africans —from presidents to subsistence farmers — that the U.S. wants to partner with them for the long-term.
Along the way, she's visited a slave memorial in Senegal, a remote farming village in Zambia, and a job retraining facility in South Africa's coal region.
Here are her thoughts about the state of the U.S. economy. Watch for more Axios coverage of her comments on the debt ceiling, the future of the World Bank, and more in the coming days.
Yellen on inflation: "Well, there can be hiccups," Yellen said. "I wouldn't predict month to month-type changes, but we've seen inflation come down substantially."
"We've still got a substantial contribution from rental prices, but that's going to come out over the next five or six months. So I expect that to cause further deceleration and inflation."
"Goods prices have actually been falling but service prices are rising more rapidly."
She called the 2.9% rate of GDP growth reported this week a "solid growth number" and emphasized that slower growth is desirable in this high-inflation environment.
"We expect and want to see a slowdown in the economy in order to help get inflation under control," Yellen said.
"We have the tightest labor market we've arguably had in 50 years," Yellen said. "Fundamentally the job market remains very strong and you're not seeing, in aggregate, a lot of layoffs."
Between the lines: The Treasury secretary still sees a pathway for the U.S. economy that includes inflation coming down, against a backdrop of a still-strong job market.
Go deeper