New report highlights patterns in mass attacks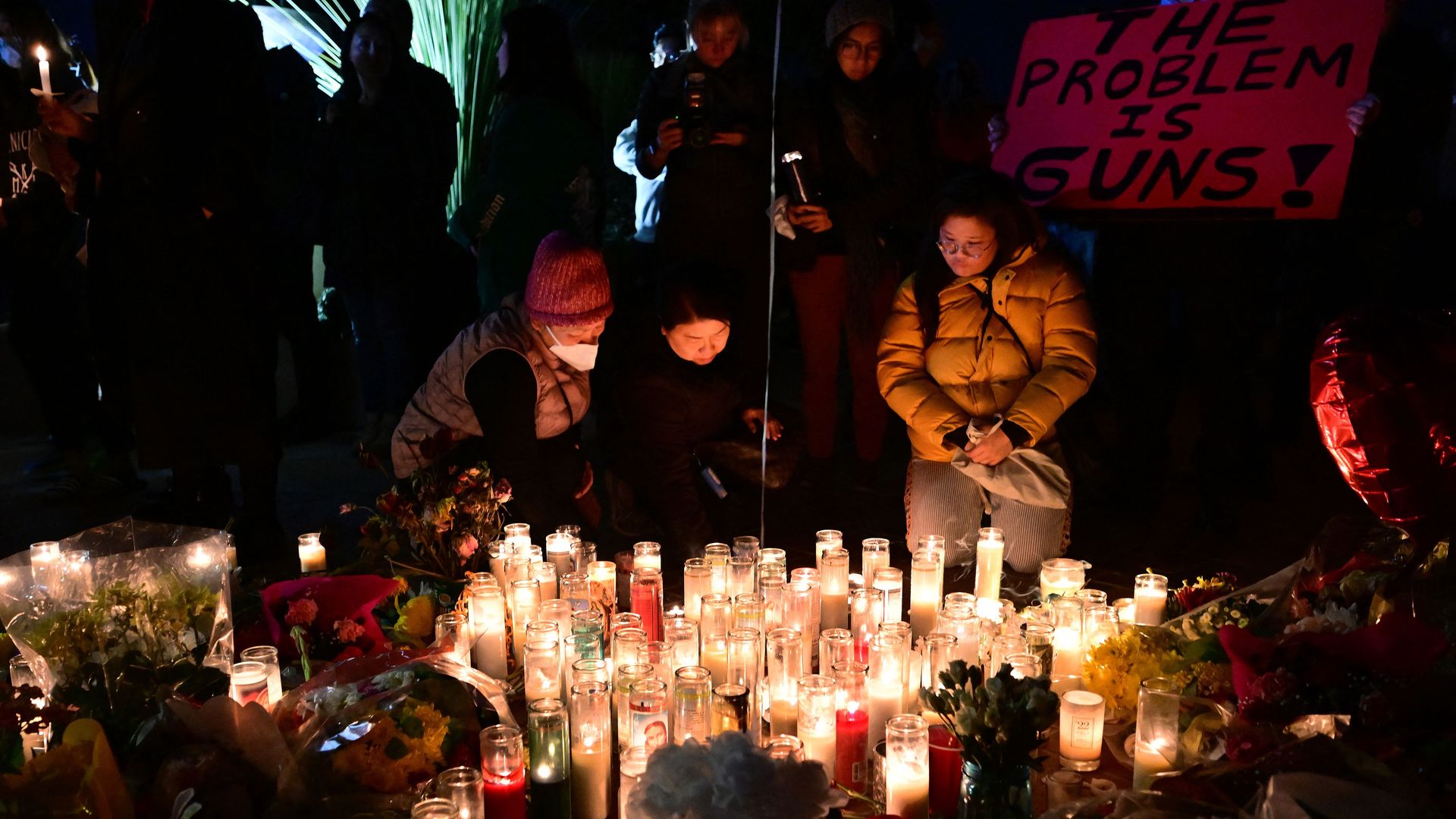 After a week marked by high-profile mass shootings, a new report released Wednesday by the U.S. Secret Service's National Threat Assessment Center highlights patterns between mass attacks and their perpetrators.
The big picture: Patterns of misogyny and domestic violence should be a greater focus for those focused on preventing mass violence, the report says, as does hateful online rhetoric.
Nearly half of attackers studied in the report had a history of domestic violence, misogyny, or both.
Driving the news: With 39 mass shootings in the first three weeks of 2023, the number of mass shootings in the U.S. has already outnumbered days in the year.
The new report analyzed 173 mass attacks between 2016 and 2020 that took place in public or semi-public spaces, such as houses of worship, schools and businesses.
The report analyzed incidents in which three or more people were killed or injured in the attacks.
State of play: About 73% of all mass attacks that have occurred in public spaces in recent years have involved at least one gun, and nearly one-quarter of attacks involved at least one gun that was acquired illegally, according to the report.
About 93% of attackers experienced personal significant stressors in the five years prior to the attack, such as family or romantic relationship issues, health problems, homelessness, and employment issues. For some 77% of attackers, these stressors had occurred in the year prior to the attack.
Half of the mass attacks were motivated by the attacker's perceived personal grievances — such as those relating to a domestic relationship, workplace, or personal issue with another person, such as a neighbor.
One-quarter of attackers subscribed to conspiracy theories or hateful ideologies. 
About three-quarters of attackers had displayed concerning behaviors or shared concerning communications prior to their attacks.
In two-thirds of cases, these behaviors were "so concerning, they should have been met with an immediate response." These behaviors were often reported to law enforcement, school authorities and employers, but in more than one-fifth of cases the behaviors were not reported to someone in a position to respond.
Zoom out: The report encouraged communities to promote and facilitate proactive bystander reporting and stressed the importance of early intervention, and that communities shouldn't wait for a direct and specific threat to be made before taking action.
Workplaces should establish behavioral threat assessment programs in order to help identify, assess and intervene when current or former employees or customers may pose a threat.
Go deeper