DOJ's new suit puts Google's ad business at risk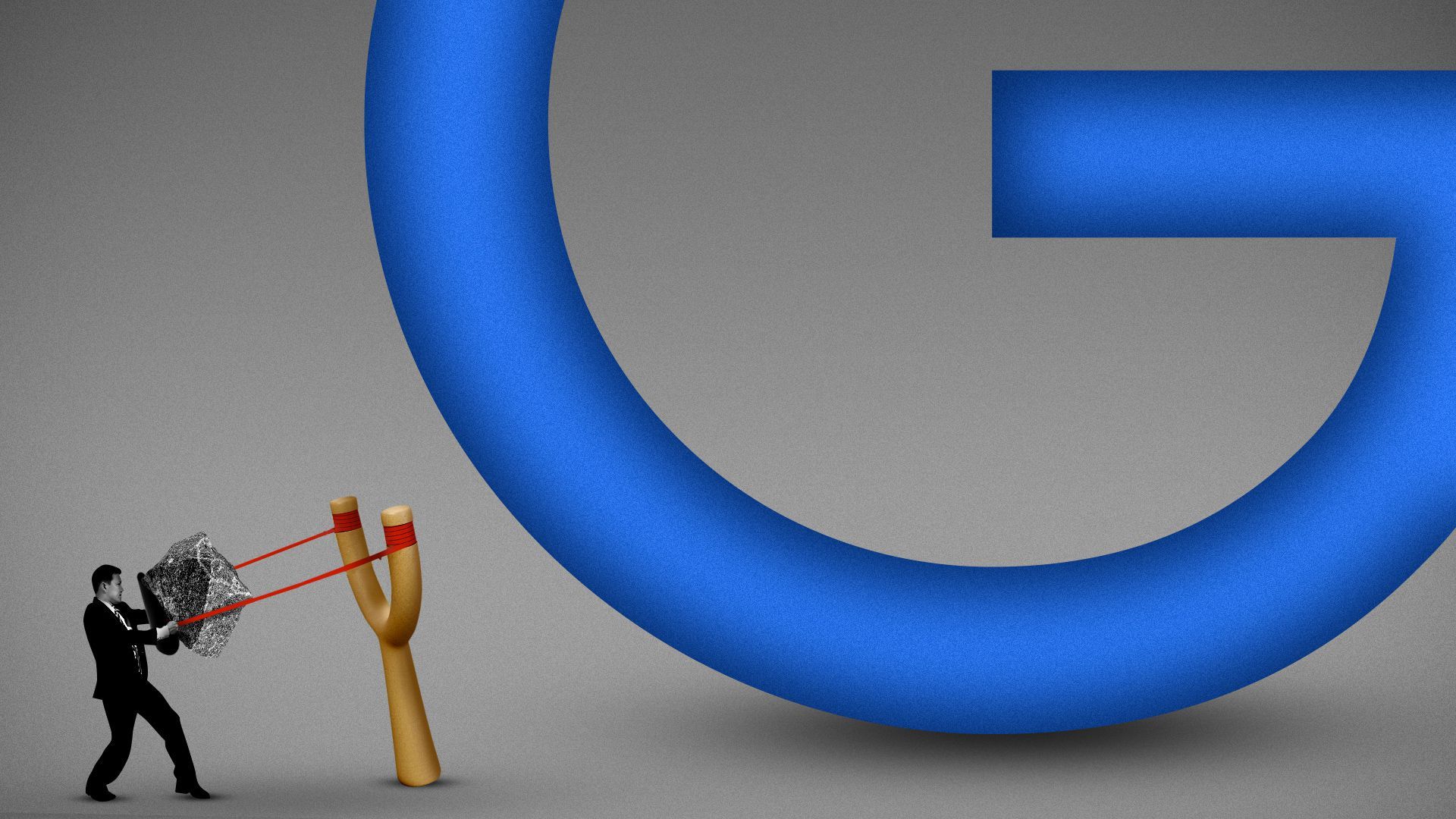 The U.S. government's latest legal assault on Big Tech asks a court to make Google sell off a chunk of its massive, phenomenally profitable digital advertising business.
Why it matters: The Department of Justice's new suit against Google, filed Tuesday, brings to a crescendo an antitrust campaign against tech's most powerful giants that has consumed both Washington and Silicon Valley for half a decade — and is likely to take just as long for courts to resolve.
Yes, but: There's no guarantee that this latest case, even if the DOJ wins it all, would end or even limit the company's dominance of the online ad industry.
By the numbers: The part of Google's ad machine that DOJ wants to see spun out involve the company's "network" ad business, which sells ads on others' inventory. That category accounts for roughly 12% of parent company Alphabet's overall revenue.
Having to spin out key pieces of the company's ad-tech structure would be difficult and would certainly hurt revenue and growth potential. But it doesn't constitute "breaking up" Google, as some have described the government's goal.
Just as importantly, the case — like every large, complex antitrust trial — is likely to take years in court, and in that time Google could find ways to bolster its ad business to protect itself from a damaging divestiture.
Catch up quick: Google acquired ad-tech pioneer DoubleClick in 2007 for $3.1 billion, and over the years DoubleClick's services became Google Ad Manager, which is what the government now wants Google to divest.
The DOJ alleges that the acquisition and Google's subsequent behavior brought the company overwhelming power in the online ad market that it used to illegally shut out competitors and worsen experiences for advertisers and users.
What they're saying: "Google has engaged in exclusionary conduct that has severely weakened, if not destroyed, competition in the ad tech industry," Attorney General Merrick Garland told reporters today.
"First, Google controls the technology used by nearly every major website publisher to offer advertising space for sale. Second, Google controls the leading tool used by advertisers to buy that advertising space. And third, Google controls the largest ad exchange that matches publishers and advertisers together each time that ad space is sold," Garland said.
"As a result of this scheme, website creators earn less and advertisers pay more."
The suit seeks to make Google sell off its Ad Manager suite. It also seeks unspecified monetary damages and an injunction preventing Google from continuing to engage in the alleged anticompetitive practices.
The other side: Google argues the DOJ's suit "attempts to pick winners and losers in the highly competitive advertising technology sector."
Google's ad programs "help publishers make money to fund their websites, apps and videos — which helps Internet users access a wide range of free content," Dan Taylor, Google's VP of global ads, wrote in a blog post.
"We've spent years building and investing in our advertising technology business to support a vibrant, open web. We will vigorously contest attempts to break tools that are working for publishers, advertisers, and people across America."
Between the lines: The case is more compelling than some other Google antitrust cases because of all the money tied up in digital advertising, and that makes it "more of a straightforward antitrust case, more central to marketplace competition," Charles F. "Rick" Rule, a former DOJ official and chair of antitrust law firm Rule Garza Howley, told Axios.
"This case is a little different historically from a lot of monopolization cases because the DOJ is going into it with an idea of what kind of remedy it wants," Rule said.
"They're laying out a roadmap that I'm sure will be part of the litigation," he added. "I imagine they will push pretty hard for some sort of structural remedy and not settle for something short of what they think is satisfactory."
Be smart: The new DOJ suit closely resembles a lawsuit brought by state attorneys general led by Texas Attorney General Ken Paxton in 2020. That gives Google something of a head start on a defense that it has been preparing for two years.
The big picture: The lawsuit comes as Google struggles to maintain its momentum in an ad market slowdown.
Advertising makes up the great majority, or 81%, of Alphabet's $256 billion annual revenues (for 2021).
Alphabet reported a 27% drop in profits year-over-year in the third quarter last year due to a dramatic slowdown in ad sales, and will report fourth quarter earnings next week.
What to watch: The lawsuit will likely push Google to increase its focus on other fast-growing parts of its business beyond advertising, like AI and Google Cloud.
Go deeper