Democrats bash McCarthy's decision to elevate Marjorie Taylor Greene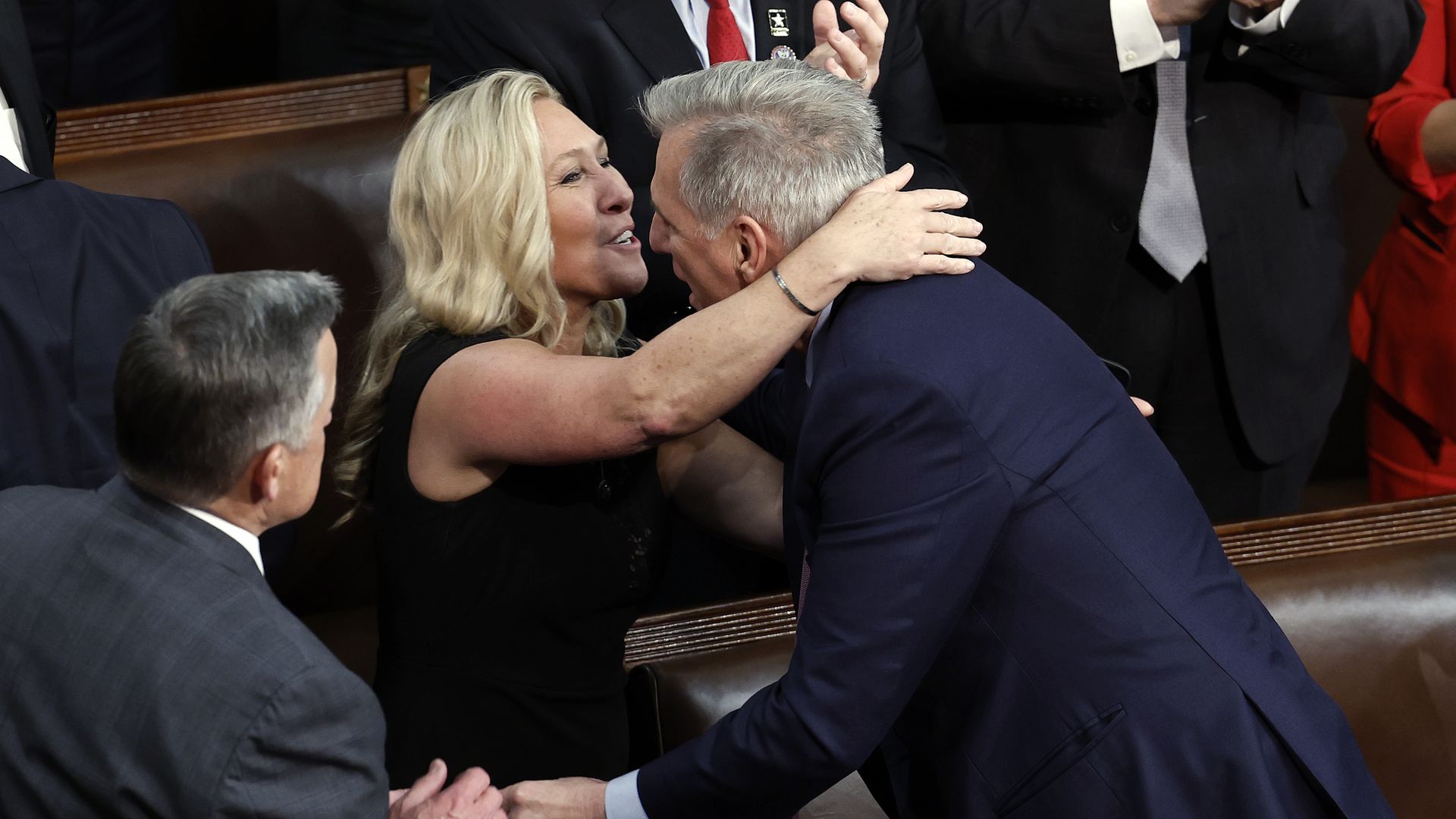 Democratic lawmakers are blasting the "tragic" decision by House Speaker Kevin McCarthy (R-Cal.) to elevate Rep. Marjorie Taylor Greene (R-Ga.) and other far-right lawmakers in Washington to highly influential committees.
Driving the news: McCarthy appointed Greene on Tuesday to a new House Oversight select subcommittee to investigate COVID policies after she spent the past two years elevating misinformation on the subject.
What they're saying
Rep. Ritchie Torres (D-N.Y.) highlighted the "insanity" of Greene comparing the House's COVID rules to the Holocaust. He called her COVID comparisons "insane and dangerous."
"All of these committee assignments would be comical were the consequences not so tragic for our democracy," he told Axios on Monday.
Kevin McCarthy is a Speaker in name only," he tweeted. "Am I alone, or does it feel like the inmates are running the asylum?"
Rep. Jimmy Gomez (D-Cal.) tweeted that Democrats on the House Oversight committee will have to "balance out the crazy."
"Kevin McCarthy cut a deal with extremists and this is what we get: Election-denying, #QAnon-believing, insurrectionist-defending Members like @RepMTG on the important House Oversight Committee," he wrote.
Rep. Raul Grijalva (D-Ariz.) responded to reports naming far fight lawmakers to the committee by referencing an idiom about individuals exploiting spaces they are meant to protect.
"There's a saying about foxes and hen houses that comes to mind," he tweeted.
What we're watching: Liberals argue that Greene's prominence could make passing bipartisan legislation much more difficult for the increasingly left-leaning Democratic Party.
Go deeper