China wants a more efficient workforce but analysts say that will be tough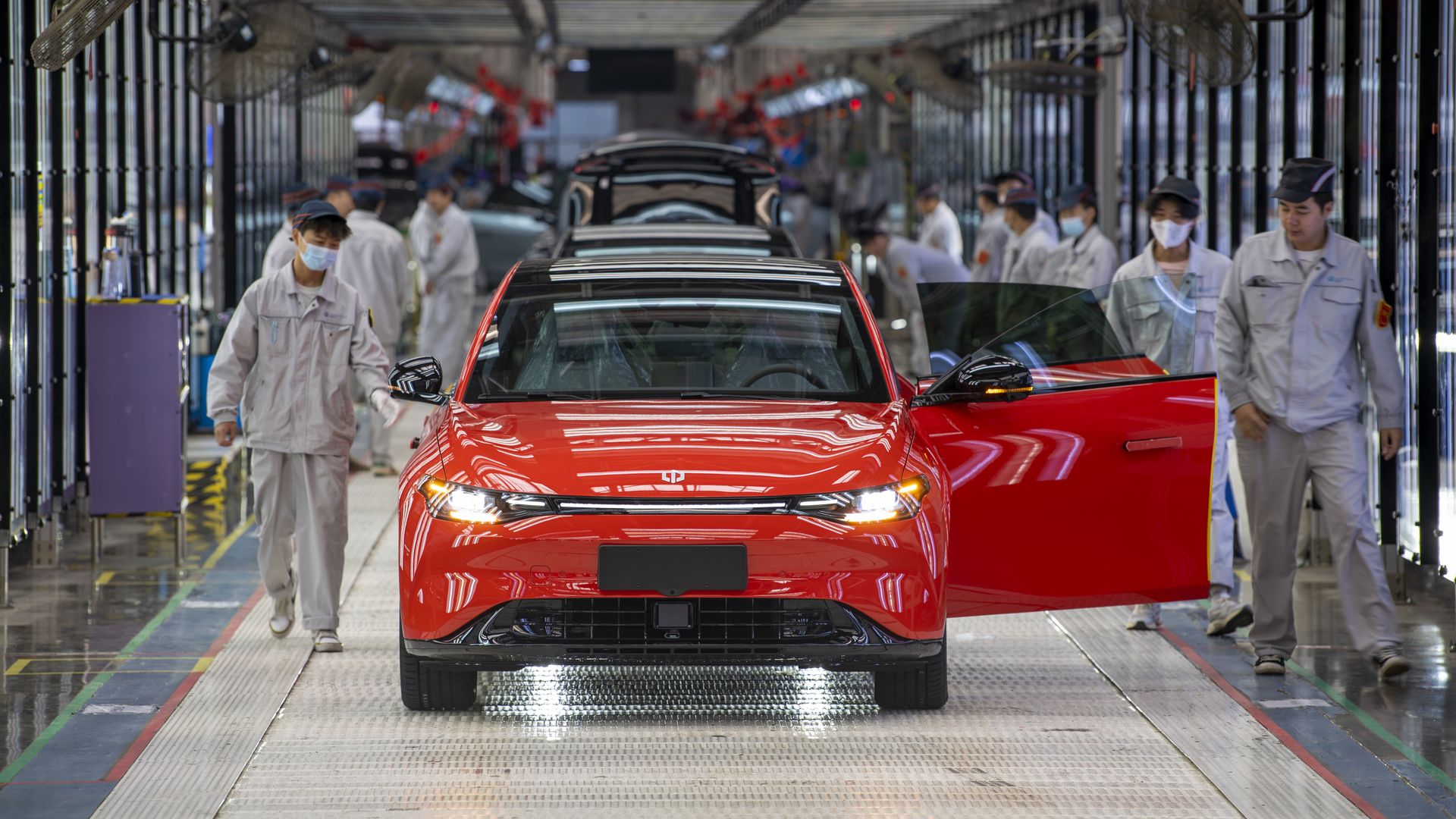 China's shrinking population highlights the need for the country to build a more efficient and robust workforce, but analysts tell Axios that it won't be an easy task.
Why it matters: China's nearly 1 billion working-age population already peaked in 2014 and has dipped in the last few years. By 2100, China is projected to have a workforce size of less than 400 million, according to UN data last July. Harnessing the potential of existing workers will be key to maintaining economic productivity, experts say.
"The question is whether an increasingly autocratic dictatorship can unlock the value of human resources when so many of the things that an open society like Germany or Japan can count on are beyond their reach," said Nicholas Eberstadt, a political economist at the American Enterprise Institute, citing the institutional flexibility of advanced economies.
Driving the news: Following last week's population announcement, Beijing underscored the importance of retraining the country's workers.
"We should not only look at the quantity of the demographic dividend but also its quality," Qu Hongbin, vice chairman of the China Chief Economist Forum, told a state media outlet this week.
China can continue to improve its human capital, and educational investments can counter the risks of a shrinking workforce, he said.
What they're saying: China needs to create more high-wage, high-value jobs because jobs based on cheap labor are expected to move away from the country due to geopolitical tensions and as other countries like India become bigger manufacturing hubs, said Zak Dychtwald, founder of market insights firm Young China Group.
That will leave a large swath of its population vulnerable to income loss, Dychtwald told Axios.
"China's population decline means fewer people need to support more economic weight. Fewer people working the same jobs as before will not cut it," he said.
Joseph Chamie, an independent demographer and former director of the UN Population Division, shared similar views. "Technology will play an increasingly important role in China's economic productivity," he said, adding that robots could be an answer to aging societies.
By the numbers: By 2030, up to 220 million Chinese workers may need to switch occupations due to automation, according to a McKinsey report in 2021.
The changing workforce landscape will also bring challenges for China's 292 million migrant workers — unskilled laborers who move from China's rural areas into cities to seek jobs mainly in construction and manufacturing, the McKinsey report said. Many can't access quality training programs and have limited capacities to make work transitions.
State of play: Since 2017, the Chinese government has pushed the country to transition from "high-speed" to "high-quality" development. In its manufacturing sector, the government has prioritized the transition from making low-valued products to those based on advanced technology, which it hopes will drive economic growth in the future.
In 2020, the government also recommended delaying the legal retirement ages "gradually." In another document the following year, Beijing hinted that it could start implementing the measures nationwide by 2025.
Currently, the country has some of the lowest retirement ages in the world, with men retiring at 60 and most women at 55.
Analysts have argued that as China's population continues to age, it will create further strain on the country's already underfunded pension system.
Between the lines: Although the Chinese government has highlighted the progress it has made in education and worker protections in recent years, significant barriers remain.
Chinese women earn 12% less on average than men, and nearly 40% of them feel marriage and childbearing dim their career prospects, according to a report last year by online recruitment platform Zhilian Zhaopin.
China revised its law on the protection of women's rights last year, explicitly banning gender-based discrimination in hiring practices, but some experts say more protections and tighter enforcement are needed.
"As China's workforce grows older, it becomes ever more important to provide meaningful labor protections against pervasive workplace discriminations that are often systematically based on gender and age," Zhou Yun, a demographer and assistant professor of sociology at the University of Michigan, told Axios.
The bottom line: Building a more efficient workforce can mitigate the impacts of population decline on China's economy, but there are limitations.
"Qualitative upgrades can only go so far," said Paul Morland, a British demographer and associate research fellow at the University of London.
"China's population is already quite well-educated. There is no substitute to raising the birth rate," he added.
Go deeper: Why China's growth and population declines matter for the world
Go deeper