5 first responders plead not guilty to charges from Elijah McClain's death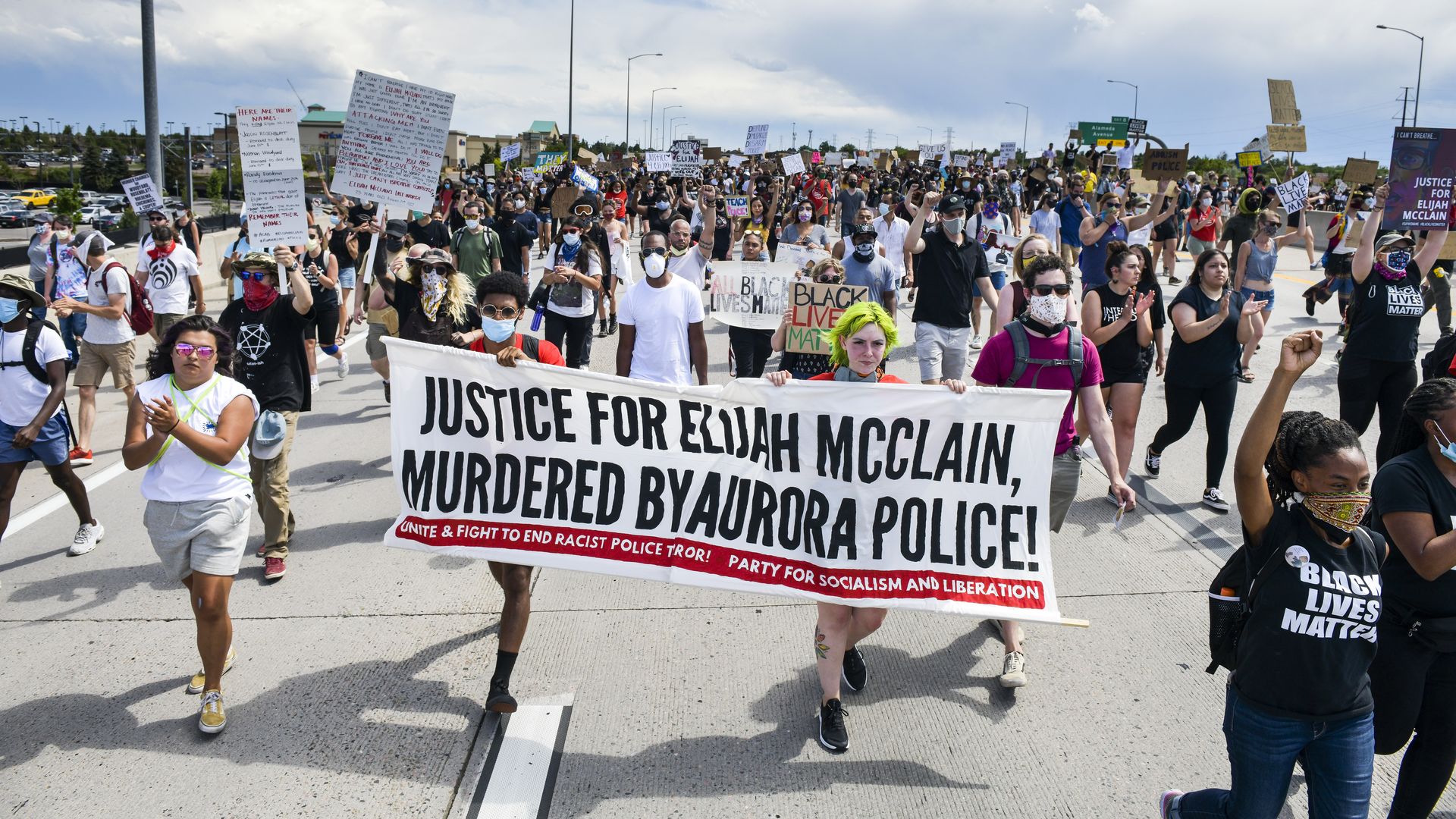 Three police officers and two paramedics indicted on charges stemming from Elijah McClain's death in 2019 pleaded not guilty on Friday, CNN reports.
The big picture: McClain, a 23-year-old Black man, suffered cardiac arrest after Aurora, Colorado, police officers put him in a chokehold and paramedics injected him with 500 milligrams of the sedative ketamine. His death came under renewed scrutiny after nationwide protests against police brutality in 2020.
An independent investigation later found that Aurora police had no legal basis to stop or restrain McClain, who was walking home from a convenience store.
Limited video and audio from body-worn cameras also "reveal Mr. McClain surrounded by officers, all larger than he, crying out in pain, apologizing, explaining himself, and pleading with the officers," according to findings from the probe.
He was eventually declared brain-dead and taken off life support. An amended autopsy conducted in 2021 changed his cause of death from "undetermined," as stated in the original autopsy report, to complications from the administration of ketamine after forcible restraint.
Driving the news: Aurora Police officers Randy Roedema and Nathan Woodyard, former officer Jason Rosenblatt and Aurora Fire Rescue paramedics Jeremy Cooper and Peter Cichuniec each face charges of manslaughter and criminally negligent homicide.
Cooper and Cichuniec's trial is set for Aug. 7, while Roedema and Rosenblatt's trial is expected to begin July 11. Woodyard will have his own trial, scheduled for Sept. 18, CNN reports.
Rosenblatt was fired for his involvement in a photo re-enacting the chokehold used on McClain, but the other four remain on unpaid leave.
Worth noting: At least seven law enforcement officers in Colorado face criminal charges for using lethal force on duty in the past two years, signaling a new push for accountability in contrast to the lack of criminal charges that followed on-duty shootings in the past.
Go deeper