New York Dems risk their truce over Kathy Hochul judgeship fight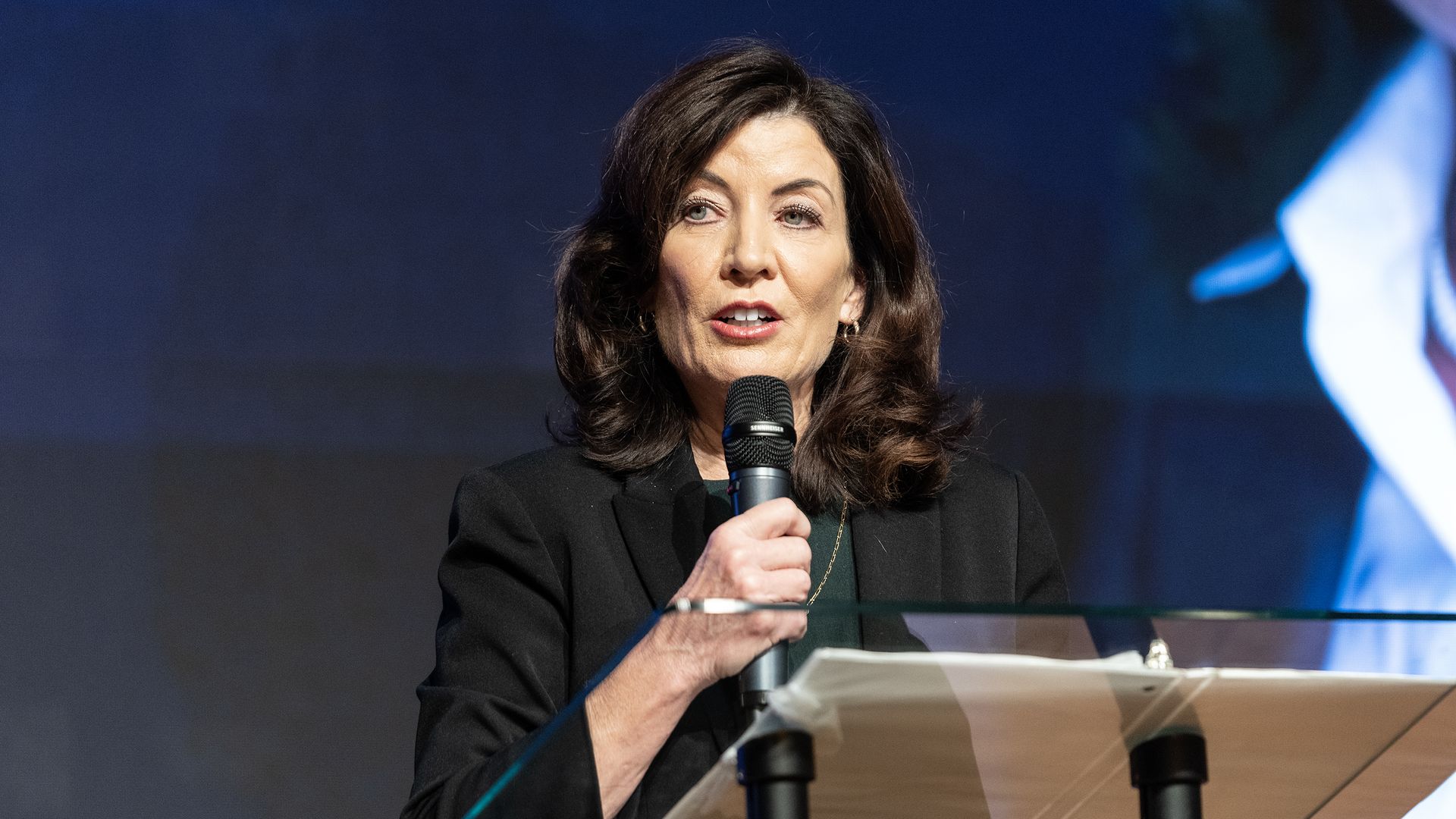 While Democrats in Washington have been in near-lockstep under President Biden, New York Democrats are revealing the intra-party ideological chasms that could define Kathy Hochul's governorship.
Why it matters: Gov. Hochul's uncomfortably close re-election wouldn't have been possible without the help of progressives' 11th-hour campaign to get her to victory.
But progressives handed Hochul an unprecedented defeat this week when they rejected her pick for the state's top judge over concerns about his stance on abortion and labor unions.
The backdrop: New York lawmakers voted against Hector LaSalle, a Democratic appellate judge who would've been the first Latino to be the state's top judge.
The state Senate Judiciary Committee rejected LaSalle after a five-hour confirmation hearing and months of criticism from progressives, labor unions, and reproductive rights leaders.
"Serious concerns" have been raised about LaSalle's record on "reproductive choice, discrimination, immigration and protecting domestic violence victims," Senate Judiciary Chairman Brad Hoylman-Sigal said at the hearing.
Zoom in: The rejection from the committee prevents the measure from advancing to the Senate floor, but Gov. Hochul is looking to the state constitution for next steps, as it requires the "advice and consent" of the state Senate when appointing the chief judge.
"Several senators stated how they were going to vote before the hearing even began — including those who were recently given seats on the newly expanded judiciary committee," Hochul told Gothamist.
The big picture: Labor and reproductive rights groups have been criticizing Hochul's choice for months.
LaSalle joined a majority ruling in 2015 that allowed an employer's defamation lawsuit against union leaders. In 2017, he joined a decision that ruled part of the state's investigation into anti-abortion crisis pregnancy centers was unconstitutional.
In his 10-minute opening statement at the confirmation hearing, LaSalle said that he supports labor unions' right to organize and that he is personally pro-choice.
What they're saying: "New York deserves a Chief Judge who can make history without contradicting our communities' values or putting our rights at risk. We deserve so much better," Rep. Alexandria Ocasio-Cortez wrote in an email to supporters last week.
"Justice Hector LaSalle has unfortunately shown a willingness to put the interests of corporations ahead of workers, which is disturbing in a state with a long history of supporting workers' rights," New York State AFL-CIO president Mario Cilento said.
"Like every judge, I know that not everyone agrees with every ruling, but I can promise you that, in every case, I have sought and will continue to seek to give everyone a fair shake, to listen to arguments carefully, to do my best to apply the law to the facts before us, and to work with my colleagues to reach a fair and just result," LaSalle told the committee.
Zoom out: Throughout the week before the election, the Working Families Party — an outside group that champions progressive labor causes — spent half-a-million dollars, sent 2 million texts, and made 250,000 calls to help Hochul and stop her GOP challenger, Rep. Lee Zeldin, per Politico.
What to watch: Gov. Hochul could sue the Senate committee to get LaSalle in front of the full chamber for a vote, and she hasn't ruled that out, telling reporters earlier this week: "[W]e're certainly looking at all of our options."
Go deeper