Kathy Hochul to become New York's first female governor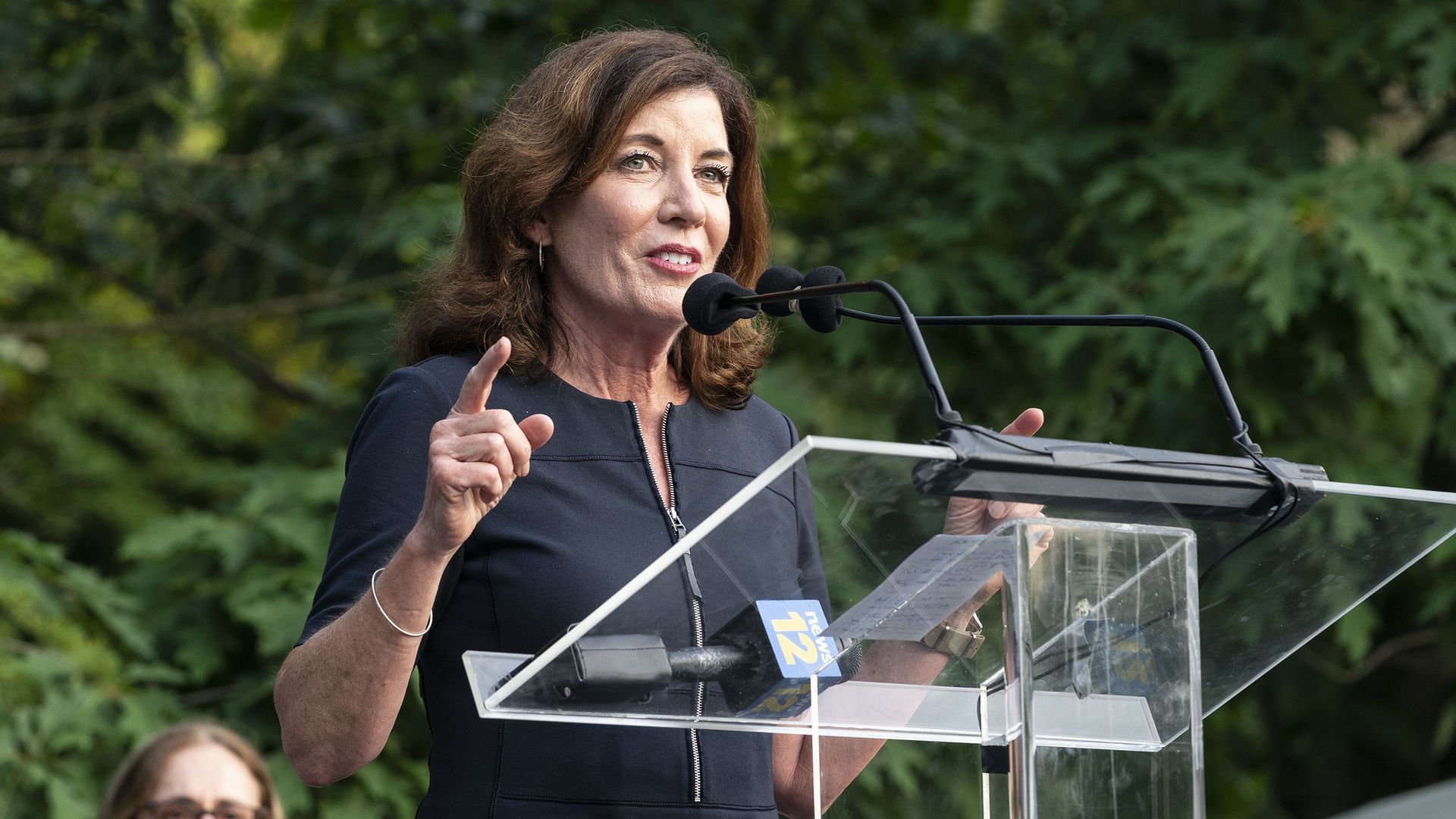 New York Lt. Gov. Kathy Hochul (D) will be sworn in as governor once Andrew Cuomo's resignation goes into effect in 14 days.
Why it matters: Hochul will become the first woman to serve as governor of New York and will serve out the rest of Cuomo's term until the 2022 midterms.
What they're saying: "I agree with Governor Cuomo's decision to step down. It is the right thing to do and in the best interest of New Yorkers," Hochul tweeted.
"As someone who has served at all levels of government and is next in the line of succession, I am prepared to lead as New York State's 57th Governor."
"Kathy Hochul, my lieutenant governor, is smart and competent. This transition must be seamless," Cuomo said in remarks announcing his resignation on Tuesday.
"We have a lot going on on. I'm very worried about the Delta variant, and so should you be. But she can come up to speed quickly, and my resignation will be effective in 14 days," he added.
White House press secretary Jen Psaki said later on Tuesday that the administration looks forward to working with Hochul.
The big picture: Donors have been encouraging Hochul to run for governor since an independent investigation found that Cuomo sexually harassed multiple women, including some of his employees, in violation of state and federal law.
He had previously refused calls to resign from nearly every prominent Democrat in the country, but finally gave in on Tuesday amid the threat of months-long impeachment proceedings.
Hochul had already been seeking advice on first steps in office, including which Cuomo officials to keep, the Wall Street Journal reported on Sunday.
Hochul began distancing herself from the governor as women began to come forward with sexual harassment allegations last spring.
She called Cuomo's behavior "repulsive and awful" after New York Attorney General Letitia James' investigation results were released.
Hochul had publicly supported James' decision to conduct an independent investigation, saying that she was "confident everyone's voice will be heard and taken seriously."
Background: Hochul won a special election in 2011 for a New York congressional seat that had not gone to a Democrat in 40 years. However, she lost the seat after districts were redrawn in 2012 and her district became more conservative.
Cuomo asked Hochul to join his gubernatorial ticket as lieutenant governor in 2014, after former Lt. Gov. Robert Duffy announced he would not be seeking another term.
Cuomo and Hochul rarely appeared in public together.
Go deeper