Brazilian officials suspected of helping rioters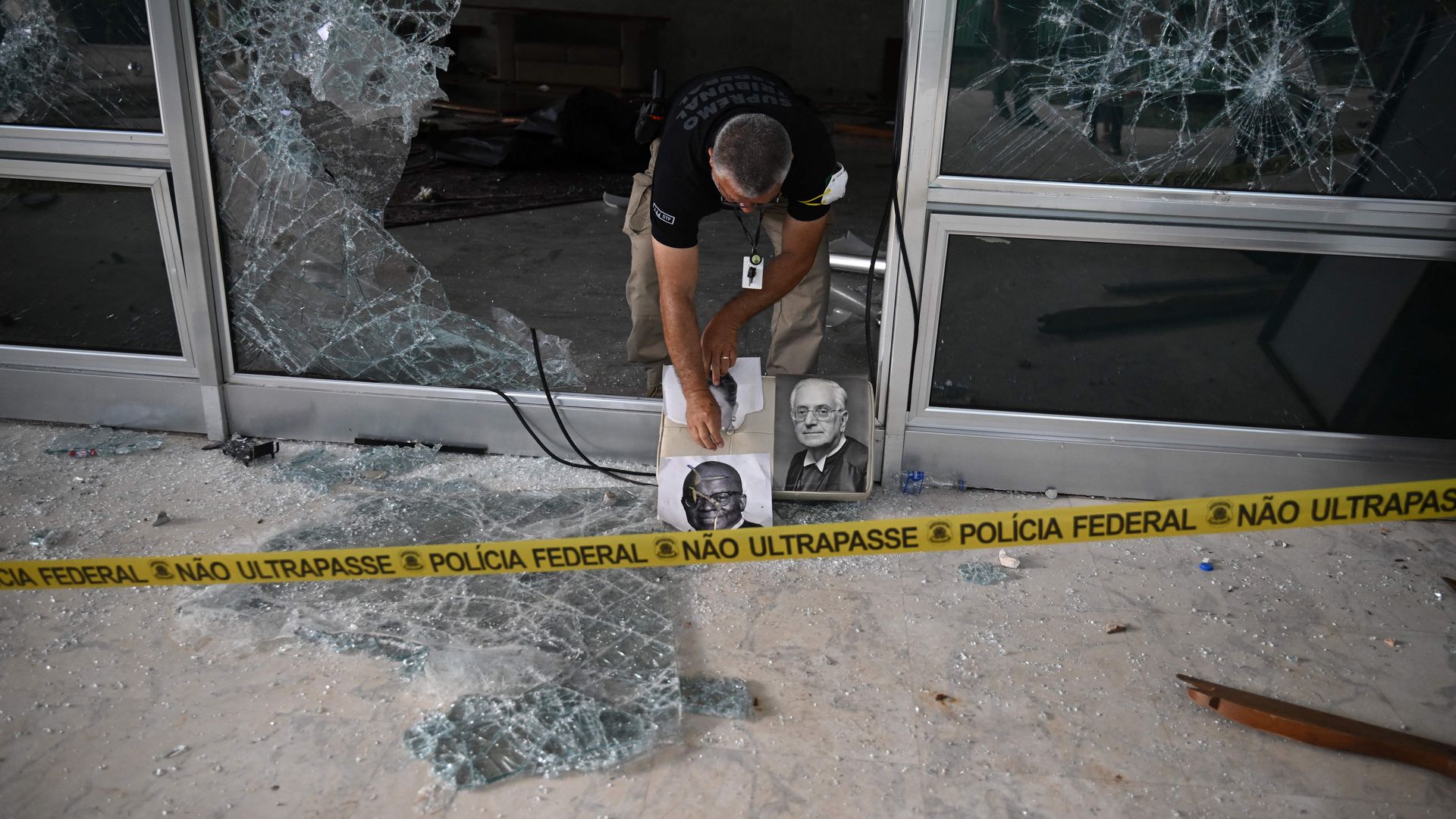 Brazilian authorities are not just prosecuting those who stormed the country's government institutions this month — they're also investigating public officials who they believe may have helped plan, incite or let the attack play out.
Driving the news: This weekend the former security secretary for Brasília, Anderson Torres, was arrested, accused of conspiring to allow the attacks — an allegation he denies.
Former President Jair Bolsonaro, who as of yesterday was still in Orlando, has also been named a person of interest in the investigation, under suspicion of inciting the mob. His lawyer late Friday said Bolsonaro "vehemently repudiates the acts of vandalism and depredation of public property committed by those infiltrating the demonstration."
The commander of the capital's military police and three capital health ministry workers are among the 1,400 people in custody or who have made bail, according to the detainee list. The commander hasn't commented on the charges but earlier said he followed protocol during the attack.
Army members tried to help some suspects in the riot avoid arrest, officials told The Washington Post.
What they're saying: "The people who invaded the sites knew these places, knew the inside layouts," Ricardo Cappelli, who was appointed by President Luiz Inácio Lula da Silva to head a temporary federal takeover of security in Brasília, said yesterday in a press conference.
Cappelli announced that authorities are investigating the military police unit that patrols the Congress, Presidential Palace and Supreme Court buildings.
Meanwhile, Lula's administration, which had been in power for just a week when the attacks in Brasília took place, is trying to keep other government operations going while the investigations continue.
Yesterday, authorities revoked a Bolsonaro-era rule that forced doctors to report abortions to police even when legal.
Sônia Guajajara, inaugurated Thursday as the country's first minister for Indigenous peoples, abolished a Bolsonaro-era rule that allowed logging in native communities' reservations.
Subscribe to Axios Latino to get vital news about Latinos and Latin America, delivered to your inbox on Tuesdays and Thursdays.
Go deeper