Brazil attacks could put Lula's priorities on backburner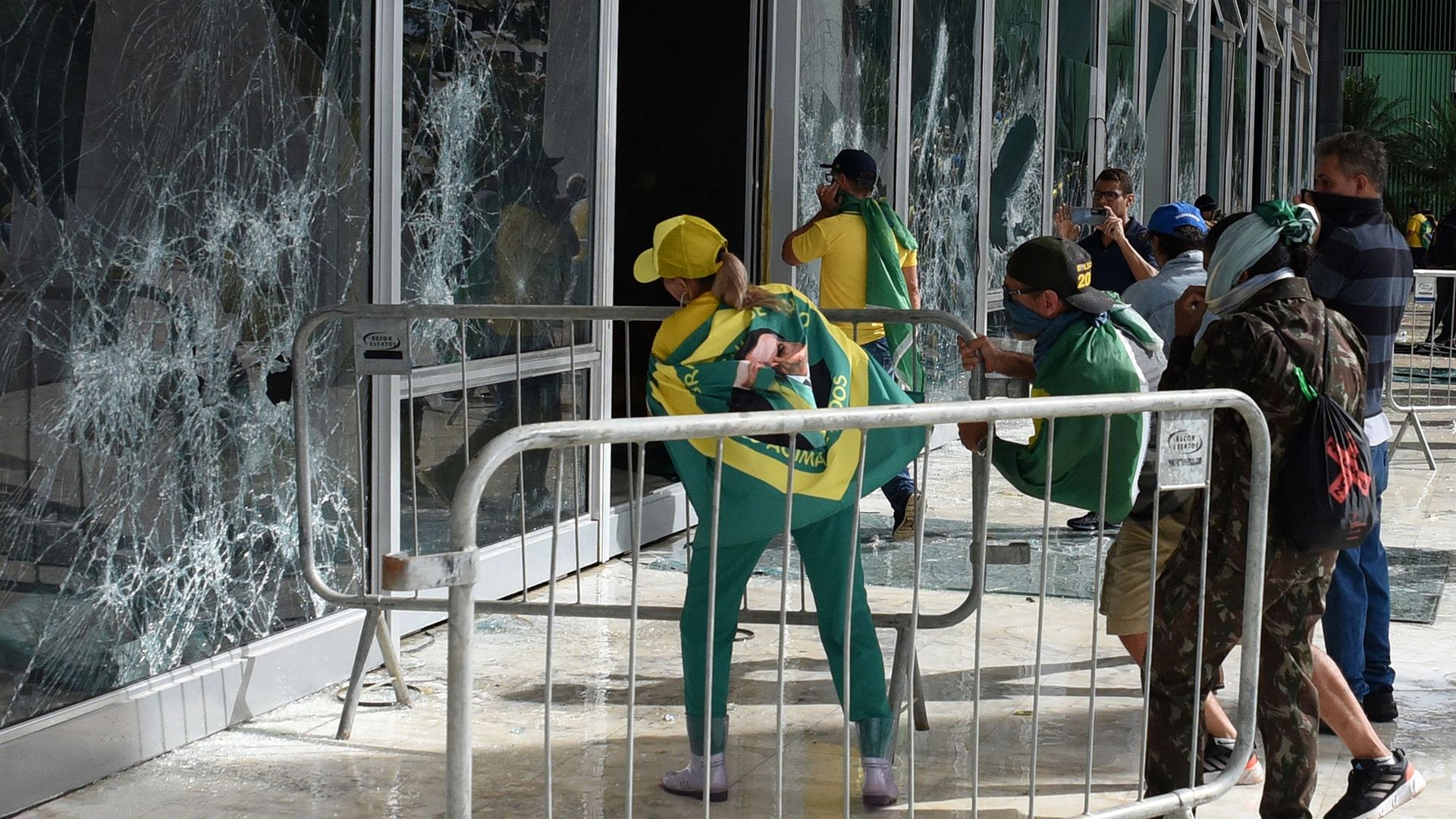 The riots by Jair Bolsonaro supporters at Brazil's major political institutions may slow President Luiz Inácio Lula da Silva's agenda.
State of play: To restore order, Lula signed a decree for a federal intervention in Brasília until Jan. 31 — but constitutional amendments cannot be carried out during a federal intervention, meaning his planned tax and environmental overhauls will have to wait.
The swearing-in of Congress, scheduled for Feb. 1, could also be delayed if the intervention is extended, says Gustavo Ribeiro, editor-in-chief at the Brazilian Report, an English-language news and analysis site.
Even when they're in office, members of Congress will have to deal with the fallout of the attacks — from the damaged buildings to the prosecution of the would-be insurrectionists — which could further set their agenda behind.
Catch up quick: Authorities say over 1,200 people were detained for questioning after the attacks on the Presidential Palace, Supreme Court and Congress on Sunday.
Hardline supporters of former President Jair Bolsonaro had spent months camped outside the army headquarters in Brasília, asking for a military intervention to depose Lula, who they claimed without evidence won last year's election fraudulently.
"We think there was a lack of security, a security breach. All the people who did this will be found and punished," Lula, who blamed Bolsonaro for the attacks, said.
Bolsonaro said the protests went too far and rejected Lula's accusations.
The unclear loyalties of members of the police and the armed forces — some of whom were captured on camera taking selfies with the rioters or just standing by — could also put a wrench on Lula's priorities.
Off-duty military members were reportedly among the attackers. High-ranking military figures were publicly supportive of Bolsonaro, a former army captain, when he initially made his false claims of fraud.
Justice minister Flávio Dino said Monday that the ministry will conduct a thorough investigation, particularly of the capital military police.
The big picture: Lula, who took office Jan. 1, already faced major challenges, including deep political polarization, slow economic growth, increased poverty and rampant Amazon deforestation.
"It was already going to be a difficult presidency, and this takes that up several notches," Cecilia Tornaghi, senior director for policy at Americas Society/Council of the Americas, tells Axios Latino.
Tornaghi says that was probably at least partly the point — the rioters wanted to send the message that they can disrupt government operations and create chaos if they want to.
What they're saying: Lula's swift response with the federal intervention, which got quick support from the incoming leaders of the House, Senate and current chief justice, indicates his government won't let this early aggression mark the rest of his presidency, Tornaghi says.
"He's signaling they won't hide or cower," she says.
Subscribe to Axios Latino to get vital news about Latinos and Latin America, delivered to your inbox on Tuesdays and Thursdays.
Go deeper